For a startup that's raised Rs. 700 crore from investors, Lenskart appears to be using some decidedly underhanded means to promote its services.
Lenskart has been sending mass unsolicited SMSs to users across the country, offering discounts and promotions. OfficeChai has confirmed from two separate sources that these SMSes are being sent to users who've never used Lenskart or signed up on its site. To make matters worse, these users were also signed up to the national Do Not Call registry.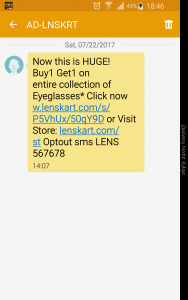 The promotional message offers to let users unsubscribe by sending an SMS to a number, but it comes at a price — the SMS that's meant to be sent to unsubscribe from Lenskart's unsolicited SMSes costs Rs. 3. 
And if you think it can't get any worse, Lenskart still manages to surprise you — users on social media have reported that sending the Rs. 3 SMS simply has no effect, and Lenskart soon resumes spamming users.
Hey @Lenskart_com. You have confirmed unsubscribing me but your harassment continues. I received another SMS just now. pic.twitter.com/BePgCAYFUI

— Nishith Pandya (@nishith_pandya) February 10, 2017
optout sms.
Then within days they start the whole damn gimmick again.

And each time they OFFER to opt out at Rs.3 per request by SMS !!

— Sanjay Kapur (@sanjaykapur59) April 7, 2017
Social media is also littered with complaints of people who've been spammed by Lenskart, in spite of having been registered with the Do Not Call service. And it doesn't seem to be a new issue — people have been reporting it to Lenskart at least since February this year, and its social media team seems to respond with a standard "we'll look into it."
@Lenskart_com I have never used Lenskart services.Hiw did you get my number?Please unsubscribe from spam SMS's.

— Piyush Singh (@Piyushs7) February 18, 2017
Hey @Lenskart_com how do I stop your sms barrage?I don't even wear glasses for crying out loud. I don't need your offers

— twemanth (@twemanth) July 21, 2017
@Lenskart_com please unsubscribe my phone number from all promotional SMS. I am registered with TRAI DND

— SV (@stungscorpion) April 22, 2017
Some social media users have been reduced to getting creative with their complaints.
.@Lenskart_com is like Phillauri. It's like the spouse you didn't marry but annoys you the most. #spam #sms

— Brijesh Bharadwaj (@bbharadwaj) February 11, 2017
Dear @Lenskart_com I've received so many SMS from you – why don't you just give me ray-ban free? Let's not waste each other's money ?

— shrutam vijay desai (@shrutamdesai) December 11, 2016
It might seem like a minor annoyance, but sending messages to people registered with the Do Not Call Registry is illegal. In 2011, TRAI had allowed users the option of opting out of promotional messages, and mandated that companies could no longer send messages to users who registered with the service. Violations were to be taken seriously — for the first complaint against a company, the SMSes sender was to be fined Rs. 25,000, and this penalty rises to Rs. 2.5 lakh by the 6th complaint. Repeat offenders were to be blacklisted for two or more years.
The simplest cursory glance on social media would indicate that thousands of people are being inundated with Lenskart's SMSes against their will. This raises several questions — how is Lenskart getting phone numbers of users who've never registered on their site, and how has TRAI not taken action against the company for spamming so many users? We've written to Lenskart and will update this post if we hear back.
In the meantime, users who wish to complain to TRAI against spam SMSes can do so by sending COMP TEL NO XXXXXXXXXX, dd/mm/yy, Time hh:mm to 1909. For example, if you've have received an SMS from DM-IAMU on 30th Sep'11 at 2pm, then your complaint SMS will be "COMP TEL NO DM-IAMU, 30/09/11, Time 14:00" and it's to be sent to 1909.