Milk delivery startup Doodhwala appears to have found out that the milk of investor kindness eventually does run dry.
Doodhwala today informed its customers that it was halting operations, and redirected them to the Fresh to Home app. "Dear customer, we regret to inform you that we will be discontinuing services due to unforeseen circumstances," an email and a note by the company said. "You can easily transfer your active subscriptions and wallet balance to the FTH Daily App and your daily grocery delivery will continue uninterrupted," it added. Doodhwala said that customers' existing wallet balances will be transferred to the new app.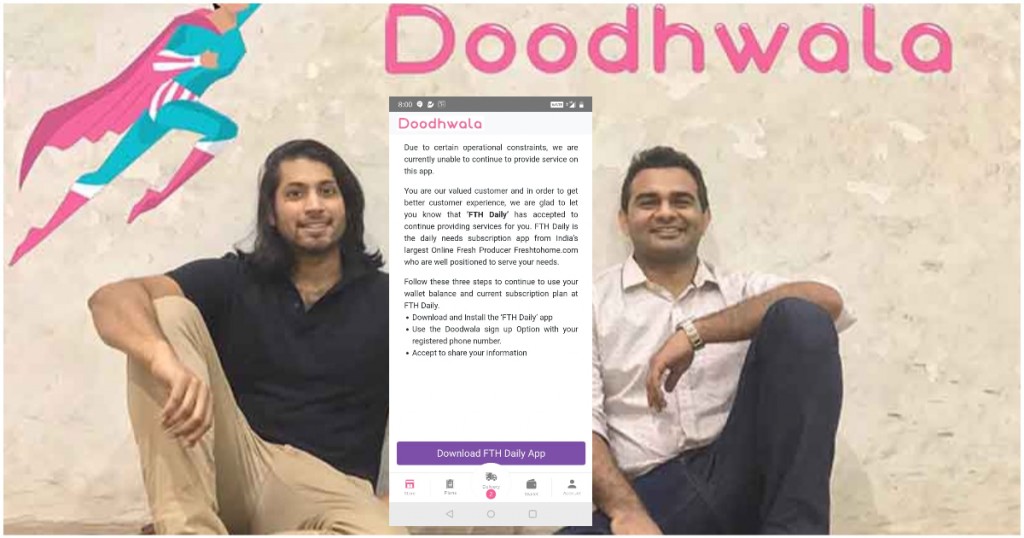 Doodhwala had been founded in 2015, and had raised around Rs. 100 crore thus far. It offered subscription services for customers for milk, bread, eggs, meats and other groceries, and by March this year, it was delivering 30,000 litres of milk daily across Bangalore, Pune and Hyderabad. Doodhwala offered customers flexible subscription plans, which let users change their milk orders for the next day by as late as midnight on its app. It sold milk at MRP, and charged no delivery fees.
But while customers might have been were delighted by its services — the author of this article is one — Doodhwala's business model probably was probably bleeding the company dry. Even though Doodhwala would've got milk at prices slightly lower than MRP because it bought it in bulk, it still had to make deliveries each morning. Customers could order a single packet of milk worth just Rs. 20, and a Doodhwala delivery man would drop it off at their home at 5:30 am every morning. Given how deliveries can cost anywhere between Rs. 30 and Rs. 50, Doodhwala was probably losing serious money on each order. Sources told OfficeChai that Doodhwala had been trying to aggressively onboard large customers like restaurants in its final few months, which could've helped its unit economics, but it clearly wasn't enough.
For the moment, Doodhwala users have been migrated to the FreshToHome app, which was also founded in 2015 and has raised $31 million (Rs. 210 crore) thus far. FreshToHome operates in the same cities as Doodhwala, and Doodhwala says that customers will be able to avail of the same benefits on the app as they had on Doodhwala, including the free deliveries, MRP prices, custom subscriptions, and deliveries by 7:30 am.
Customers will hope that FreshToHome has a better outcome than Doodhwala did, but consolidation can only be a good sign for the space. At the moment, companies such as DailyNinja, Milkbasket, BB Daily and SuprDaily are all competing hard to be able to deliver milk daily to customers' homes. It's a lucrative space — companies are willing to burn money to acquire customers in the sector because milk orders are made daily, and the high-frequency use case gives these apps a chance to upsell higher-margin products, including breads, meats, and even groceries. Until definite leaders will emerge in the space, companies will likely keep burning through large amounts of money to deliver milk to customers' homes, and customers will only too happily continue to milk them while they can.