It's among the most common grouses people have against online startups — while they've made buying things much easier, their customer service isn't often much to write home about. Large companies can have long, meandering customer service processes, and social media is peppered with rants and complaints of people who've been unable to get their concerns addressed by customer support teams.
MakeMyTrip appears to be trying to bring some accountability into its own customer service through a program it calls MMT Promise. The tagline of the program is "We delay, We pay," and does exactly what it says on the tin — MakeMyTrip pays customers if it doesn't address their queries by a specified time.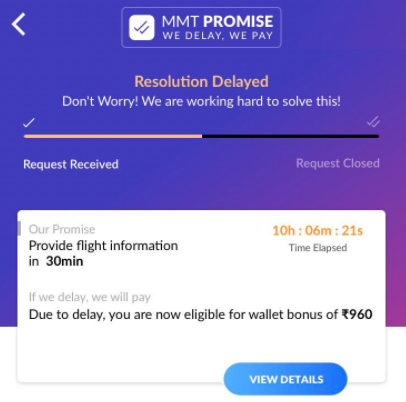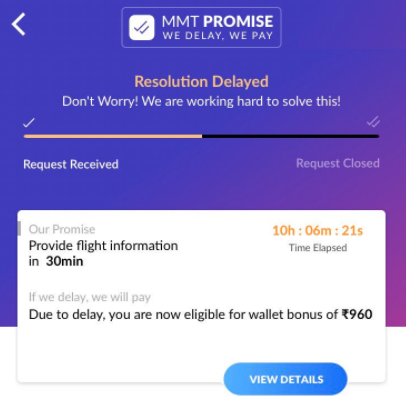 Customers have been receiving messages from MakeMyTrip in which the company promises to pay them as much as Rs. 100 per hour of delay in answering their queries. "Our promise is to update on refund status in 12 hours," says an email. "If we delay, then we will pay Rs. 100 wallet bonus per hour up to a maximum of Rs. 1000." The initial time period to answer the query seems to vary — people have seen time periods as small as 30 minutes, to as much 12 hours.
It's a pretty radical approach to customer service, and should please customers, who often have no recourse if their service providers delay in providing updates. With MakeMyTrip putting money where its mouth is, customers are likely to receive updates by the time the company promises, or in the very least, be compensated if it doesn't. 
And this program will incentivize MakeMyTrip's employees to make sure they address customer tickets promptly — not answering tickets in time will directly hurt the company's bottom line, thus making sure management allocates enough resources to make sure tickets are handled on priority. The initiative should also reassure customers — MakeMyTrip handles flight tickets and hotel bookings, which can often be big-ticket, expensive purchases, and knowing that the company will be responsive to queries should bring some peace of mind for users.
But like all clever initiatives, MMT Promise doesn't seem to be without pitfalls — there's no guarantee that the company will eventually answer tickets. There are some tweets in which customers have complained that the company hasn't got back even after 300 hours have elapsed and Rs. 1000 having been moved to their wallets. While MMT Promise isn't foolproof, it's a pretty interesting idea, and ultimately benefits both MakeMytrip and its users. If it does take off, it has the potential to become a new standard for how customer service is handled in companies across the country.