There was a time the founder of the deals and coupons site Groupon would go to great lengths to tell prospective candidates how they didn't have a swanky office or crazy perks, but thrived on challenges and hard work.
That seems to be a thing of the past. Groupon has since become Nearbuy, and along with the name and city change, has come a swanky office in Gurgaon, which could rival any of the biggies in the hood. (Google is less than 2 miles away.)
Here's a peek at this office that the founders like to describe as "Where playstations meet workstations."
The office is located on Golf Course Road near Sun City, and hence provides a little respite from the office traffic rush usually experienced in the area.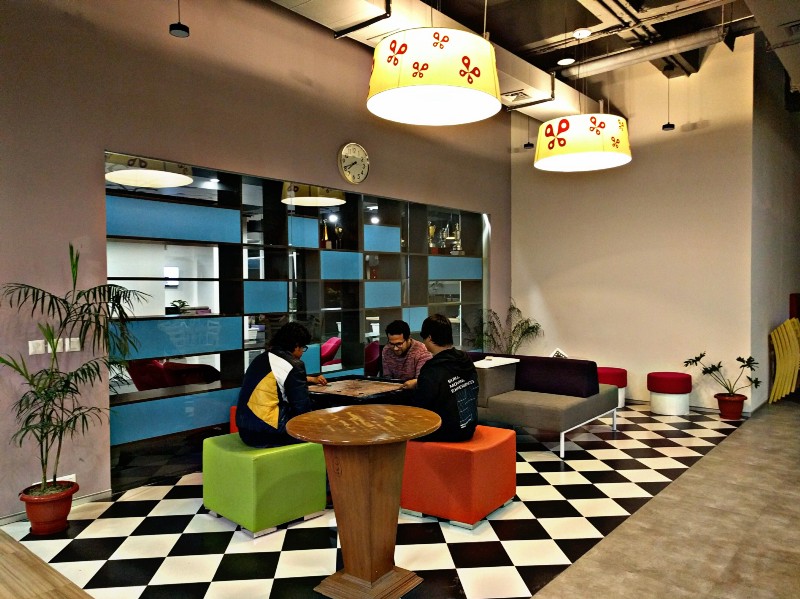 Every person enjoys "84 sq/ft of personal space" with 32 meeting/conference rooms, each named after Bollywood movies, in a building that has the capacity to accommodate 600 people.  
Resembling an American diner with splashes of red, the Nearbuy cafeteria is a place where the entire office staff satisfies their cravings at the daily five-spread lunch buffet or evening snacks, available to everyone. 
There's also some arrangements for the employees to unwind over table tennis, darts, PlayStations and other board games. 
And that's the founders Ankur Warikoo, Sachin Kapur, Sumeet Kapur, Ankur Sarawagi, Ravi Shankar and Snehesh Mitra, casually chilling and working in the office.