How do you promote a referral scheme for your home rental startup? By making fun of jobless people, of course.
Nestaway, which acts as a middleman between landlords and tenants, is running a referral scheme for its properties. People who refer landlords or tenants to the company will be paid between Rs. 1000 and Rs. 10,000 for their efforts. Now this is pretty standard — companies regularly incentivize users who bring them business. But the marketing folks at Nestaway have decided to publicly mock struggling celebrities to publicize their scheme.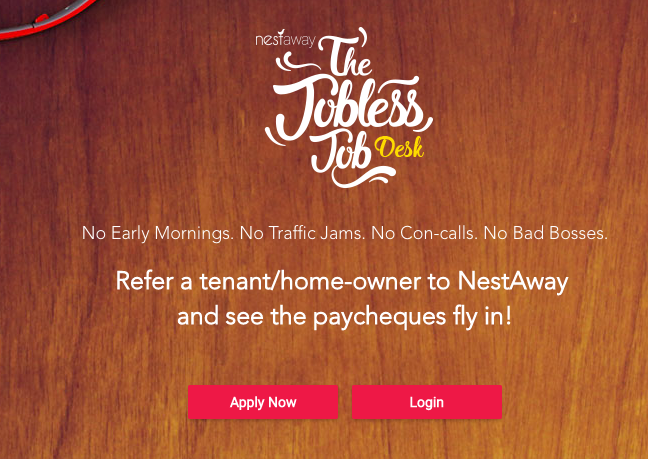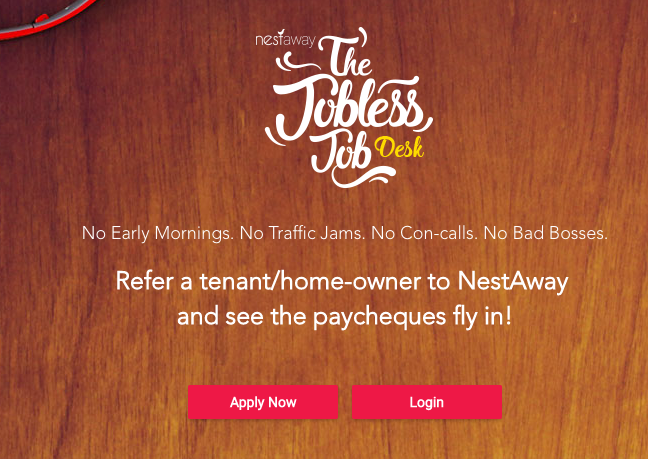 The company seems to have got influencers to create polls on twitter, asking users who they think the Most Jobless celebrities across various fields. "Who do you think is the most jobless actor in Bollywood to be still making a living somehow?," asks @HaramiParindey. The options are Bobby Deol, Uday Chopra, Tusshar Kapoor and Chunky Pandey. People are encouraged to vote on who they think is most jobless, and Nestaway publishes a snarky open letter addressed to the celeb who wins. "Dear Uday Chopra," says Nestaway. "You haven't given us a rib tickling movie in a long time. Since you've been off the radar, people fear you might have too much time on your hands." The letter then offers Uday Chopra a job, asking him to make money by referring customers to Nestaway.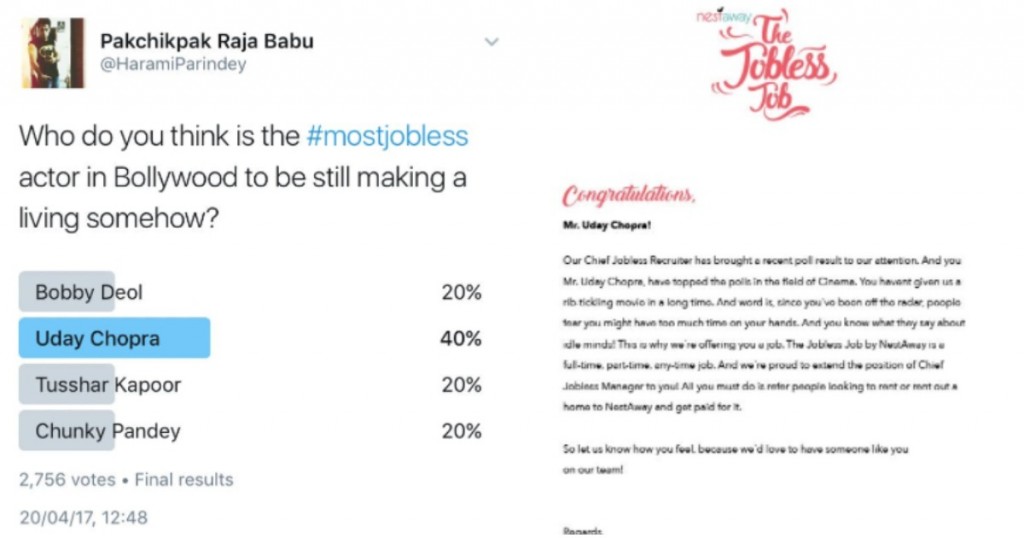 Other targets of Nestaway's mockery are cricketer Stuart Binny, who is told that cricket fans haven't seen him on the field in a while, and former Big Boss winner Vindhu Dara Singh. Nestaway crowns Altaf Raja as the most Jobless Singer, and Shirish Kunder is the most Jobless Director, dismissed for creating "so many scripts, so little content."
While it seems to be in exceedingly poor taste to make fun of someone's career struggles, it's rich that it's coming a Nestaway, a startup which has achieved little other than raise Rs. 280 from investors like Flipkart, IDG Ventures and Yuri Millner. Last year, Nestaway managed to earn revenues of Rs. 5 crore, but ended up with losses of Rs. 37 crore. 
Nestaway seems to be in marketing overkill mode, much like Housing.com, another startup in the same space which had imploded after running an ambitious Rs. 120 crore branding campaign. Like Housing, Nestaway also has been buying hoardings across major cities, and running front-page ads in national newspapers. Nestaway is also a sponsor on Arnab Goswami's new channel, Republic.
And even for a relatively small referral campaign, Nestaway appears to have needed several levels of marketing to make it work. Nestaway is willing to pay people who get it its customers, but to get people to hear about its scheme, it's commissioned Baba Sehgal to make a special song called Jobless Job. In order for people to hear the Baba Sehgal song, it's been paying people Twitter to share and retweet its Jobless Job campaign on Twitter. If that wasn't enough, it's also published promotional posts on prominent websites.
Getting new customers shouldn't be this hard if you have a solid product, but Nestaway might have concerns to address in this regard. Its Twitter handle appears to be constantly busy answering to queries from angry users, and the company has several negative reviews on Quora as well. Service struggles are a part of any business, specially one that's as operationally intensive as Nestaway, but its heavy marketing campaign suggests that customers aren't organically recommending its service to their friends. And while making fun of struggling celebrities might elicit a laugh or two, and grab the company some eyeballs, it's hardly a responsible marketing tactic. There are better way to create a buzz that make fun of an international cricketer who's doing his best to perform on the field each day.