Gadgets360 is among India's most prominent tech platforms, but it's nudging up global rankings too. With 120 million pageviews a month, and 40 million unique visitors, Gadgets360 is now looking to make a splash beyond India. It's backed by some big names — NDTV is its biggest shareholder, and it's also raised money from Paytm CEO Vijay Shekhar Sharma. We spoke to Gadgets360 CEO Bhawna Agarwal about Gadget360's unique hybrid model that combines content and e-commerce, and what its plans are for the years ahead.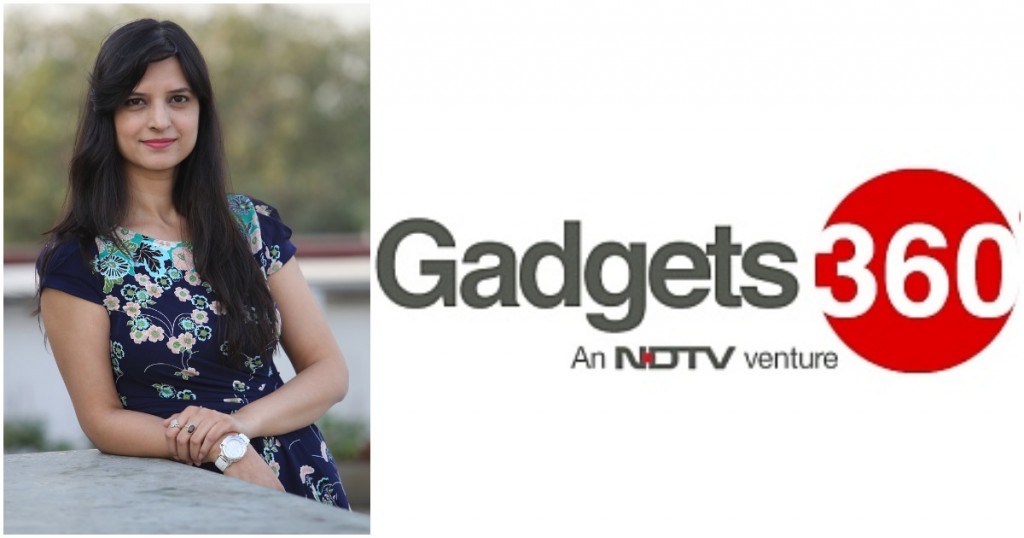 OfficeChai: How does Gadgets360 fit within the broader NDTV organization? 
Bhawna Agarwal: It is a separate company altogether. It has multiple investors, and one of the shareholders is NDTV. We have an independent management. In the initial few years when NDTV grew, they incubated a lot of different verticals, and they established gadgets as a leader. As time passed, the entire tech vertical saw impressive growth year-on-year. We already had some great content, but a business needs more than just content, and that's when we hived it off as a separate company. This happened two years ago. It was decided that it needs professional management and a professional CEO, and that's where I had stepped in. New investors also came in, including Paytm CEO Vijay Shekhar Sharma, former Apple CEO John Sculley and Hiro Mashita.
OfficeChai: How big is the Gadgets360 team?
Bhawna Agarwal: We have 60-70 people. It's a very lean team. But in terms of the scale, over the last two years we've grown quite a bit. Now we're number 11 in the world among digital tech platforms. We're number 1 in India. We get 120 million pageviews a month and 40 million uniques a month. The traffic is also high-quality — it has a high affinity towards shopping. A sizable amount of traffic comes from outside India as well.
OfficeChai: What are the major sources for this traffic? Do you get traffic from search engines, or through social platforms?
We decided to grow profitably, so we decided to get organic direct and search traffic — as high as 75-80% of our traffic is from these sources. Otherwise if you inorganically buy traffic,  you can come down pretty quickly. Rest if a combination of affiliates, referral and promotional campaigns we do on social media.
OfficeChai: What are your sources of revenue? Is Gadgets360 profitable?
Bhawna Agarwal: We have multiple revenue channels. Typically, companies are either commerce companies or news companies. If you're a news company you rely on ads, and if you're an e-commerce company you rely on the contribution margin you may make. Earlier, we were too dependent on advertising revenue, but two years ago we pivoted into a hybrid model that includes e-commerce as well. We've diversified our revenue sources, and added multiple revenue streams. We're really well hedged now. Gadgets360 achieved profitability in the third quarter of 2017.
OfficeChai: Do you see yourself competing more with e-commerce companies or with content companies?
Bhawna Agarwal: Even though electronics is a low-margin business, the quality of our consumers is pretty good. We're 10x in terms of total transaction value. It's a unique platform; being a hybrid platform, we don't compete with e-commerce companies and we don't directly compete with content companies. We collaborate with e-commerce companies by sending them affiliate traffic.
OfficeChai: Is it hard to balance commerce and journalism within the same platform? 
Bhawna Agarwal: In the beginning it was difficult. Sometimes you're faced with tough decisions with respect to your sponsors and partners, not only from the e-commerce perspective, but also from the advertising perspective. It was a difficult road to take, but I'm glad we took it. We have to work hard to separate the church and the state. The reason we have this audience is because people trust our work. If we were to blur that line, we'd end up losing the plot.
There were many many opportunities when we had to let go of potential revenue because we didn't want it to interfere with our editorial decisions. This one time we were launching an exclusive, and the brand wanted to speak to the editorial team to good it a good review. Once it reached my table, I made sure it never reached the editorial section and we killed the launch. What we may be earning in the short term won't make up for the bigger loss in credibility.
OfficeChai: You've also launched a price comparison engine called Pricee. What was the motivation behind that? 
Bhawna Agarwal: There's Google, which is the largest search engine, and there are lots of price comparison portals. But there was no search engine for shopping. There was no platform that provided a quick platform for shopping. Through our many years of experience, we understand the consumer and their behaviours. We've aggregated 14 crore products on Pricee. It's not restricted to tech products — you can even search for biscuits and toothpastes. In a country like ours, people don't have the patience to go to 10 different sites and then figure out what to buy. Pricee a non commercial product; the results that you get aren't paid for, they aren't featured listings or ads. The ranking is determined by artificial intelligence which becomes better as the machines index more data. It's available in 10 Indian languages, and also has image and voice search. It also has an app. We have big plans for it in the coming months.
OfficeChai: How do you see the content landscape evolving in the coming years?
Bhawna Agarwal: There's a need to grow interactive content. The best content isn't just talking about news or talking about an event that's happened. The future is about providing meaningful, impactful content. It needs to be engaging and bring value to the end consumer.