After weeks of teasers, music videos, and publicity blurbs by celebrity influencers, Ola has finally unveiled its new electric scooter.
In an event that felt more like an Apple launch than a scooter unveiling, Ola unveiled its hotly anticipated electric scooter. The event was streamed live, and began with dramatic visuals of the planet, finally zooming in on Ola CEO Bhavish Aggarwal standing atop his Ola Future Factory. Aggarwal spoke of the greater mission behind the scooter, pointing out how Ola's electric scooter would help reverse global warming and save the planet. The event also included a mini tour of Ola's factory, and even a song by rapper Raftaar.
But while the production was slick and Aggarwal's messaging Jobs-esque, the most hotly anticipated details were the scooter's price and its specifications. Ola has launched two variants of its scooter, dubbed the Ola Electric S1 and Ola Electric S1 Pro. The Ola S1 is priced at Rs. 99,999, while the Ola S1 Pro is priced at Rs. 1,29,000. The scooters would be available for slighter cheaper in certain states because of specific subsidies — in Gujarat, for instance, the S1 would cost only Rs. 79,999, while it would cost Rs. 89,999 in Maharashtra.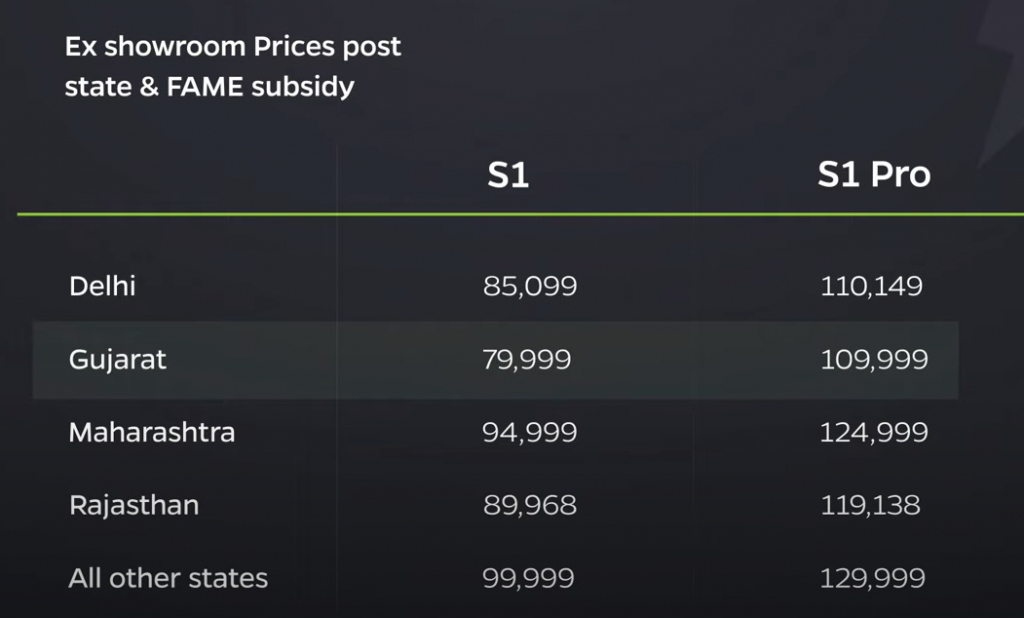 Both the S1 and the S1 pro have the same design and the same electric motor producing peak power of 8.5 kW. While the S1 has a 2.9 kWh battery, the S1 Pro has a 3.9 kWh batter. This gives the S1 Pro a range of 181 km, while the S1 has a range of 121 km. S1 Pro's top speed is 115 kmph, while the S1 has a top speed of 90 kmph. Ola S1 takes 7 seconds to go from 0 to 60 kmph, while Ola S1 Pro can attain the same speed in 6. The scooters will take 6 hours to be fully charged on a socket at home. At Ola's Hypercharging stations, they can get a 50% charge in 18 minutes.
There are bells and whistles on the scooter too — the scooters have no key, and are unlocked through their app, or simply by approaching them. The scooter automatically greets you with a voice message when you approach and unlocks itself, while also locking itself when you walk away. The scooter also travels in reverse gear, and has a mode cause "Cruise Control", which lets the scooter maintain a constant speed without user intervention. As with other scooters in its class, the scooters have a touchscreen display and navigation capabilities.
Ola seems to have delivered a strong offering with its electric scooters, and is clearly all-in on its electric plans — Ola says that its factory will produce 1 crore scooters a year, which will be 15% of the world's total 2 wheeler output. But India's scooter market is vanishingly small in comparison — in 2020, only 25,000 electric scooters had been sold in India by all brands combined. There's a reason why the market could take a while to develop — the option of home charging might not be available to people who live in apartments, and Ola's Hypercharging network currently isn't widespread enough to conveniently charge scooters. Also, Ola's pricing, while competitive, isn't quite as cheap as conventional scooters, and Ola will need to convince customers that its scooter's running costs, which are 1/3rd or 1/4th of petrol scooters, are worth paying a higher cost up front. Petrol prices, though, have risen in recent times, and coupled with Ola's marketing efforts, and state government subsidies, could help build some initial traction for Ola's two new electric offerings.
And most impressively, Ola seems to have successfully built a whole new vertical for itself. From starting off as a cab hailing company, Ola has managed to build itself the world's biggest scooter factory, taken over 1 lakh pre bookings, and is set to deliver scooters starting next month. This is an incredible pivot for a startup, and Ola's newfound manufacturing prowess means that India's startups aren't restricting themselves to tech — they're beginning to get their hands dirty with the nuts and bolts of manufacturing as well.