Apps are serious business. Some of the world's biggest companies are essentially apps. Large companies get together thousands of engineers and designers to create them;  they then spend large sums of money to publicize them. And results are often a hit and a miss — getting an app to the top of the app stores is notoriously hard.
However, one developer, working part-time from Saudi Arabia, has gone ahead and created what is currently the most popular app in the world. And he's done it without spending a penny in marketing costs.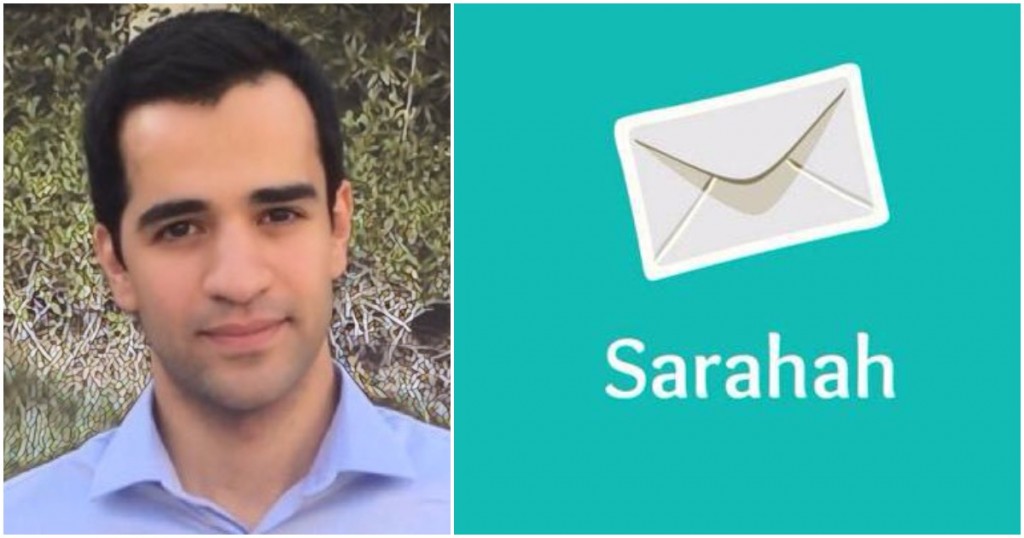 ZainAlabdin Tawfiq is the brains behind Sarahah, the app that's currently taking the world by storm. Sarahah's premise is deceptively simple — it lets people collect anonymous feedback about themselves. Users can share a link on the web, or through an app, and people who see the link can anonymously tell them what they feel about them.
People are clearly hungry for this information — Sarahah has had a dream run on the app stores thus far. The app is currently number one in the app in thirty countries, including USA, UK and France. It's racked up 250 million visitors, and has served them over a billion pageviews.
The Story
Sarahah — whose name means honestly in Arabic — wasn't always intended to be a social network. ZainAlabdin Tawfiq, who worked as a business systems analyst at an oil company in Saudi Arabia, had first conceived of the idea as a tool to help employees provide unfiltered feedback to their employers. Workplace power dynamics can be tricky, and Tawfiq thought that letting employees give anonymous feedback to their bosses would help companies improve efficiency. "There's an issue in the workplace people need to communicate frankly to their bosses," Tawfiq told Mashable.
Development on the tool started in November 2016. Back then it was a simple website and didn't have an app, and was meant to be used within companies. But then Tawfiq, who graduated with a degree in Computer Science in 2014 King Fahd University of Petroleum and Minerals, realized the tool could have a bigger purpose — it could be used by ordinary people to solicit feedback from their friends too.
 Tawfiq soon opened up a version for people, but the response was tepid. In the first few months, he'd only managed to get a few hundred shared messages. That's when he used something he'd learnt from Malcom Gladwell's Tipping Point — Gladwell talks about connectors, or people who knew everyone. Tawfiq shared his app with a friend who was a major influencer.
It was a masterstroke — Sarahah soon exploded. While he'd managed to rack up 70 odd users in a few months, one share from his influencer friend soon got him his first thousand users in the next couple of days. Tawfiq says then "it spread like a virus", and was soon popular throughout the Arabic-speaking world, including Lebanon, Tunisia and Egypt.
All this while, Sarahah was only available in Arabic, but Tawfiq wanted a bigger canvas for his idea. He then contracted an app development company, and Sarahah debuted on App Stores on 13th June. The response was stellar, bolstered in part by Arabic expats living in Canada and the US. The app soon became mainstream and immensely popular with teenagers — it was being shared across Facebook and Instagram, and after a Snapchat update which let users share links on their Snaps, on Snapchat.
And now Sarahah has became one of the most successful viral apps ever — 40 days after its launch, it was the number one app in the US, UK, Canada and France. Incredibly, all this while Sarahah was being run part-time — Taufiq still had his day job at the oil company, and is only now considering quitting to work on it full time.
The app also appears to have hit Indian shores over the last few days. Its links are all over social media, and the founder has noticed. His current pinned tweet on Twitter, posted on 9th August, says "Hello India!".  India — and its 1.2 billion population — could spur Sarahah on to even greater heights in the coming months.