Indian e-commerce companies can basically not stop giving discounts.
A day after Patanjali announced in a grand press conference that its e-commerce partners had assured it that they wouldn't give discounts on its products, discounts on Patanjali products have already begun appearing on e-commerce platforms. Yesterday, Patanjali had made a glitzy entry into the online space with CEOs of top e-commerce marketplaces in attendance, and founder Acharya Balkrishna had said that the companies had agreed to sell products at MRP.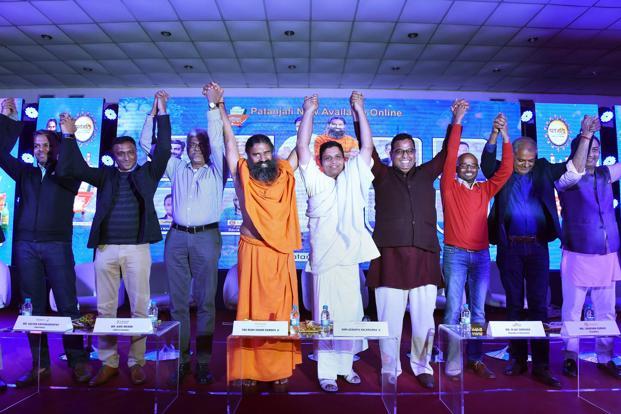 "All e-commerce leaders gathered today, and we requested them to sell Patanjali products at MRP," Acharya Balkrishna had told reporters following the press conference. "Because what happens online is that e-commerce companies have different kind of "anab shanab" (strange) offers to bring their numbers up. We've requested them to keep Patanjali out of this," he added.
But it has taken less than a day for "anab shanab" offers to appear on e-commerce portals. Paytm is already publicizing a Flat 10% cashback offer that's applicable on Patanjali products.
Patanjali products, now on Paytm Mall! Shop now & Get 10% Cashback on products worth ₹500 or more. @pypayurvedhttps://t.co/wn9fXk3xPC

— Paytm Mall (@PaytmMall) January 16, 2018
And Flipkart has a combo offer where people buying three or more items save 10%. There's another offer, where customers get 5% off if they choose to pay with the Axis Bank Buzz card.

And 1mg has coupons which allow as much as 15% off on Patanjali products.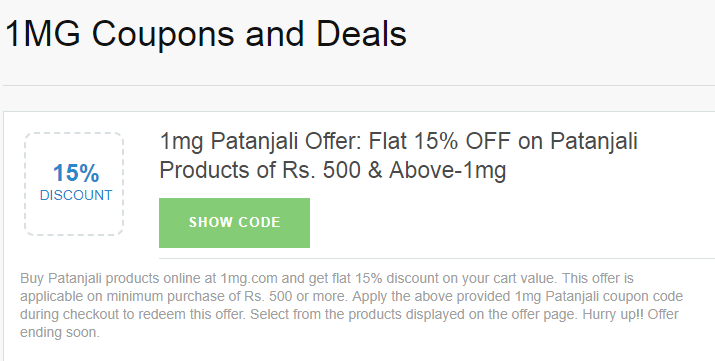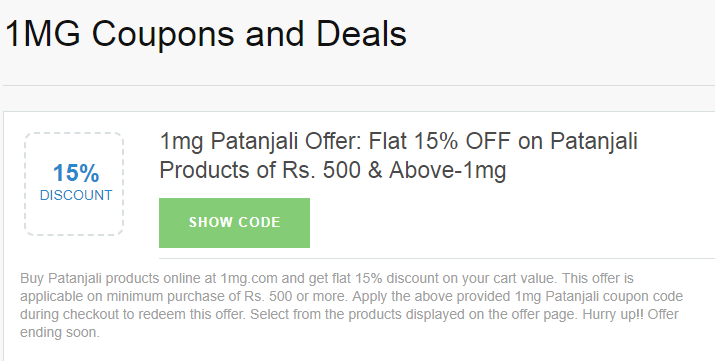 While the offers are likely to please Patanjali customers — they can now purchase products for cheaper — the offers are unlikely to go down as well with the thousands of Patanjali's offline distributors who've allowed the company to become a  household name in a matter of years. Patanjali had sales of Rs. 10,500 crore last year, and the vast majority of these had come through offline stores which stock Patanjali products. With e-commerce companies selling the same products for cheaper, they could potentially take away sales from Patanjali's trusted retail network.
And the discounts are antithetical to what Patanjali claims its mission is — to build an Indian brand to help take on foreign FMCG companies. The discounts on Patanjali's products that Paytm and Flipkart are offering are certainly subsidized by "foreign" money. Flipkart's investors are Softbank, which is Japanese, Tencent, which is Chinese, and eBay which is American; Paytm's investors are primarily Chinese and Japanese. To allow these companies to potentially take away sales from its own micro-entrepreneurs doesn't fit well with Patanjali's swadeshi narrative.
And the discounts also show that e-commerce companies aren't as pliant as Patanjali had thought. Patanjali had held a massive press conference yesterday, and Paytm CEO Vijay Shekhar Sharma, Flipkart CEO Kalyan Krishnamurthy, Paytm Mall CEO Amit Sinha, Big Basket founder Hari Menon, and executives from Amazon, 1mg, and NetMeds had shared the stage with Baba Ramdev and Acharya Balkrishna. But in spite of the camaraderie — Paytm CEO Vijay Shekhar Sharma had shared many happy selfies with Baba Ramdev after the event — Patanjali will find that e-commerce is a hard beast to tame.