India's biggest payments startup has found itself smack in the middle of a political slugfest.
Paytm is getting hit by one-star ratings on its Play Store page after it was attacked on Twitter by prominent opposition politicians, including Rahul Gandhi and Arvind Kejriwal. Their tweets were in response to a sting operation released by Cobrapost yesterday, in which Ajay Shekhar Sharma, Senior VP at Paytm — and incidentally, the brother of CEO Vijay Shekhar Sharma — tells an undercover reporter that the Prime Minister's Office had asked it for data of Kashmiri users who might've been involved in stone pelting incidents in the valley.
The Indian government regularly asks for data from tech firms — last year, Facebook said that the Indian government had made over 20,000 requests for data from it, and Google had reported similar numbers. But opposition parties took the chance to twist the news of a request for data from the Prime Minister's Office — a constitutional post — into a request for data from the BJP, and began attacking Paytm.
"Here is proof we were absolutely correct about demonetization," tweeted Rahul Gandhi, while sharing a snippet of the video. "PayTM=PayToPM," he further tweeted.
Here is proof that we were absolutely correct about demonetisation.

PayTM= PayToPM pic.twitter.com/i6jk8m1SGc

— Rahul Gandhi (@RahulGandhi) May 25, 2018
 AAP leader Arvind Kejriwal shared an old tweet of his, in which he'd questioned links between Paytm and the Modi government.
My old tweet… https://t.co/Y3m8NyOHiO

— Arvind Kejriwal (@ArvindKejriwal) May 25, 2018
And communist leader Sitaram Yechury also attacked Paytm, calling its actions a scam.
PayTM is a private company but bigger questions are raised about the PMO asking for private data. This is a scam, if there ever was one. https://t.co/rqe49cFGGz

— Sitaram Yechury (@SitaramYechury) May 25, 2018
Tweets from two of India's biggest opposition leaders galvanized many users, and Paytm was soon being hit with one-star ratings on the Play Store. "Uninstall it everyone. Your data is not safe," said a review. "Data is not safe..sharing our data to others without authorization," wrote user Ibrahim Shaikh.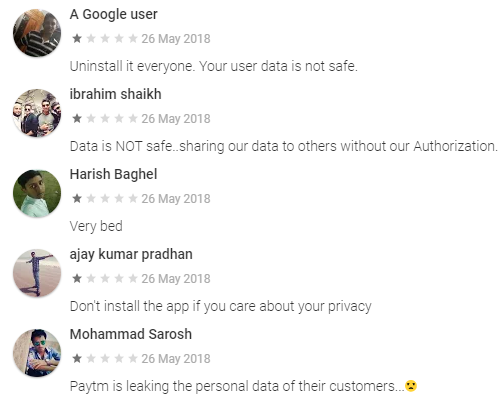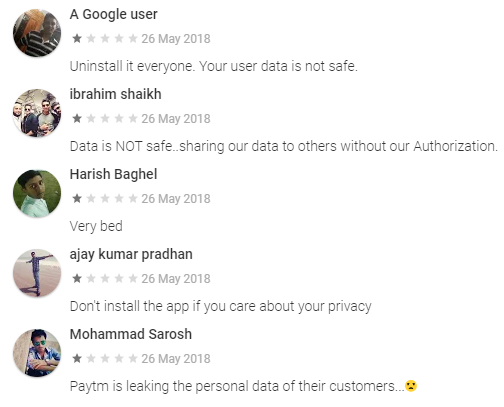 While Paytm has clarified that it never shared data with anyone, apart from law-enforcement agencies with proper authorization, this represents a sweet victory for both Rahul Gandhi and Kejriwal, who've been publicly feuding with Paytm ever since the demonetization move in 2016. Back then, Gandhi had hinted that the entire demonetization move had been carried out to benefit Paytm, while saying that Paytm meant "Pay to Modi". Kejriwal had alleged much the same, while tweeting  that Paytm had been biggest beneficiary of PM's announcement. 
But the latest video has given opposition leaders a fillip as they try to attack any entities that appear to be associated with the current government. And Paytm is discovering that any political affiliations, no matter how tenuous, can be risky, especially in these politically-charged times.