PhonePe and Paytm might be battling amongst themselves to build a new Digital India, but the tactics to get there seem to be as old fashioned as ever.
PhonePe has alleged that some Paytm employees have burnt its QR codes in Greater Noida. PhonePe has approached the Surajpur Lakhnawali police station in response, and claimed that the act was carried out in order to cause harm to its reputation and business. PhonePe said that it was able to identify three Patym employees in the video, including a Paytm Area Sales Manager (ASM). Interestingly, one of the three Paytm employees identified is a former PhonePe employee.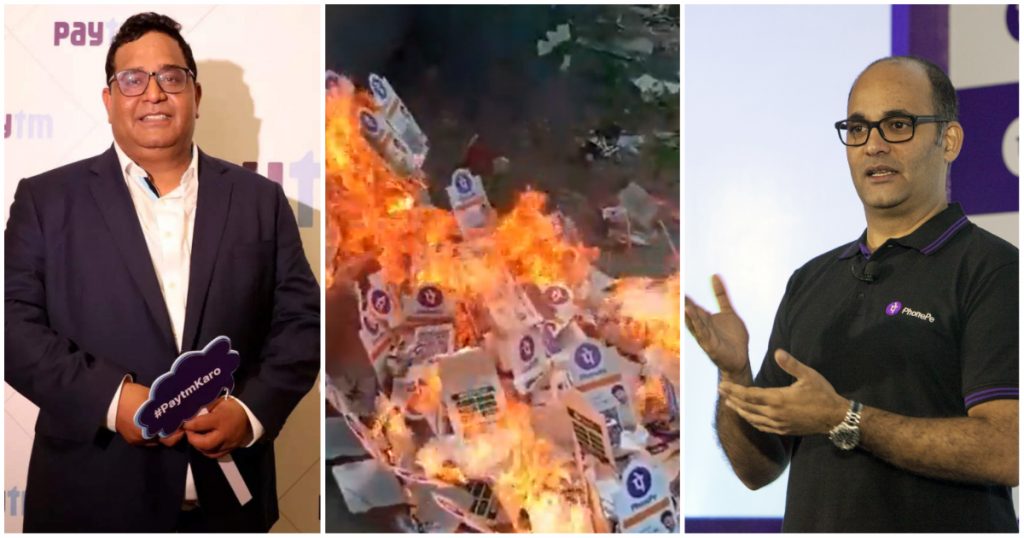 A video of the incident has also been shared on social media. The video shows dozens of PhonePe QR codes piled in a heap, while a man pours a flammable liquid on them. Another man then throws a lit matchstick at the QR codes, setting them on fire. A small crowd of curious onlookers seems to be observing the entire incident.
Paytm, however, has said that the matter was between PhonePe and its ex-employees. "This matter is between Phonepe and its ex-employees. We condemn the act committed by these rogue employees, who have already been suspended from the company pending a detailed investigation," a spokesperson said.
PhonePe CEO Sameer Nigam, however, highlighted the fact that the former PhonePe employee seen burning QR codes was now employed by Paytm. "Worth mentioning that this 'ex' employee of PhonePe works for PayTM now, and there are 10 other people in the video burning Phonepe QR codes in broad daylight. Anyways, let the police investigate the matter and justice prevail," he tweeted.
While it doesn't usually lead to arson, there's an intense rivalry between payment companies in getting their own QR codes installed at shops and merchant establishments. QR codes allow payment companies to access valuable payments data, and which can later be used to upsell credit, loans and offers to both merchants and paying customers. Payment companies maintain large sales teams which go around installing QR codes at shops, and it appears that PhonePe and Paytm teams ended up locking horns with another, with some fiery results.
And it's not just sales teams from the two companies that seem to be at odds with each other — there's no love lost between PhonePe and Paytm. In 2018, PhonePe had responded to Paytm's claims of being the largest UPI app by saying that 90% of its transactions were of Rs. 1 each, and had later called Paytm's claims of UPI dominance "unidimensional and misleading". In 2020, when PhonePe's services had suffered a brief outage, Paytm had cheekily invited it to use its platform, causing PhonePe to respond by saying "form is temporary, but class is permanent". It remains to be seen what the latest police investigation reveals, but the burning of QR codes seems a certain step up in the rivalry between the two fintech giants.