Tapzo had been acquired by Amazon last week, but it now appears that Amazon doesn't want to continue with the app in its current form.
Tapzo has said that it'll shut down its app on 31st October. The name of the app on the Play Store has been changed to "Tapzo (Shutting down soon)", and there's a detailed explanation from the management over how the app will no longer be available. "Since we launched the app 3 years ago, we've been fortunate to serve over 5 million customers," says Tapzo. "Your feedback and reviews (200,000+ on PlayStore alone) and the 4.5 rating kept us motivated and always learning. It's been a pleasure listening to you all and continuously shipping an app update every few weeks consistently. But all good things must come to an end," it adds.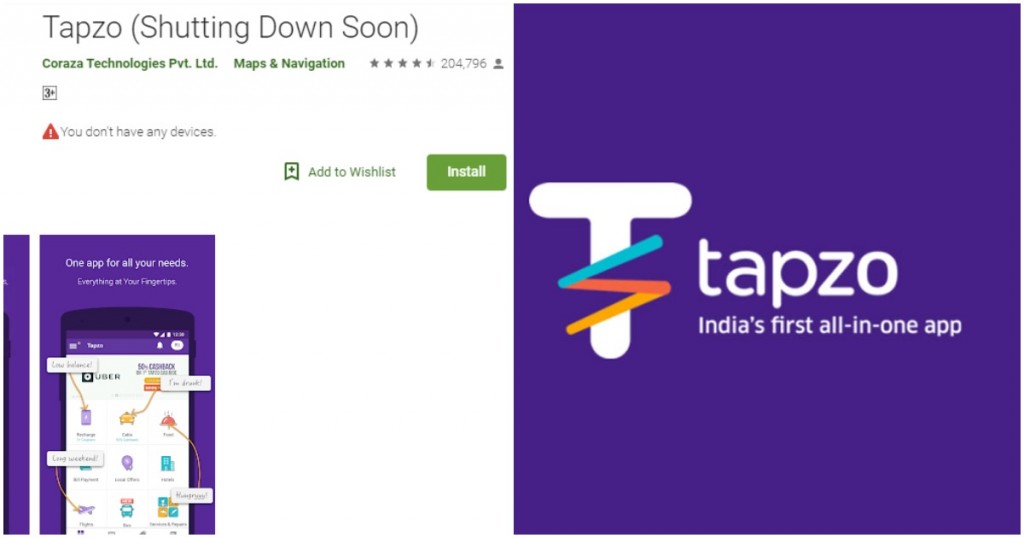 "Tapzo app will be shutting down from 31-October-2018 and all the transnational categories will be turned off from 1-September-2018," it continues. It then lists out how existing Tapzo customers can recover their existing balances and investments. Tapzo says that it will refund Tapzo cash balances to users' bank accounts, and users who purchased a Tapzo Gold subscription will be given a 100% refund. There were other serious purchases being made through Tapzo as well — the company had allowed users to purchase digital gold through its app. Tapzo now says that users will be able to access their gold lockers through a partner's app.
With Tapzo shutting down for good, it'll raise questions over what Amazon really wanted to do with the company. Amazon Pay had acquired Tapzo for nearly $40 million last week, and its founders are already working out of Amazon's offices. But Amazon has now indicated that it hadn't acquired Tapzo for its operations, which offered everything from cab rides to food delivery from within its app. That means that Amazon saw no value in the actual Tapzo app, in spite of the millions of downloads and the 4.5 rating that it touted. 
What might come in handy for Amazon is the data that Tapzo had on its customers. Tapzo had more than 5 million downloads, and would've collected lots of data on its customers' spending patterns. This could prove invaluable for Amazon Pay in a crucial segment — loans. Most fin-tech lending apps rely on collected customer data to determine whom to provide loans to, and big players are eyeing the space — Google recently launched its own loans feature on Google Pay, through which it tied up with 4 Indian banks to provide loans to users of Google Tez. Amazon had no Google Tez equivalent of its own, and possibly sees Tapzo as a way to quickly gather data on its users to compete in the segment.
Tapzo's shutdown would probably change the narrative behind Tapzo's acquisition. Tapzo's acquisition had earlier been seen as the acquisition of a viable consumer business, made and built in India, by a global giant. But with Tapzo shutting down, it's clear that the Tapzo app wasn't quite the success it was made out to be. The Tapzo business, though, along with the expertise of its founders, was clearly seen to be valuable, and Amazon swooped in and purchased it for $40 million. Tapzo had had several avatars during its lifetime — it had launched as customer grievance performance Akosha, then rebranded to Helpchat, and eventually become Tapzo. But with its shutdown, its laboured journey appears to finally be over.