Modern technology has made office life much easier, but it's also brought with it a lot of hassle — corporate employees must wade through reams of email, manage spreadsheets, and coordinate with large teams of disparate people. It can get fairly frustrating, especially for large teams.
But Taskworld, a task management tool, promises to help beleaguered employees who find that they're spending most of their time managing their projects instead of actually implementing them. TaskWorld was founded in 2012 by jewelry billionaire Fred Mouawad, and aims to provide a better experience for employees than email. Taskworld feels that email is inefficient, time-consuming and tedious. Email also has no built-in metrics, so tasks can't be measured or prioritized.
Taskworld, on the other hand, tries to provide a comprehensive system that employees can use in order to manage their work. Employees, for instance, can create new projects that their companies might be undertaking. Taskworld has several project templates which model how companies work — projects can be created for a single team, or even for teams across departments.
Each project, then, is divided into a series of tasks, which can be created through a simple, easy-to-understand UI. Team members — people who will contribute to the project — can be created too, and they're represented by neat little rectangular boxes. These tasks can then be dragged and dropped under each user, representing the things they'll be responsible for.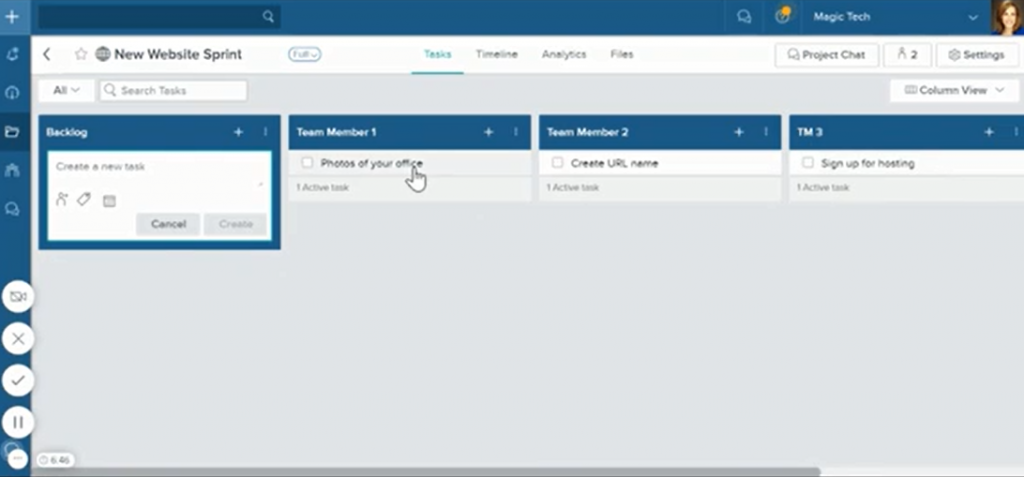 That in itself feels pretty useful, given the amount of confusion in large teams over who's responsible for which tasks, but Taskworld lets users customize tasks in several different ways. Each task can be given a due date and time, and tasks can be even made repeating, so that they show up periodically. Tasks can also be assigned followers, who're updated when the task changes, which is helpful when you're working across teams. And each task can have an estimated time to complete, which can help project managers plan their projects better.
Taskworld also allows for lots of customization that can help specific teams. For instance, tasks have a rating system, between 1-5, which teams can mutually decide how to use and what it represents. There are also handy tags and color schemes that can be pinned to tasks.
Taskworld really comes into its own once the tasks are set up. Once the tasks are in place, projects can be viewed as timelines, and users can see a list of their upcoming tasks. While users can see how their tasks are lined up in the weeks ahead, project managers can get a great top-level view of how their projects are progressing.

And Taskworld also neatly integrates within itself what's now become one of the staples of official communication — chat. Taskworld has a project chat, which lets users communicate instantly to either the entire team, or specific members. Having chat integrated within the main application is particularly convenient, and removes the need to move across tabs or applications.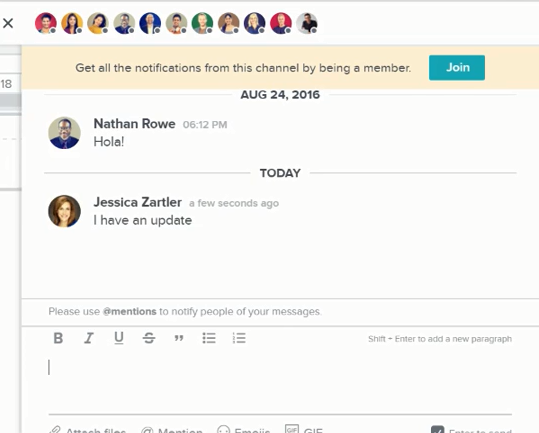 For project managers, Taskworld also provides analytics which give snapshots of how the project is going. Taskworld provides burn down and burn up charts, data around what percentage of tasks are on time or delayed, and a host of other information that can be used to drive business decisions. An overview section gives both managers and users the health of the project at a glance.

Taskworld has a free trial plan for 15 days, after which it has a variety of paid plans. Solo users can manage their own tasks for $4.99 a month, while teams of upto 5 members pay $7.99 a month per user. Larger teams can get the entire functionality for $9.99 per user per month.