The travel industry in India had been pretty much dormant about a decade ago. However with the growth of the internet and information exchange across the globe, this industry has witnessed a second coming. As awareness emerged regarding the delights that different places had to offer, the number of people bitten by the travel bug also grew. This recent travel fad has resulted in several interesting pop culture quirks. An increase in the sale of Royal Enfield bikes, DSLR cameras and people posting on social media networks, pictures of themselves at iconic locations with the words "Wanderlust" usually scribbled somewhere along. And of course as the need for travel grew, so did an explosion of travel and travel based startups. There are startups that take care of curating travel lists, making travel arrangements, arranging foreign exchange, and handling the back-operations of travel and then some. Here's a list of the top travel startups in India.
1. Thrillophilia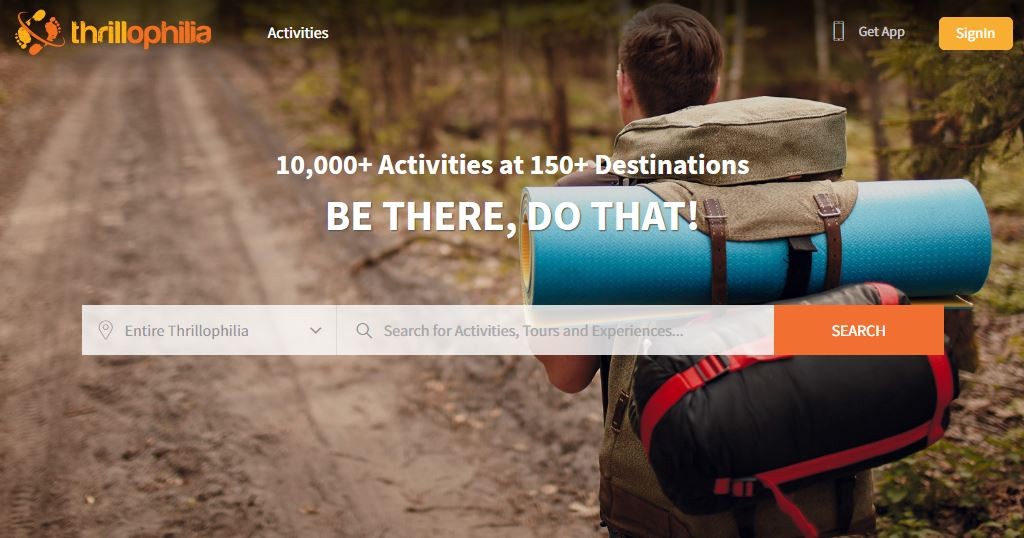 This Bangalore-based startup focuses on an activity based travel rather than passive sightseeing. Branding themselves as an "adventure travel company", they seek to provide an experience in tune with their name for thrill seekers who want that adrenaline rush, with curated and handpicked best local experiences to give you a complete offbeat experience. Co-founded by Chitra Gurnani and Abhishek Daga, their operations started back in 2009 and since then has grown from strength to strength. Initially, they offered eco and activity based tours but soon included corporate tours, honeymoon trips with adventurous activities, weekend and wildlife getaways. Their most popular offerings are white water rafting, Skydiving, waterfall rappelling, Scuba diving, bungee jumping, etc.
2. iXiGO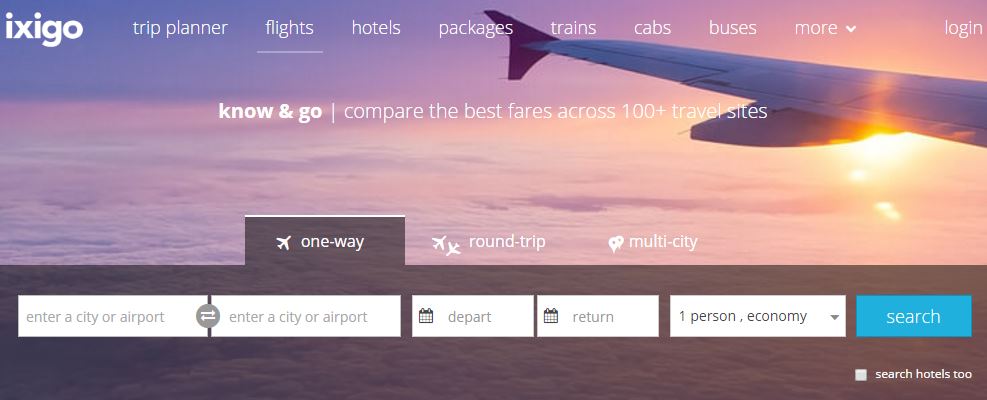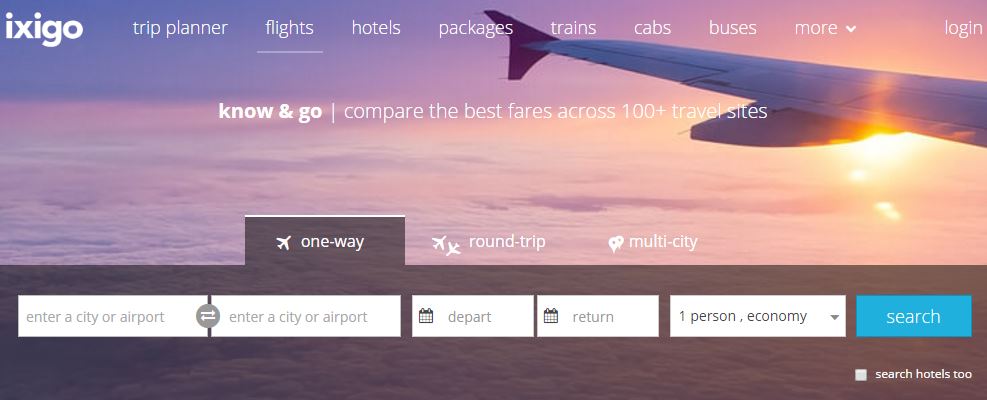 Fulfilling a variety of roles, Ixigo can be best described as a Travel based search engine across many dimensions of travel like Cabs, Buses, Trains, Flights, Hostel, Hotels and Homestays. An aggregator of information, it brings it all under one platform, its own, to help you plan your journey efficiently. iXiGO has a Meta Search for hotels across popular online platforms, a Train search app with in-built PNR based prediction, of the outcome of your ticket booking status. They also acquired Rutogo and Indianbackpacker, two startups in the Meta search for cabs and online travel community industry respectively. Started back in 2007 by Aloke Bajpai and Rajnish Kumar, iXiGO has won several awards and was included in the "Top 10 hottest startups to watch out for in 2007" by Business Today.
3. ExTravelMoney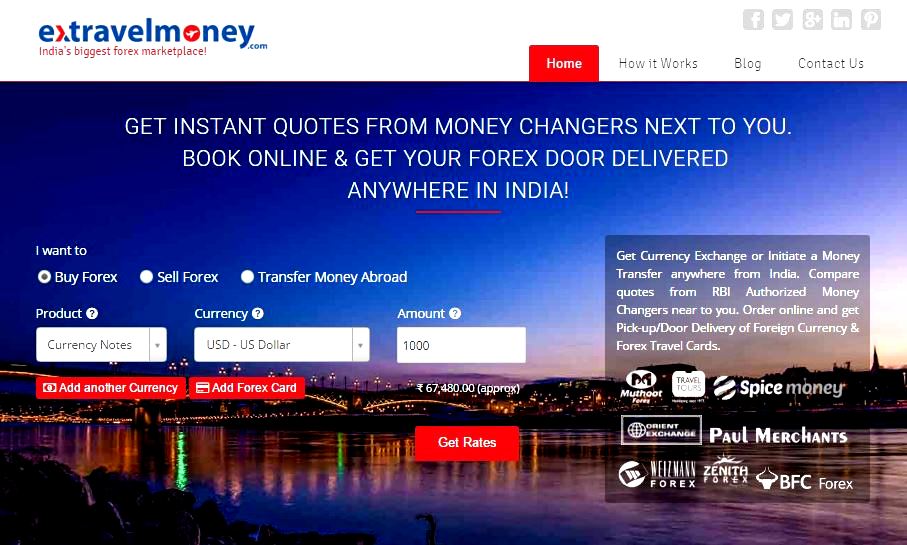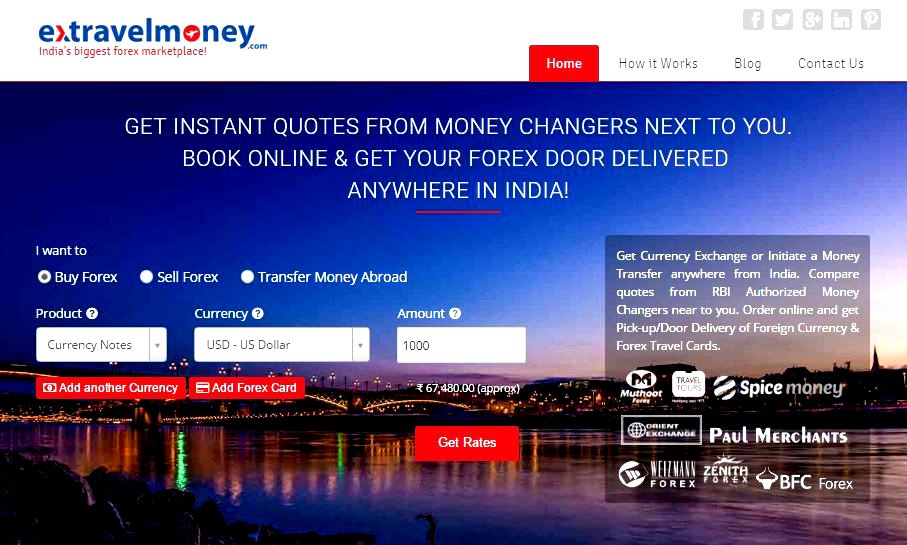 Most of the startups discussed in this list address the most immediate and obvious needs of a traveller. ExTravelMoney is a unique idea that strives to be of excellence in a niche market for money exchange. With ExTravelMoney.com, a traveller can easily buy foreign currency before the trip and encash left-over forex after the trip. They could also buy forex travel cards and send money from India to a foreign country. ExTravelMoney has tied up with major RBI approved exchange houses and serves as an aggregator. Instant quotes from nearest money changers are displayed so that a traveller can compare and choose the most profitable option. The truly remarkable thing about this company is that there are 4000+ forex stores spread all over India having tie-ups with it. By going through this portal, travellers can access currency exchange almost anywhere in India. Travellers, also have the option of getting forex delivered or picked up, wherever they are!
4. OYO rooms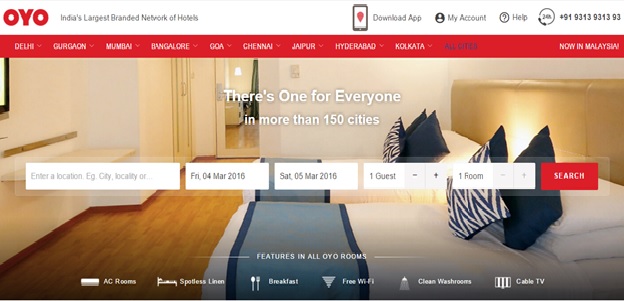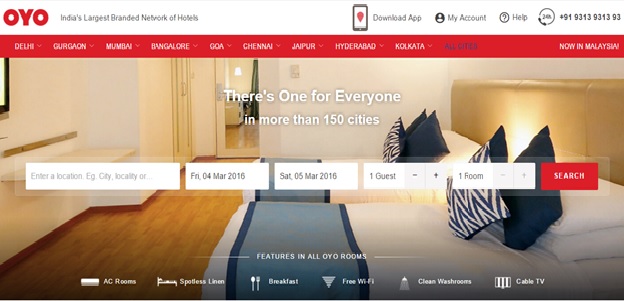 OYO rooms, is an online budget hotels aggregator having a large network of hotels across more than 170 cities in India. This startup is consolidating its position in the budget hotels market through its guarantee of providing only standardized rooms with features like AC, TV, Wi-Fi, cleanliness, good food and customer service, etc. Most of the times, hotels promise on undeliverables and travellers are left to face inconveniences in an unfamiliar place like dirty bathrooms, bed bugs infested mattresses, unclean floors, mosquito infestations and so on. According to Ritesh Agarwal, CEO, OYO rooms, it is not right that travellers have to endure such substandard service no matter how cheap an accommodation they have opted for. To bridge this trust deficiency betweens hotels and travellers is what he hopes to achieve. Their recent feature includes rooms for unmarried couples, no questions asked!
5. HolidayIQ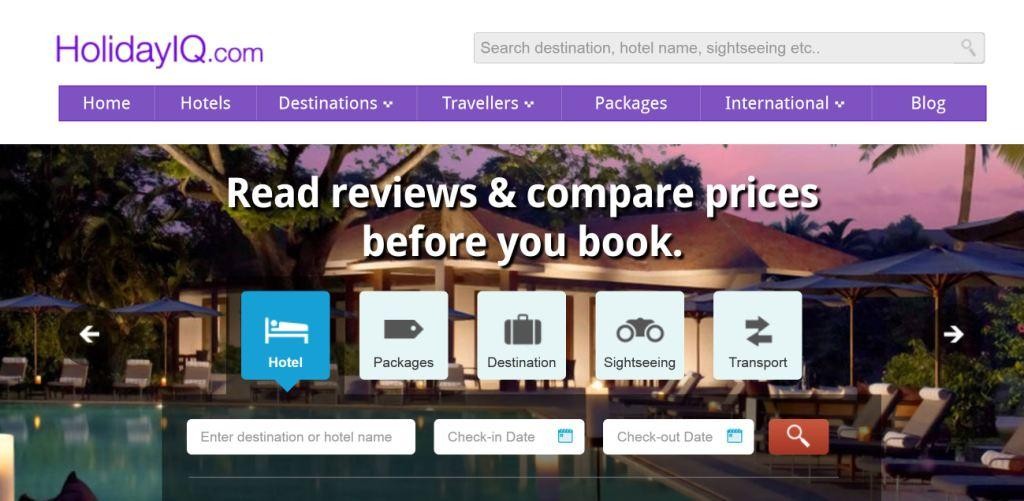 Another one of the top travel startups in India is HolidayIQ, a travel information aggregator company which covers most aspects of travel from transportation means to stay options available at a place. The interesting thing about HolidayIQ is that the information in their portal is user generated. Imagine thousands of people writing down their unique experiences at a common place, which is then arranged, categorized so that travellers looking at it can rely on first-hand accounts when visiting a place. This is the modus operandi of HolidayIQ which has pushed them to the elite club of travel sites in India.
6. Padhaaro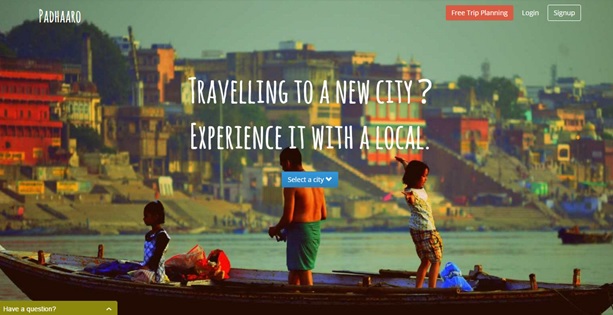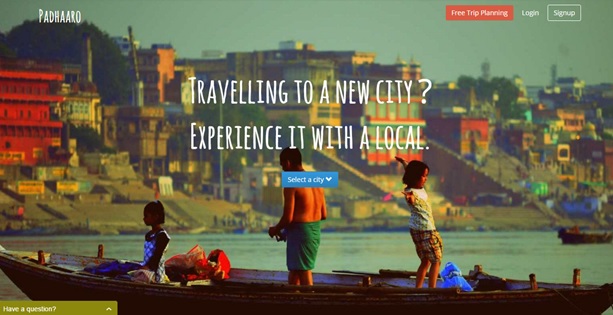 When travellers go to a new place it is easy for vendors and business establishments to dupe them by quoting high prices for goods and services. Also, travellers may not know about the unique experiences that a place has to offer and the dangers, risks associated if any. Padhaaro is a startup that tries to tackle this problem head on. They have a network of Greeters and Local Experts who can show you around. These greeters are more like friends hanging out with you, who are passionate travellers themselves and not monotonic guides. They range from students to working professionals. Their expertise can help you enjoy the pure travel experience while being safe and can thus enhance your travel.
7. Stayzilla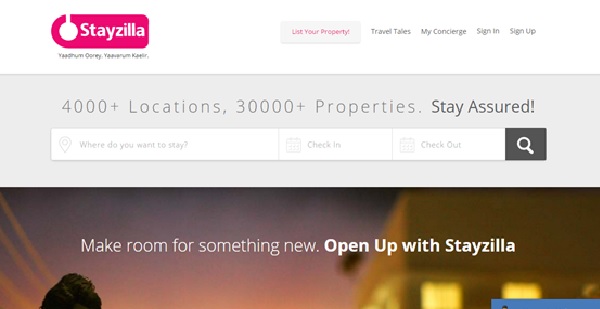 Yaadhum Oorey, Yaavarum Kaelir,' any town is my home, any person is my kin. Sporting this tagline, Stayzilla is a startup that is working exclusively in the travel stays marketplace. Their stays cover a vast range including lodges, homestays, guesthouses, etc. Options range from ultra-low-budget rooms to luxury stays. This platform allows travellers to choose their likes and interests that they prefer along with their stay. These responses are matched against the same for hosts. If a match is successful, that property gets unlocked and guests can directly chat with the host. The likes and interests could be anything from activities like photography or mehndi designs that are included with the stay. Currently, Stayzilla has more than 800,000 stay options across 4500+ towns and growing, and that makes it one of the top travel startups in India.
8. Tripoto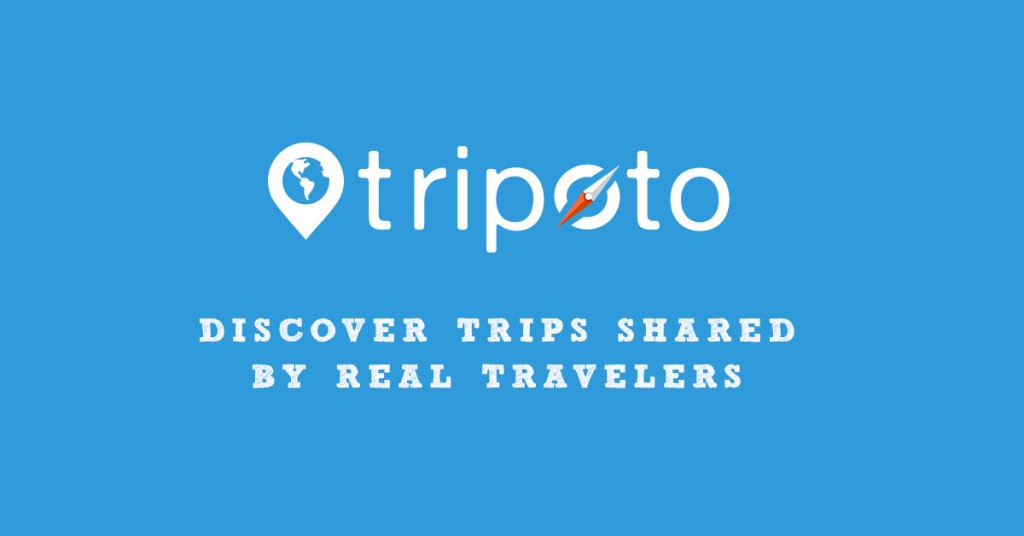 Tripoto is another emerging startup that is trying to take a sizable slice of the travel market pie. They are competing directly with holidayIQ and broadly with Triphobo. Founded by Anirudh Gupta and Michael Pargal Lyngdoh back in 2013, Tripoto curates user-generated content of user's travel experiences and maps the places in every story along with the posted pictures. It could be called the Facebook of travellers as people can create their own profiles, read the stories of other travellers and use the in-house chat to directly communicate with fellow users. The startup has stated that it has a whopping 250,000 itineraries created through its platform!
9. TripHobo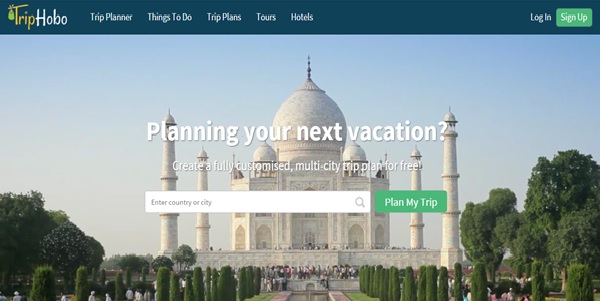 Formerly JoGuru, TripHobo is into custom trip planning.  The startup which offers DIY trip planning across 14,000 cities, boasts of 589453 custom itineraries created by travelers across the globe. They also offer hotel and tour booking making it a complete holiday planning website. Travellers just have to input the places they would like to visit and choose the attractions, activities they want to see and experience and TripHobo optimizes your travel itinerary to give you the best possible experience. While at it, it displays a map with the attractions you have chosen and refines your journey route with an algorithm, ordering the sequence of your planned visits by comparing the distances, opening/closing hours. 
10. goMowgli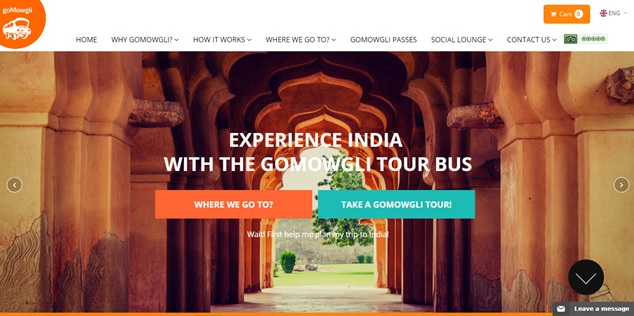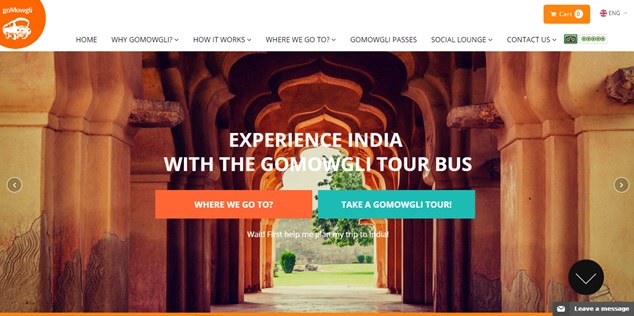 Mowgli in "The Jungle Book", is a happy go lucky kid who roams the jungles without any worries. goMowgli is a startup trying to capture that same spirit. This startup claims to be India's first flexible bus network for travellers. You can hop on and off their network of travel buses at any time. By buying a goMowgli pass with fixed number of days say 5, 12 or 21, travellers can travel within a state on any goMowgli travel bus. A call to goMowgli will help them identify the bus nearest to your location and arrange a convenient pickup. The travel bus offers offbeat experiences and adventure activities that come along with the passes. The passes usually have a validity of 180 days, so you can schedule your travel anytime within that period.
The idea of travelling as a way of life rather than as an exclusive pastime for the rich is widely gaining acceptance in India. Realizing the market potential that such a vast and populous country with incredible travel vistas to boot can offer, these top travel startups in India have jumped into the fray to emerge as the most promising in a market untapped.