Technology has officially disrupted India's payments space.
UPI payments, launched in 2016, now account for more volume and value of transactions than credit cards and debit cards, an RBI report has said. In 2018-19, there were 5,353 million transactions on the UPI platform, compared to 4,414 million debit card transactions, and 1,762 million credit card transactions. UPI handily beat both debit and credit cards in terms of value of transactions as well — while Rs. 8,770 billion were transferred through UPI, debit cards accounted for Rs. 5,935 billion of transactions, while credit cards accounted for Rs. 6,033 billion.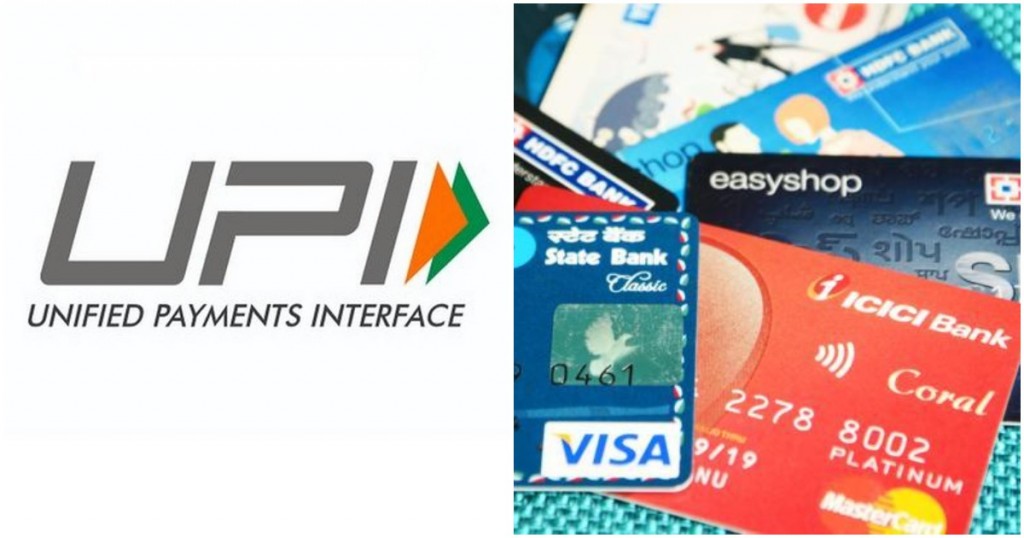 UPI's outstripping of credit and debit cards in August is even more impressive given cards spends are themselves increasing — transactions on credit and debit cards were growing 30% annually as of June 2018. But such has been the pace of UPI's adoption that it has left credit and debit cards in the lurch. In March 2019 it was reported that UPI transactions were half of credit and debit card transactions; just a year later, they've gone right past them. The average ticket sizes of UPI is also comparable to those on cards — the average P2P transaction on UPI is Rs. 1650, which is about the same as the average transaction on a debit card in India.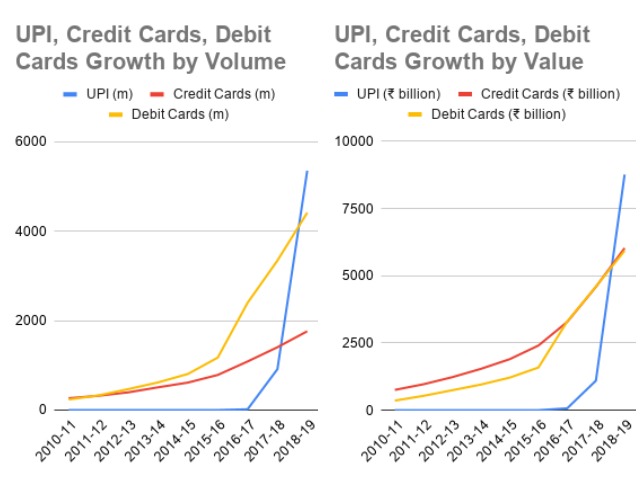 UPI's newfound prominence will worry giants like Visa and Mastercard, which could see their marketshare erode to a brand new competitor. Credit cards in India were first introduced in 1987, and slowly grew into prominence in the 2000s. But in two short years, UPI has galloped along and created a whole new market of its own. There are few other nations which have created their own payments systems, let alone one so successful — Fidelity National tracks 40 such payments systems run by governments around the world, and UPI alone received a top score of 5 for innovation and customer value. In comparison, China's Internet Banking Payment System scored a two and Kenya's PesaLink scored a four. The criteria for the score included round-the-clock availability, speed of settlement and level of government or regulator support.
Apart from UPI's obvious technical efficiency — transactions can occur over any smart phone, and are instant — what the UPI has done is cleverly turned UPI into a platform, and not just let it remain a product. UPI provided the underlying architecture through which money could be sent from one account to another, and then let all banks build their apps to transact through it. Banks rushed to build their own apps and promoted them among their customer base. Then companies like PhonePe, Paytm and Google jumped in with their own apps, and liberally splurged on cashbacks to incentivize their users to use UPI. UPI was thus promoted essentially at no cost to the government. To spur the process along, the NPCI developed its own app, BHIM, which was endorsed by the Prime Minister himself, and thus got an early set of users for the UPI network.
More admirably, UPI is also designed to prevent any one player from having a monopoly in payments. UPI payments are completely inter-operable, which means that a PhonePe user can seamlessly transfer money to a Paytm user through UPI. This serves a dual purpose — not only does it help UPI quickly garner new users — people who use PhonePe or Google Pay or SBI Buddy are all ultimately UPI users, but this also prevents any one company from having an outsize influence on the network.
The National Payments Council of India (NPCI) has been around since 2008, but the UPI might just be the most impactful product ever created by the organization. NPCI is promoted by the Reserve Bank of India, and is jointly owned by India's top banks. It has gone ahead and built a payments network that's competing against the best in the world, and beating them at its own game. Many decades ago, projects like dams and railway lines were seen as visible symbols of government-aided development. Going forward, it's possible that UPI might be looked upon the same way.
This is stunning growth for a payments mechanism that didn't even exist until three years ago, but UPI has been a runaway success since its inception. Its launch coincided with the demonetization exercise, and that gave the fledgling payments mechanism a nice fillip early on its its lifecycle. After being spearheaded by the government's BHIM app early on, other private players took up the mantle, with PhonePe, Paytm, and most recently Google Pay pushing their own UPI implementations.