Even as India is slowly opening up after the two-month-long coronavirus lockdown, there are signs that that economy is slowly whirring back to life. 
India's UPI payments infrastructure has witnessed its second-best month in May in terms of the money transacted. A total of Rs. 2.18 lakh crore was transacted through the UPI platform in May, which was the second-highest figure since the platform was introduced. The best-ever month had been Februrary 2020, when Rs. 2.22 lakh crore were transacted   the platform. But the coronavirus lockdowns had caused transaction amounts to dip sharply in March and April — the figures for these two months had been Rs. 2.06 lakh crore and Rs. 1.51 lakh crore respectively.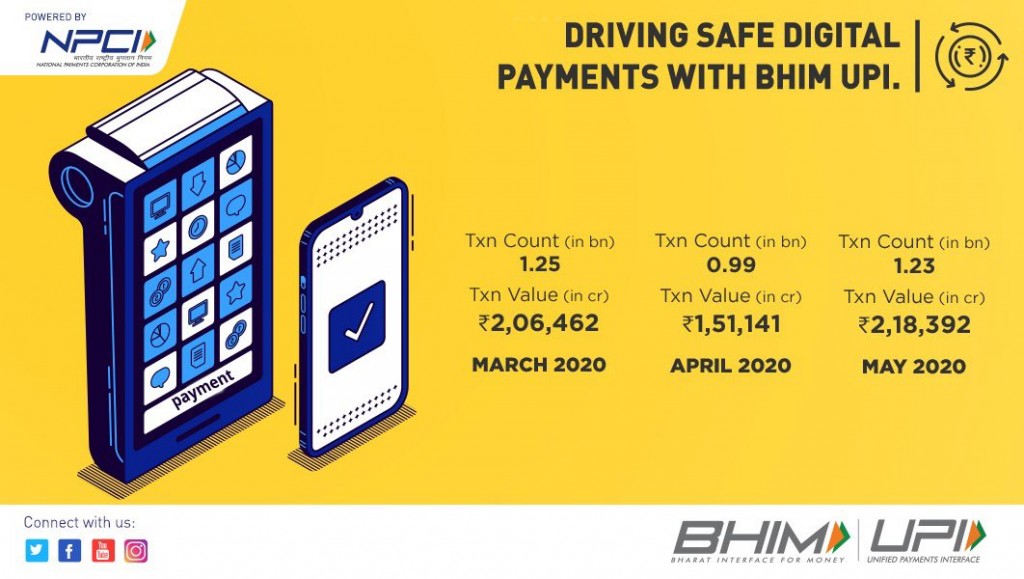 But UPI payments have rebounded a smart 44% since April, and this might be a sign that the Indian economy might be getting back on track. India's lockdown had been gradually lifted in May, with the country being designated into red, orange and green zones on 3rd May, and many activities were allowed in green and orange zones. On 17th May, the government had introduced Lockdown 4.0, which had seen even more relaxations, with almost all economic activities and significant public movement being permitted. Stand-alone shops had also been allowed to open after 17th May.
It looks as though these relaxations have contributed to UPI payments rebounding to almost their original trajectory in May. UPI payments would've likely received a fillip through other sources — with customers now wary of handling cash because of the fear that it could spread the infection, UPI payments could've possibly received a boost as well. Also some activities, such as paying bills, would've moved from the physical world to online, which could've also contributed to the growth in UPI payments.
There are other indications as well that the economy might be recovering after the coronavirus lockdown — India added 2 million new jobs in May as per CIME data, which took India's employment rate from 27% to 29%. India had lost an astonishing 122 million jobs in April, but quickly recovered 20 million of them in May. Also, the stock market appears to be rebounding — the Nifty is now back at 10,000 levels, which is nearly 20% higher than the lows it had touched during the lockdown. It's still early days, but the first indications are now appearing that India's economy might be recovering after the coronavirus setback.