Most surveys around the best places to work for focus on white-collar employees — these surveys take into account perks, swanky offices, and issues like work-life balance and professional fulfilment. But a new survey has provided some insights into how Indian companies are treating their temporary gig workers, who now form the backbone of many popular startups.
The Fairwork India Ratings 2020 has evaluated Indian startups and platforms on how they treat their contract employees. These include workers who drive for Uber and Ola, delivery personnel for Swiggy, Zomato and Dunzo, and professionals employed with Urban Company and Housejoy. Companies were rated on five parameters including Fair Pay, Fair Conditions, Fair Contracts, Fair Management, and Fair Representation.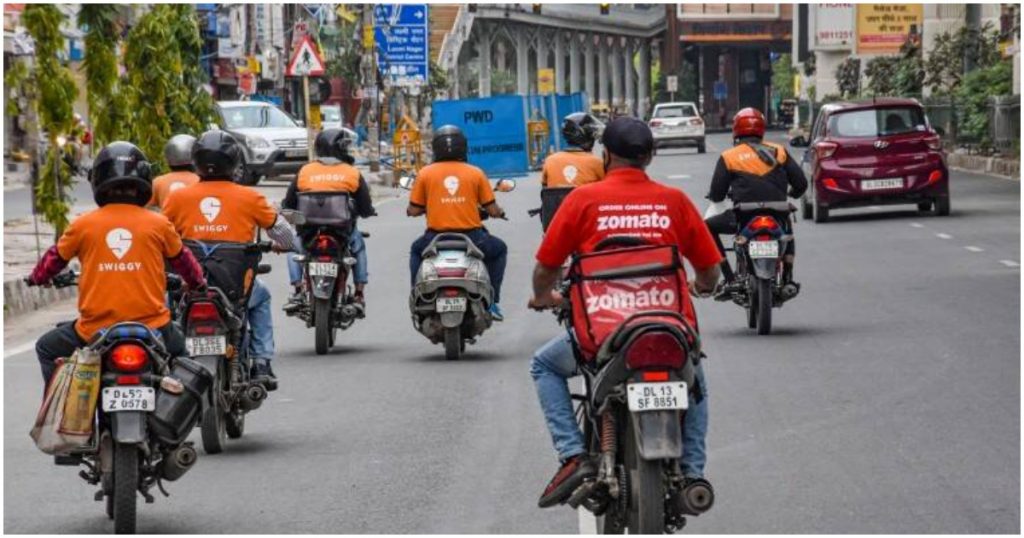 The survey found that Urban Company's workers had the best working conditions, with a score of 8/10. Urban Company was followed by Flipkart's logistics arm Ekart, which scored 7/10. Among grocery delivery companies, Grofers scored a 4, while Big Basket scored 2. Cab aggregators were some of the worst in terms of ensuring fair working conditions for their workforce, with Ola scoring 2 and Uber scoring 1 on 10. The worst conditions for workers seemed to be in the food delivery space, with both Zomato and Swiggy scoring the lowest possible score of 1/10.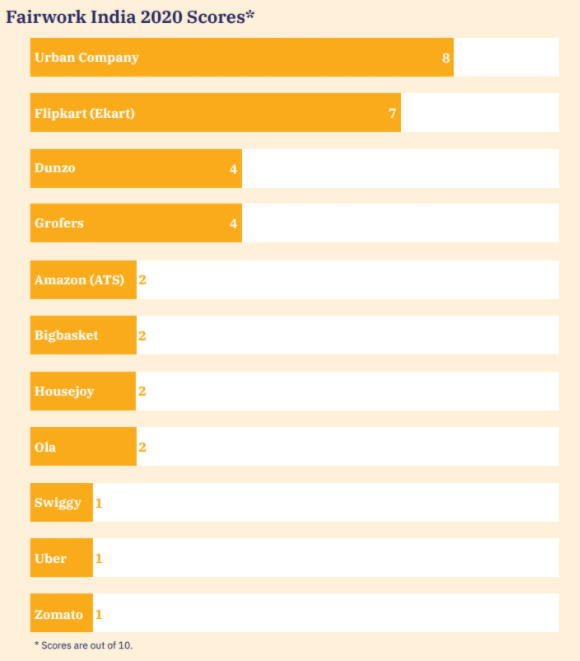 The report also highlighted some issues that gig workers face while working for these platforms. There are no guaranteed payouts, and some companies like Zomato require workers to remain available for a fixed amount of time a day. There is also a lack of availability of insurance, and a lack of grievance redressal mechanisms.

The report revealed that contract workers were not assured of a job
even in the short term, with employees on some platforms, including Zomato, Ola and Uber, complaining that they had experienced temporary ID blocks and permanent suspensions without the means to appeal these decisions.
The report also highlighted some questionable business practices, with a Zomato rider claiming that the company has instructed them to first deliver the order and then do whatever needed to be done in the event of a road accident. "In the meeting 3 or 4 months ago, they told us that if your bike is punctured, take a rental bike and finish the delivery first. If you meet with an accident, first finish the delivery and then go wherever you have to go," the report quoted a Zomato rider as saying.
What's perhaps most interesting is how there's such great disparity in scores across platforms. Urban Company probably scores highly because of the time it spends training and onboarding professionals including the plumbers, electricians and beauticians. There are also variations around companies in the same industry — Flipkart's delivery personnel scored 7/10, while Amazon's ATS workers scored only 2/10. In the delivery space, Dunzo scored 4/10, while both Zomato and Swiggy scored 1/10. As India's gig economy grows and develops, companies in the space will realize that it's not only the white-collar employees that they need to focus on — the well-being of their blue-collar rank and file workforces is just as important.