If you travel around Bangalore, it's hard to miss the little blue bikes that are now scattered across the city. The bikes are run by shared-mobility company Yulu, which was founded in 2017, and has raised $7 million so far. We spoke with Amit Gupta, the CEO and co-founder of Yulu about the company and its prospects. Gupta has some serious startup chops to his name — he was the cofounder of InMobi, which was the first Indian unicorn to turn profitable. He now opens up about his new ride with Yulu.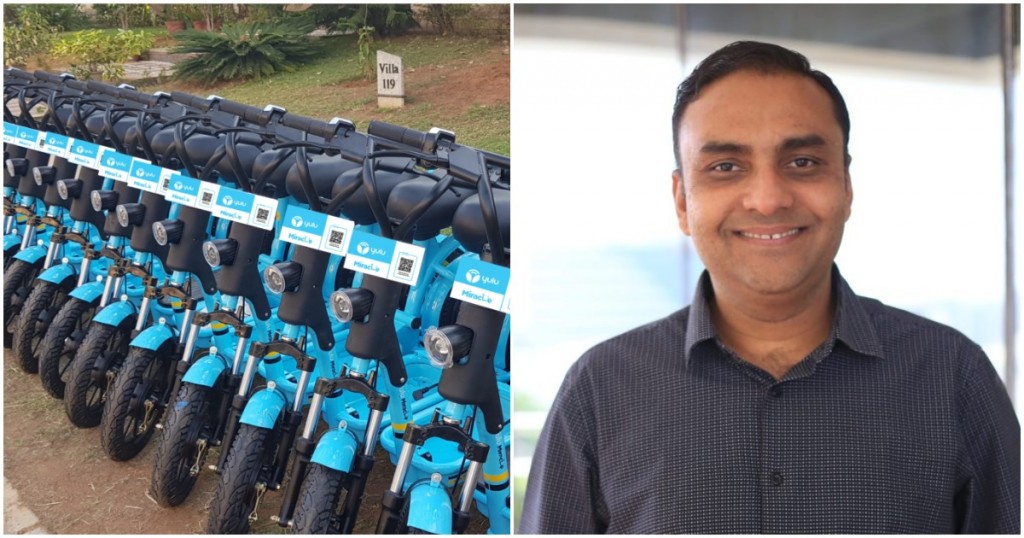 OfficeChai: How's Yulu's business doing? How many rides are you doing per day?
Amit Gupta: We started our journey with our bicycles product, Yulu Move, back in 2018. Those bicycles were doing 2 km-long trips on average. We wanted to do trips as long as 5-7 kms, so we looked at other solutions. We looked at petrol driven scooters, but found that they were not future ready. That decision was good in retrospect. Then we worked on our electric mobility product,  took an unconventional approach, and built something that was tailor-made for shared mobility. We took a calculated risk, and the electric product is working really well for us. We now have five months of operational experience in running Electric Vehicles. We have 2000 Yulu Miracles (the electric bikes) on the road, and 8000 bicycles. We're doing around 35,000 rides per day.
OfficeChai: What was your experience like with petrol-driven scooters? Why did you find them to be not future ready?
Amit Gupta: Petrol scooters are not ideal for shared mobility. As many as 35-40% need to be refuelled during a ride. Also, the amount of petrol they consume is not fixed — it's hard to exactly predict how much petrol a scooter will need for driving, say, 10 kilometers. The amount consumed depends on the traffic and road conditions. With electric vehicles, we know with a much greater degree of certainty how many kilometers a scooter can do with a certain amount of charge. Moreover, carrying petrol is risky. It's being carried in polythene bags and cans, which I think it's not legal. Also, the operating margins which we are able to bring with electric vehicles are four times higher than if we are using petrol-driven vehicles. Also, the Govt is pushing electric vehicles, so why waste our time and energy on something which is not future -ready. 
OfficeChai: Yulu's Electric Bikes look very interesting. Where do these bikes come from? Where are they manufactured? What's their upfront cost?
Amit Gupta: A new Activa costs around Rs. 70,000. Our vehicles cost almost half of that. We currently design them, but get them built or manufactured in China. Then they are assembled in India. We have a partner for that.
OfficeChai: What is the consumer response been like to EVs? How are people taking to these vehicles compared to traditional scooters?
Amit Gupta: We hear very positive feedback. People are saying, wow, the bike looks futuristic, it's very easy to ride, and it's very convenient. People have been taking pictures with their bikes and sharing them on Twitter and Instagram. The bikes are turning out to be quite the aspirational product.
OfficeChai: So Yulu bikes are parked at designated Yulu zones. How do you decide where to have these zones? Some people complain there aren't enough zones close to where they work or live.
Amit Gupta: We have followed a principle of transportation, which we call 3A mobility: Acceptability, Affordability and Availability. So, unless you get all the three things right you cannot become a preferred mode of commute for regular commuters. 
We have 2000 bikes in a city which has 5 million two-wheelers, which is not even a drop in the ocean. So how do you solve this without having a huge supply? We choose our area. We're present in Indiranagar, Whitefield, Koramangla and so on. We're currently present in perhaps 25 percent of the geography, and even there we've created Yulu zones. We currently have 1000 Yulu zones in Bangalore, and typically the distance between two Yulu zones is 250 metres. 
We created these Yulu zones by going to corporates who gave us parking spots, we went to citizens who gave us space in their apartment complexes, and we went to the city authorities, which gave us spots near bus stations and metro stations and on certain footpaths.  We have a permit and we pay a permit fee per year.
OfficeChai: How do you plan to expand in Bangalore? How do you go about creating more Yulu zones?
Amit Gupta: We appoint cluster managers, who look after the operations in a particular area. As we raise more money, we can buy more vehicles, we can hire more people, and create more of these clusters. Over the next 12-18 months, we should be able to cover 70-80 percent of Bangalore.
OfficeChai: How do you manage your logistics operations? How do you make sure your bikes are charged on the go?
Amit Gupta: Generally in the electric vehicles space, there's no standardization — there are no fixed battery sizes, and there are no fixed battery types. So we decided to go with a vertically integrated approach. We've designed our battery pack and we've got our own charging stations. Just as we've created our Yulu zones, we've also built a network of charging stations. Our charging station is the size of a refrigerator. It needs a 15 Ampere plug, and that's it. Mom and pop stores are very happy to keep it in their shops, and we pay them a nominal fee per month for doing so.
These charging stations are smart too, so we know which charging station has a charged battery ready. Each battery takes four hours to charge, and can power our bikes for 60-65 kilometers. The operator who's responsbile for an area has an app, and he can go to the charging station, scan the QR code and open the lock. He then takes out the battery and takes it to a parked scooter whose battery is below a certain critical threshold.
Our bikes send us their location and battery percentage every 5 minutes. The moment the charge goes below 15 percent, an operations executive takes a battery from a charging station, goes to the bike, and replaces its battery. At any point, 7-10 percent of our bikes have their batteries ready to be swapped. We try to swap batteries between 2-3 hours.
OfficeChai: How's your traditional bicycles business doing? Some other companies haven't fared quite as well in that area — Ofo came to India and bowed out, and Zoomcar's Pedl was discontinued. What's your experience been like?
Amit Gupta: For us, bicycles have done well too. Ofo was facing problems the world over, and Zoomcar and Ola had other businesses to run. At Yulu, we were focused on the micromobility problem. For us, certain use-cases work perfectly for bicycles, such as traveling distances of 1-2 kilometers. We have lots of tie ups, we're in Infosys, we're in ITPL, and several other campuses for their intra-campus commute. Today we have two products, we'll keep introducing more as and when needed.
OfficeChai:  Which new products do you have in the pipeline?
Amit Gupta: Yes, we have the Yulu Magic product, which is an e-cycle, where half the energy comes from the human body and half comes from the battery. We also have a product similar to what you see in the west, a scooter, which some corporate campuses are interested in. For usage in cities, we believe Yulu Miracle is our strongest product, keeping in mind the parking space required, the ease of use and the regulations — as it runs below 25 kmph, it doesn't need a license.
OfficeChai: What's your experience been like working for the government? In the past, companies like Zipgo have been at loggerheads with the authorities, and Ola and Uber bikes too were not allowed to operate. What's Yulu's experience been like?
Amit Gupta: So we have been blessed to have an outstanding relationship with the city authorities. We're a pro-public transportation company — we are a feeder to buses and metros, and we're taking cars off the roads, and we're making the air cleaner. This aligns well with what the authorities want, so we've been getting all the support we need from them. Companies like Zipgo were seen as competition by the BMTC. For us, BMTC buses and Zipgo are the first and last mile companions, not competitors.
OfficeChai: What are your expansion plans like?
Amit Gupta: We want to be in all megapolises where the population is more than 10 million. Currently we're serving only there cities — Bangalore, Pune and Greater Mumbai. We're planning to move into a bunch other cities. But we have latent demand in our existing cities — it's about choosing to enter, say, Manyata Tech Park in Bangalore, versus expanding into a new city. We're looking at city-level partnerships with large cities. Depending on wherever we get permissions and interest, we'll start operations. 
OfficeChai: You had co-founded InMobi before this, and saw it become a unicorn. Now you're starting off again with Yulu. What's the transition been like for you personally?
Amit Gupta: After InMobi, I wanted to have a social impact. With InMobi, the impact was more with the company  — we among the first few companies to start the startup wave, and I'm very proud of building that company out of India. But ultimately, we were making advertisements beautiful. That's impactful, sure, but with Yulu, the impact is around whether we can make our cities and our country beautiful. That was my motivation to devote myself to this cause. 
And there are lots of similarities between the spaces, strategically. Back when we'd started InMobi, phones were stand-alone devices, and they became connected into the internet ecosystem. The same thing is happening with mobility — owning a single vehicle will soon have no meaning, and what'll matter is the ecosystem of vehicles around you. We want Yulu to be at the forefront of that.