Even as the coronavirus is disrupting industries across the world, companies are quickly innovating to mitigate its impact on their businesses.
Zomato has said that it has introduced "contactless" delivery on its food delivery app. Through the option, the delivery partner will place the food package on a clean surface outside the customer's door. He will then click a picture of the package, and the picture will be available to the customer on the app. Once the delivery partner has left, the customer can come and pick up the food at their convenience. Zomato said that the feature is already available on the app in the delivery instructions section, and the company will also publicize this feature over the weekend with an app update.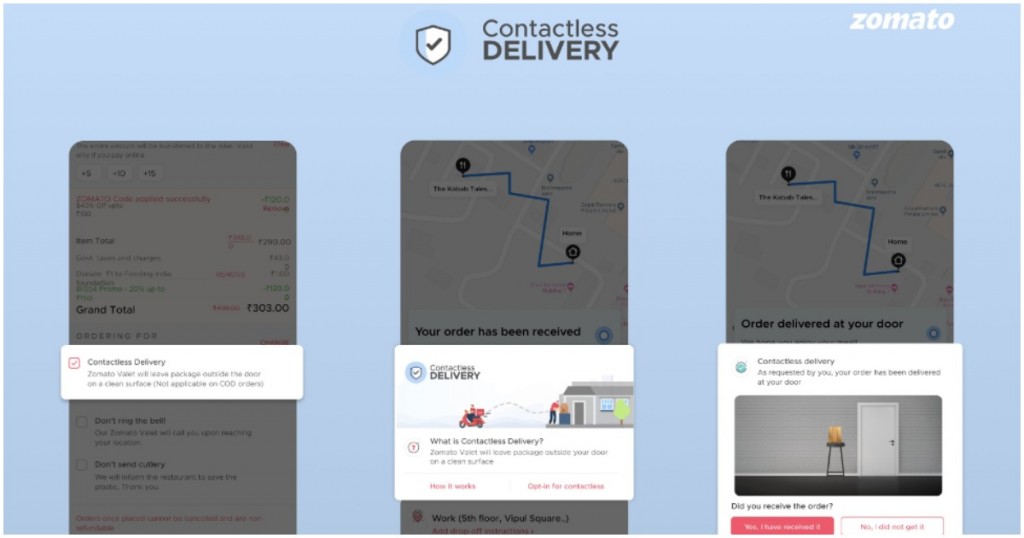 Zomato has acted quickly to what could be a serious threat to its business — delivery executives come in contact with several people every day, and if the coronavirus spreads further, would have a high likelihood of contracting the virus. This would make people hesitant to come in contact with them, and food delivery companies could see their order volumes being hit. But by introducing an update in its app that will minimize the interaction between food delivery executives and customers, Zomato has possibly helped mitigate the impact on its services.
Zomato said that it's also working on educating its delivery partners about the coronavirus. "Delivery partners are being sent various advisories on COVID-19 released by the Ministry of Health & Family Affairs to keep them updated on the situation. We are especially emphasizing best practices of how to handle food packages to ensure safe and hygienic delivery, and have asked our delivery partners to self quarantine or reach out to a doctor immediately if they have any symptoms," said Zomato CEO Deepinder Goyal. Zomato also said that it would financially support its delivery partners who contract the virus. "We're also informing our delivery fleet that they don't need to force themselves to work for financial reasons if they get infected with COVID-19. We'll support our delivery partners with financial assistance, on top of medical insurance in case they are diagnosed with COVID-19," he said.
Several other Indian tech startups have also sought to help out with the coronavirus. Ed-tech startups Byju's and Toppr have announced that they're making some of their paid lessons free as schools are impacted across the country. But Zomato might be the first startup that's implemented a whole new feature on its app to help deal the the coronavirus, and contactless delivery is a feature that's likely to become more popular across delivery apps in the days to come.