In today's age of social media conformism, new developments are usually met either with fawning praise or with rabid anger. Zomato, through a simple tweet in which it publicly reprimanded a customer on social media, has managed to elicit both.
Zomato is earning both bouquets and brickbats for its response to a customer who wanted his delivery to be made by a non-Muslim delivery partner because it was the holy Hindu period of Shrawan. "Just cancelled an order on Zomato," tweeted Amit Shukla. "They allocated a non-Hindu rider to deliver my food and said that they can't change the order. I said I don't want a refund, don't deliver, just cancel (the order)," he wrote.
Shukla also shared screenshots from his chat with a Zomato customer care executive, where he asks them to change his rider. "This is our holy month and we only order from pure veg restaurants," he had told the delivery executive. "So either change the rider or cancel the order," he'd added.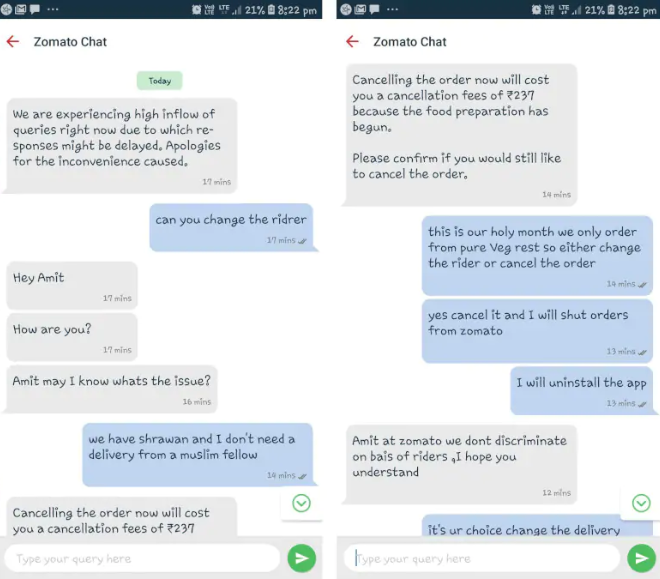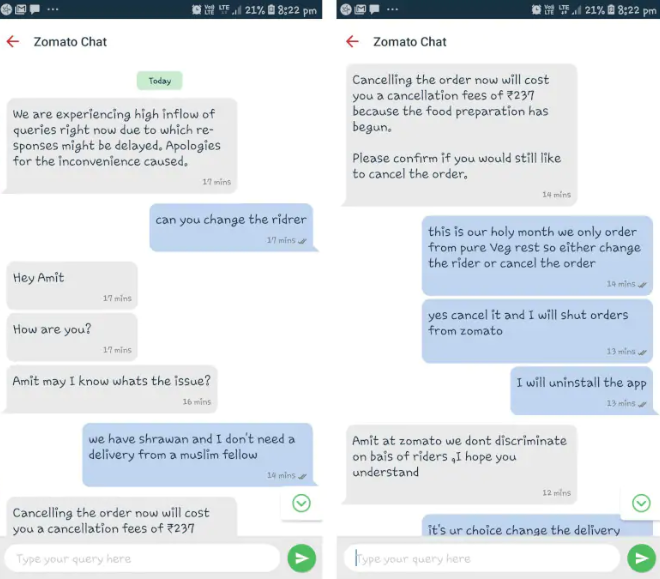 Zomato, though, instead of replying privately to the customer, chose to quote-reply to his tweet to its 1.4 million followers. "Food doesn't have a religion. It is a religion," said Zomato.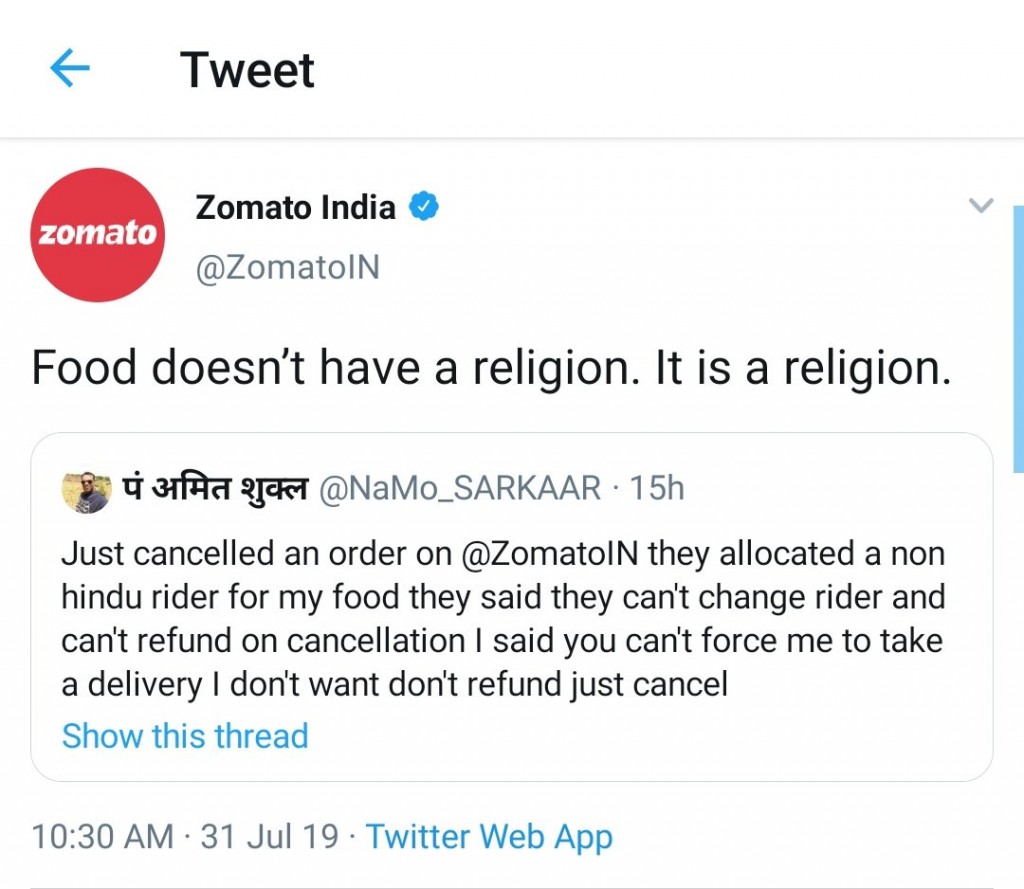 Zomato's tweet instantly went viral, and as of writing, has been retweeted over 24,000 times. Zomato CEO Deepinder Goyal stepped in too. "We are proud of the idea of India — and the diversity of our esteemed customers and partners. We aren't sorry to lose any business that comes in the way of our values," he said. His tweet went viral too, and has been retweeted as many as 13,000 times.
We are proud of the idea of India – and the diversity of our esteemed customers and partners. We aren't sorry to lose any business that comes in the way of our values. ?? https://t.co/cgSIW2ow9B

— Deepinder Goyal (@deepigoyal) July 31, 2019
Zomato's stance drew praise from several Twitter users. "Kudos to you Mr. Goel. THANK YOU for standing up for the real idea of India & true Indian values!" wrote Bollywood actress Swara Bhasker.
Kudos 2 u Mr. Goyal ! @deepigoyal THANK YOU for standing up for the real idea of #India & true Indian values! You are a true citizen & patriot. ?? More power to u!! @ZomatoIN @Zomato ♥️ I hope larger corporations who in the past haven't had the courage 2 stand up to trolls learn! https://t.co/TEdME0y0d3

— Swara Bhasker (@ReallySwara) July 31, 2019
"We love you Zomato..kudos to your reply," wrote another Twitter user.
We love you Zomato…kudos to your reply #iStandWithZomato

— Divyanshu Kumar (@DivyanshuTweets) July 31, 2019
And praise came from some unexpected quarters as well. Former Finance Minister P Chidambaram said he was so impressed with Zomato's response that he'd begin ordering food from its service.
I have not ordered food so far, but I think I will do so now from Zomato.

— P. Chidambaram (@PChidambaram_IN) July 31, 2019
But the matter didn't quite end there. Some social media dug up old tweets of Zomato's in which it had apologized to a customer who'd wanted to cancel his order because it wasn't Halal. 
@Zomato #boycottzomato as muslim food has religion bt hindu food not pic.twitter.com/tP3lhWWPah

— sanjay karmakar (@sanjaykarm) July 31, 2019
While someone else pointed out how Zomato had previously apologized and privately responded to a customer who was irate because the restaurant he'd ordered food from served pork as well.
Different demands different Responses…. Wow great job @Zomato …..fuck off… Read all..#boycottzomato #Zomato pic.twitter.com/Em1mRjLEP2

— Meet (@KingOf7Lords) July 31, 2019
Others began pointing out what they claimed was the hypocrisy in Zomato's responses.
#Zomato is new Brand Ambassadors of Hypocrisy. #BoycottZomato pic.twitter.com/h4rYh6s8B5

— SanatanSanjay? (@Sanny_2050) July 31, 2019
And some questioned how Zomato could claim that food had no religion, when it has tags for Halal food on its platform. 
Halal is a term from Quran that means "permitted" or "lawful". Therefore, in relation to food, Halal is used for food and other consumables that are permissible for consumption and used by Muslims, based on the Islamic law, the Shariah#IStandWithAmit #Zomato https://t.co/WUNoF7JQKq

— Pappu Gyaan ? (@PappuGyaan) July 31, 2019
Soon enough, people were uninstalling Zomato's app in droves, and sharing pictures on Twitter. By 10:30 pm, the Twitter hashtag #IStandWithAmit, which was in soldiarity with the customer Zomato had responded to, was the top trend on Twitter India, followed by BoycottZomato. As of writing, Boycott Zomato has over 24,000 tweets, while #IStandWithAmit had 22,000.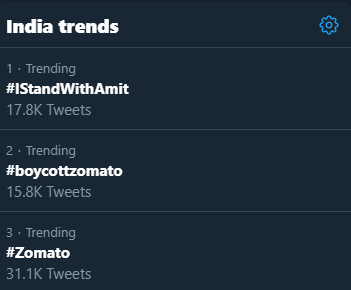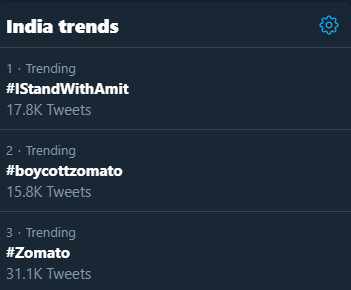 Zomato's app was also targeted on the Play Store, and people left hundreds of 1-star reviews for its supposed hypocrisy.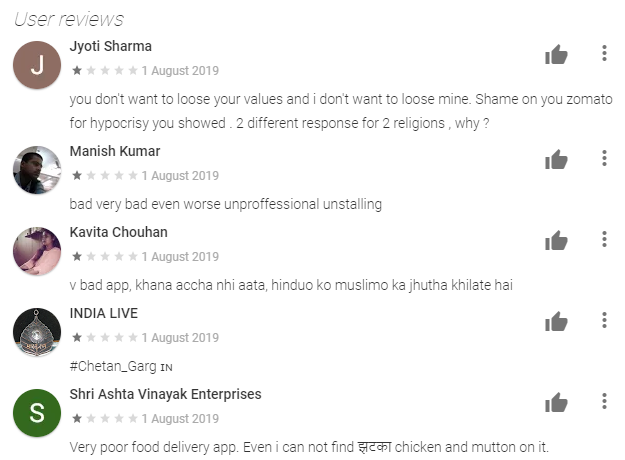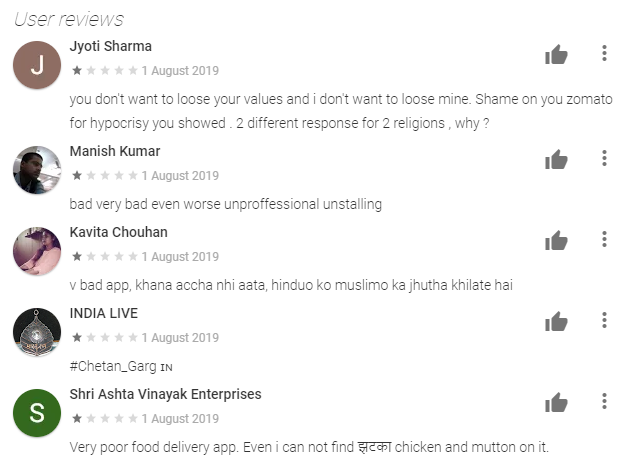 In turn, some people started giving the Zomato app 5-star ratings to show their support.
Installed #Zomato just to give them a 5 star rating. pic.twitter.com/8dvEPEXfi3

— Rameem (@rameem81) July 31, 2019
It's a pretty complex situation that Zomato finds itself embroiled in, but it's one that certainly of its own making. Zomato could have privately responded to the customer and told them that it was impossible to cancel their order and the situation could've ended there, but it chose to use the tweet to make a statement for its entire userbase. Zomato's strong stand did strike a chord with some people, but appears to have alienated just as many others. For a business that would want to cater to as many people as possible, it might not be the smartest marketing ploy — signalling virtue is cheap and wins easy fans, but it might not be worth it if it leads to the boycott of your brand becoming the top Twitter trend nationwide.