The rumours have been doing the rounds for months now, but now they've reached a crescendo — Walmart could be days away from acquiring a majority stake in Flipkart. And while this will be the biggest deal ever in India's fledgling startup ecosystem — Walmart will likely value Flipkart between $15 and $20 billion — it will also have far-reaching consequences for all players involved. These will be the 4 winners and 3 losers if Walmart does go ahead and acquire Flipkart.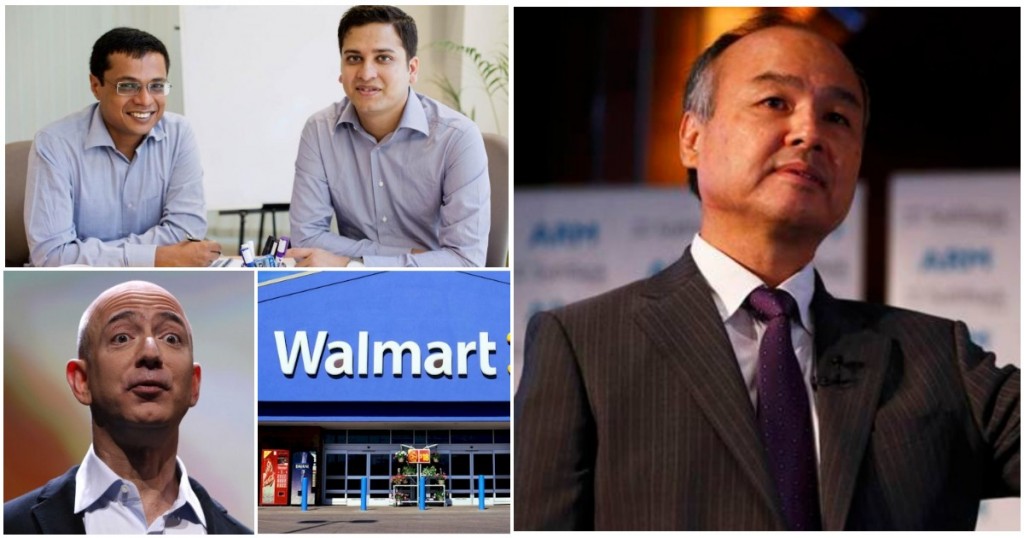 The Winners
1.Softbank: There will be no bigger beneficiary from the deal than Softbank, which will likely end up doubling its investment in Flipkart in 10 short months. Softbank had invested $2.5 billion in Flipkart in August last year in a deal which had valued Flipkart at around $10 billion. By selling its entire stake to Walmart at nearly double that valuation, Softbank will make a killing on its Flipkart investment. After a series of dud investments in India where it lost money, including Housing and Snapdeal, and some investments which haven't paid off yet, including Grofers and Oyo, Softbank Flipkart investment could be the investment giant's first substantial win in India.
2. Flipkart's early investors: Much like Walmart, Flipkart's other investors, including Accel, Tiger Global and Naspers also stand to gain from Flipkart's Walmart deal. Flipkart had been valued at $15.2 billion in 2016, but since then had seen its value fall to the $10-$11 billion USD range. A valuation of $15-20 billion will bring Flipkart's early investors an unexpected windfall, and a handsome exit.
3. Sachin Bansal and Binny Bansal: Another set of players who'll win big if Flipkart and Walmart come together is Flipkart's founders, Sachin Bansal and Binny Bansal. Over the last couple of years, both founders have been sidelined from the CEO post, and replaced by Tiger Global's Kalyan Krishnamurthy. There are now rumours that the duo could leave Flipkart following its acquisition by Walmart. But Sachin and Binny already seem to be making plans beyond Flipkart, having set up a company called Sabin (short for Sachin-Binny) Advisors, which could look at investing into other startups. A $20 billion exit from Flipkart will mean greater firepower for the duo as they look to begin their post-Flipkart journey.
4. India's shopping public: Walmart and Amazon are fierce rivals, and Walmart's acquisition of Flipkart will all but ensure that Amazon never gets to acquire Flipkart. This will mean that there will continue to be two well-funded companies vying for the attention of India's shopping public, and Indian consumers will continue to enjoy the discounts and offers that are thrown their way. Things could've been very different had Amazon acquired Flipkart, as some reports had suggested.
The losers
1.India's other e-commerce startups: The biggest loser in the entire deal might be India's smaller e-commerce startups. Flipkart had proven to be a ready acquirer of homegrown vertical-specific e-commerce startups, snapping up Myntra and Jabong, and giving reasonable returns to their founders and investors. Walmart is a more traditional venture, and doesn't have a history of acquiring too many companies. If Flipkart becomes a Walmart subsidiary, India's second-rung e-commerce startups will lose out on potential exit plan — it's unlikely that Flipkart wil acquire any other startups in the e-commerce space.
2. Amazon: Amazon could've controlled India's e-commerce space had it managed to acquire Flipkart, and had even made a generous bid to the effect. But if Flipkart gets acquired by Walmart, Amazon will have to continue to battle a well-funded rival for the foreseeable future. Amazon will still be in pole position to win India's e-commerce space, but it will likely have to spend a lot more money to do so.
3. India's startup ecosystem: And perhaps the biggest casualty of the Flipkart-Walmart deal will be the Indian startup ecosystem's dream of creating a truly global Indian company. Flipkart, apart from being the highest valued Indian startup, was also the torchbearer of India's startup resurgence, and initial expectations among the founders were high. "We are here for a long run and definitely aiming at becoming a $100 billion company in next 5 years," Sachin Bansal had said in 2014. While a $20 billion exit is nothing to be sniffed at, it also means that India's startup ecosystem will have to wait a bit longer for its first truly global homegrown behemoth.