India's upstart D2C brands might not yet have proven business models, but they are catching the attention of some of the biggest names in their space.
The Aditya Birla Group has acquired a majority stake in D2C brand Bewakoof. The conglomerate acquired a 70-80% stake in Bewakoof for Rs. 200 crore. The acquisition was done through a subsidiary named TMRW, which Aditya Birla Group had launched earlier this year. TMRW will be used to build a house of brands for the century-old group.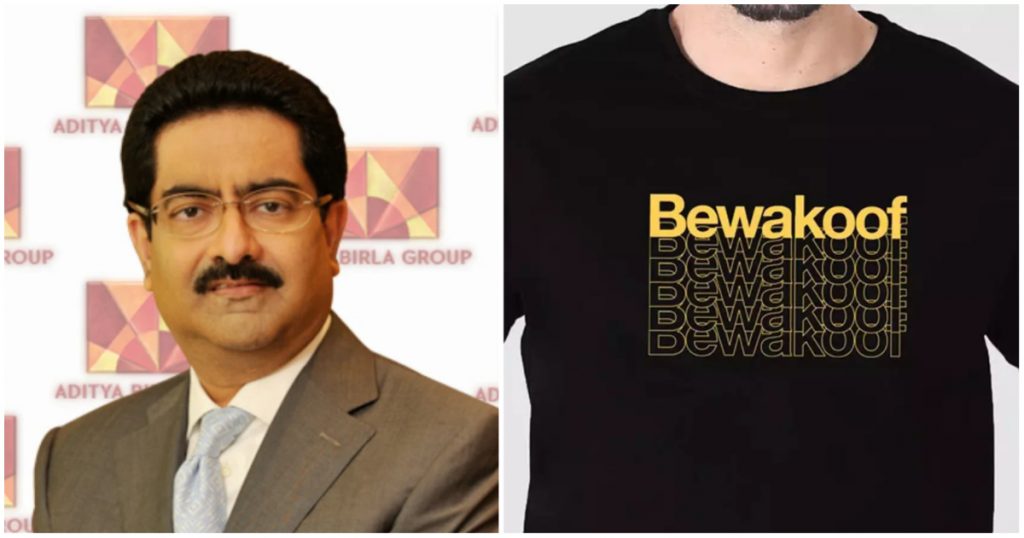 "With TMRW coming onboard, We have the right partner with enabling skills to help us scale up quickly," said Bewakoof founder Prabhkiran Singh. "With Bewakoof's loyal consumer base and our value-add in design, technology, brand building & supply chain, we aim to scale this brand to Rs 500 crore plus in the next 2 years," said TMRW CEO Prashanth Aluru. Bewakoof will use the fresh capital to build its brand, and expand into the teens and kidwear segment in the next two years.
Bewakoof was founded in 2012 by IIT Bombay graduate Prabhkiran Singh. The company started off by selling quirky casual clothing targeted towards the youth, and had tried to stand out from its peers with catchy and relatable phrases printed on its T-shirts. Over the years, the company expanded its portfolio by making clothes with prints in regional languages including Hindi, Marathi, Bengali, Telugu and Gujarati. Bewakoof also tied up with franchises such as Marvel, DC Comics, Looney Tunes, Star Wars, F.R.I.E.N.D.S, and Disney to create custom clothes and accessories. Bewakoof now now a D2C brand which directly reaches out to customers through its formidable social media presence and sells its wares. In FY2022, the D2C brand recorded sales of Rs. 180 crore.
The Aditya Birla Group, though, might have got itself a pretty sweet deal through the acquisition. Bewakoof had raised nearly Rs. 200 crore ($24 million) through the years, and selling 80% of the company for the same amount couldn't have led to windfall returns for its investors or employees. Bewakoof, though, now has one of India's biggest apparel companies in its corner, and can hope to leverage its reach and expertise to further grow its business.
And Bewakoof isn't the only D2C brand that Aditya Birla Group has bet on. Just this week, the group announced that it was investing in 7 other D2C brands through TMRW. These brands are Berrylush, Juneberry, Natilene, Nauti Nati, Nobero, Urbano and Veirdo. These brands span a variety of categories, and many are fairly new to the market.
It probably makes sense for the Aditya Birla Group to make a big D2C push. The company is already a major player in the clothing space — it owns brands including Allen Solly, Louis Philippe, Pantaloons, Van Heusen, Peter England, and has partnerships with international brands including Ralph Lauren, Forever 21, American Eagle and Reebok. But D2C brands are looking to disrupt the incumbents in the space — they build large social media followings to directly reach customers, and sell their products online. The Aditya Birla Group has appeared to realize the threat, and instead of starting off D2C brands of its own, has chosen to invest in 8 fledgling D2C brands. It remains to be seen how the bet pays off, but with the Aditya Birla Group naming its house of brands play TMRW, which is the abbreviation of tomorrow, it appears that it believes that D2C brands could well end up being the future of fashion.