Amazon's taken its famed customer obsession to a strange new extreme.
The company says it's devised a solution which will make sure people don't miss their Amazon deliveries if they aren't at home. And Amazon's solution is breathtaking in its audacity — it says it'll provide its customers with smart locks which can be opened by delivery personnel, who'll drop the package right into their homes. And Amazon is also selling cameras, which will automatically record deliveries for security purposes.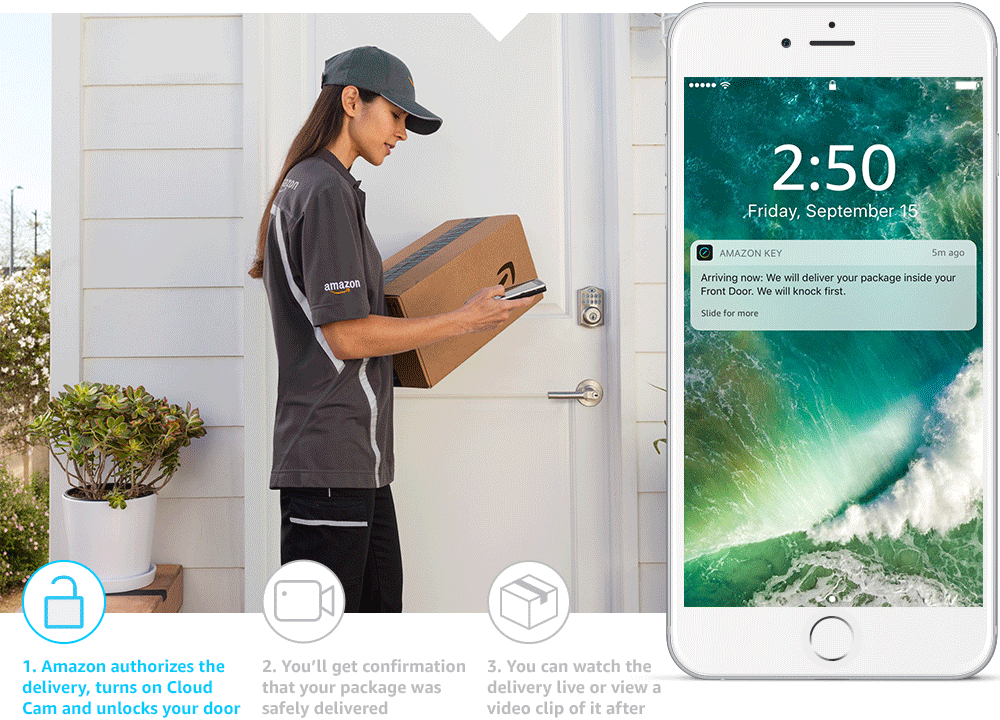 The service is called Amazon Key, and it relies on a Amazon's new Cloud Cam and compatible smart lock. When a delivery person arrives with a package for in-home delivery, they will scan the barcode, sending a request to Amazon's cloud. The cloud will then grant permission by sending a message back to the camera, which will start recording. The courier will then gets a prompt on their app, swipe the screen, and the door will  unlock. The delivery person can then drop off the package, relock the door with another swipe, and can be on their way. The customer will get a notification that their delivery has arrived, along with a short video showing the drop-off to confirm everything was done properly.
The service is available currently available only to Amazon Prime customers in 37 cities in the US. The entire kit, along with the lock and the camera, costs $249.99, and Amazon will install it for free.
Amazon Key Could Open Many Doors
This isn't Amazon's first foray into people's homes. Amazon already has electronics in millions of homes, in the form of its Echo devices, so an additional camera and a smart lock won't seem that much of a stretch. But it remains to be seen if Amazon customers will be willing to let Amazon control who can enter their homes for the convenience of never missing a delivery.
But if Amazon Key does take off, it'll (literally) open the door for Amazon to bring several new services direct to its customers. Amazon says that in the coming months, it'll integrate several new products into Amazon Key — so a dog walker could walk into your house and walk your dog while you're away, or a cleaner could come and clean up the place before you return. Amazon Key with reportedly be integrated with over 1,200 service providers across 60 professions. And in doing so, could open up a whole swathe of new markets for the world's biggest e-commerce company.