India's already-crowded air ticket booking space has a new — and massive — addition.
Amazon has launched its flight booking service in India as it looks to become a super app. Amazon's app and website now has a flights icon on the Amazon Pay page, and customers can book flights much as they'd book one on a dedicated travel portal . Amazon has partnered with Cleartrip to launch the service.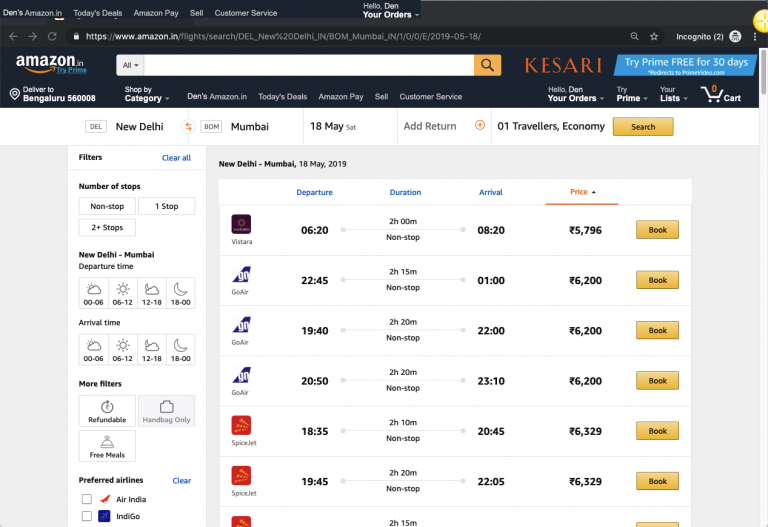 "We are excited to partner with Cleartrip and share their passion of creating best in class travel experiences," Shariq Plasticwala, Director, Amazon Pay, said in a statement. Amazon also seemed to stress on the fact that flights was just another addition to a host of services that it already provides, and seemed to hint that other services could be in the offing. "People in India can now use Amazon to book their domestic flights in addition to shopping, money transfers, utility bill payments, mobile recharges — all through one single app," the statement said.
This would mean that Amazon sees itself, at least in India, as becoming a super app. Super apps have been successful elsewhere in the world, with WeChat in China becoming the most prominent example, of providing a host of services and building a large captive user-base. Amazon seems to be moving in the same direction — apart from its e-commerce business, it has a thriving payments gateway in Amazon Pay, a video streaming service in Amazon Prime, and bill payment and mobile recharge features. Other e-commerce companies in India are thinking along the same lines — Flipkart had earlier launched its own flight booking service in association with MakeMyTrip, and Paytm already has a thriving air bookings section.
There's enough competition, though, in India's flight bookings space. Apart from Paytm and Flipkart, there are several dedicated travel portals that provide similar services, including MakeMyTrip, Ibibo, Yatra, and Amazon's partner Cleartrip. There isn't much that differentiates these companies — the flight booking process on most of these portals is similar, and it will be hard for Amazon to compete through a differentiated product. Where it can stand out, though, is pricing. And it appears to already be working along these lines — it's announced that it will waive cancellation fees on bookings made through its platform, and customers will have to only pay the airline cancellation fees if they wish to cancel their bookings.
It's a different matter that none of these companies are making any money. MakeMyTrip had posted a loss of $51.2 million (Rs. 350 crore) in the first quarter of FY19, while ClearTrip had lost Rs. 62 crore in 2017-18, and laid off a hundred employees. With Amazon entering the fray, the margins for existing players are likely to get squeezed even further. But customers won't be complaining — with Jet Airways no longer operating flights, some additional competition in the airline space can help keep airline prices at levels that they've become used to over the last many years.