A New York Times article called him "An Indian, who built Yoga Empire, a product and symbol of the New India, A yogic fusion of Richard Simmons, Dr. Oz and Oprah Winfrey, irrepressible and bursting with Vedic wisdom." It may not be far from the truth to recognize Baba Ramdev as an icon, one who's bringing the age old Indian art of meditation and exercise to mainstream media on one hand, and on another, with his Patanjali range of Ayurvedic products, has created a 1200 crore business.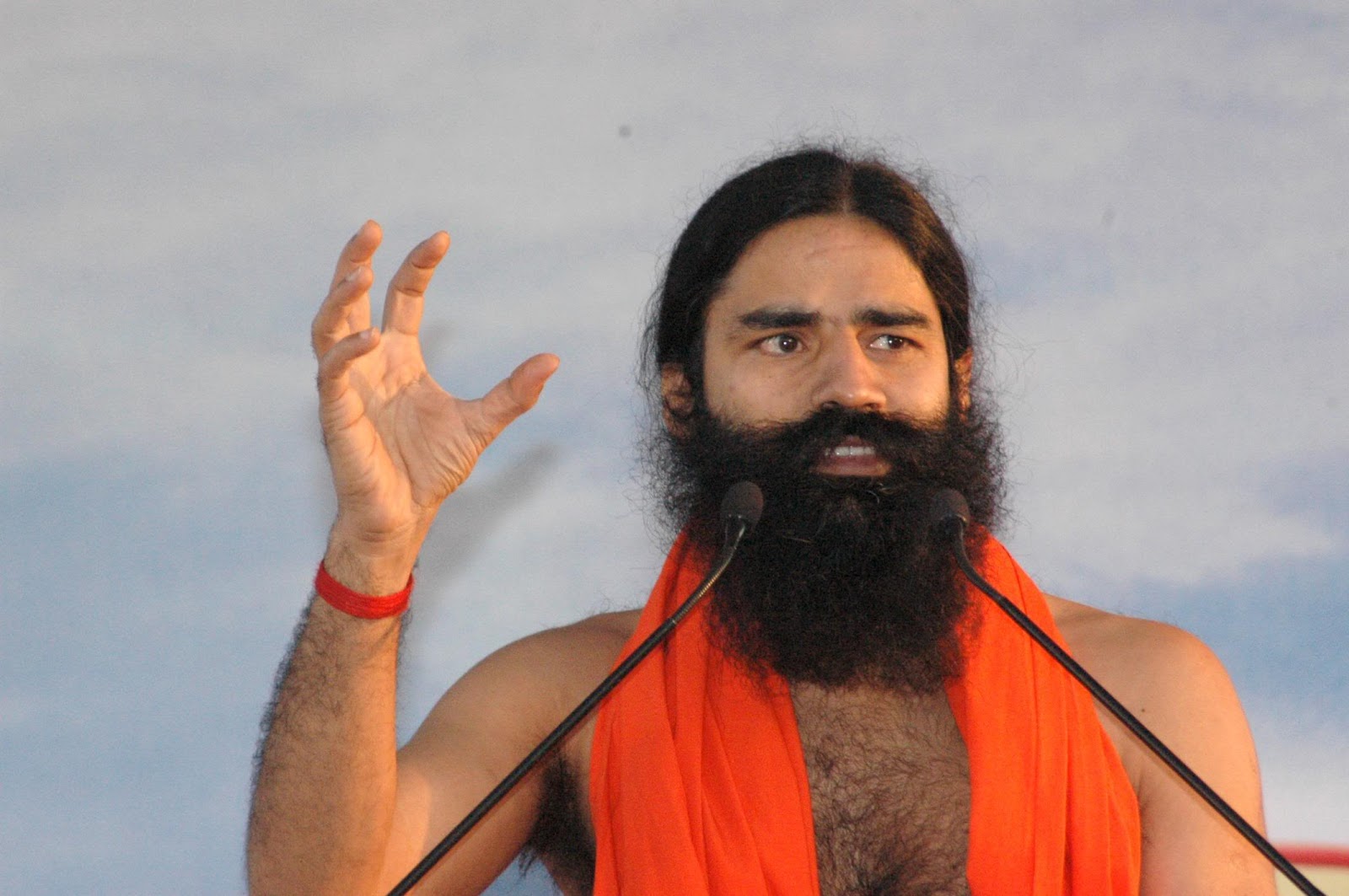 While sometimes this Baba- Born Ramkrishna Yadav- may shock some of the more rationals in the country with a few ludicrous statements, (Ayurveda can "cure" AIDS), crossdressing appearances and whacky antics, what one can't take away from the maverick is his success, his hard work, and his business savvy. He's an unlikely entrepreneur that without the fanfare of a Bansal or a Birla is quietely, (and sometimes not so quietly) touching lives in ways that a Flipkart or a Unilever may not. Here are a few lessons even the modern day entrepreneur can learn from Baba Ramdev.
1. Stronghold and expertise on the subject
Today Baba is known for taking the age-old Indian art of meditation and exercise to the average household in India. However Baba Ramdev is no overnight success. Behind his muscle flexing, and if bizarre statements, lie years of practice and building an expertise in Yog. (He insists Yoga be pronounced correctly as "Yog", according to the Hindi Devnagari script.) Baba Ramdev studied Indian scripture, Yoga and Sanskrit in various Gurukuls while growing up. He's even trained various villagers in Haryana for free, alongside studying. So, next time you see him suck his stomach making you wonder if it ever existed, know that he's no freak, but a trained Yogi, who's practised the art for years.
I m proud of the fact that,I dropped out of Macaulay edu sys in 8th & continued in indian Vedic edu system in gurukuls of Kishangarh & Kalwa

— Swami Ramdev (@yogrishiramdev) July 23, 2015
2. Has a profit making venture that's constantly growing
While most startups in India are grappling with monetizing their ventures, despite all the financial backing from the VCs, Baba Ramdev also happens to be the founder of a 1200cr brand. Get this, according to a Times of India report, for fiscal 2014, Patanjali Ayurved, the company that started to make Ayurveda accessible and has expanded into a full-fledged FMCG company, clocked a turnover of about Rs 1,200 crore, up from about Rs 850 crore a year earlier and Rs 450 crore in fiscal 2012, company filings and industry sources said. And in the current fiscal, Patanjali is expected to clock a turnover of Rs 2,000 crore, marking a 67% jump from the previous fiscal.
3. Hires the best
Baba Ramdev understands that building a business means hiring the best, most qualified people who know their stuff. So, Ramdev's Patanjali group of companies do not hire a MBAs or "Digital Ninjas", but hard core experts in the field which includes Masters in Science, Biology and preference is given to Phds. No cutting corners for this one.
4. Understands the market
While startups in India are only waking up to the expansive opportunity of reaching hyperlocal market, with the help of regional languages, Baba Ramdev has a firm grip on his biggest market. His Facebook posts alternate betwen Hindi and English, reaching out to the Hindi speaking population, the largest homogenous set in the country, estimated to be about 12mn people.
5. Believes in leveraging a successful personal brand and connecting with the audience
A successful entrepreneur believes in connecting with the people and leveraging your personality for the brand. Steve Jobs was synonymous with Apple as Richard Branson is with the Virgin group. Baba has over 500k twitter followers, and keeps them engaged with regular updates and replies. In India where personalities trump products, it's important to have a brand of your own.
Join me on a LIVE twitter tomorrow,17-July @ 6-7pm & ask questions on Yog, Ayurveda & Nation building#AskSwamiRamdev pic.twitter.com/RCfoOmVrib

— Swami Ramdev (@yogrishiramdev) July 16, 2015
Baba Ramdev personally endorses the products, and is ubiquitous on most of the branding. The brand Patanjali gains enormously from the cult following Baba Ramdev has built for himself over the years.
6. Low Cost Marketer
While conventional FMCG companies pull out no stops towards marketing and branding, Baba Ramdev goes at it with minimal branding expenses. When was the last time you saw an ad for a Patanjali product? And yet the Patanjali range of products with its turnover of 1200 crore, rivals that of industry giants like Emami and Marico. 
[Update: while the low cost marketing may have been Patanjali's forte back when this article was published, a recent BARC report says that Patanjali was the largest advertiser in India in January, 2016]
7. Has made a truly 100% Indian product, for the country
In a country of 1+ bn population, 70% of which lives in rural and semi-urban areas, the reach and availability of foreign and MNC brands is limited, and the price points are beyond affordability. The Patanjali range of products, made completely in India and offered at low prices is the need of the hour. According to a study, "The national and multinational fast moving consumer goods (FMCG) brands playing in the fast growing $ 1 trillion Indian market (2012) have started facing intimidation from home-grown, and an absolutely 'Swadeshi' competitor.
8. May just have the most functional ecommerce site
While it may not have a flat, minimal design, high resolution photos, icons, and a pretty UX, the Patanjali website has been in existence since 2011- a time when ecommerce in India had just started finding its feet spearheaded by the likes Flipkart, Amazon and Myntra.
The Patanjali website is well-stocked, updated, and has a few nifty features like related videos that show the product's ads under additional details. How cool is that?
9. Has a vision, and understands opportunity to materialise it
Those who have been regular audience of Baba Ramdev's discourses on TV would recall his vendetta against Maggi and other "foreign brands of Colas", which he considered harmful and unhealthy.  Weeks ago, when traces of harmful substances like lead and MSG were found in Maggi, and the country was battling with the possibility of their favourite 2 minute noodles facing extinction soon, Baba Ramdev jumped in on the opportunity and announced that under Patanjali, he'd be launching a safe, no maida version of the Noodles. (However he denied that the photos floating around on social media were the said noodles, and clarified that the photo was actually of the Namkeen biscuits)
10. Attacking International Expansion
Are you planning to offer shippping outside of India? Have a remote office? Baba knows that just like Yoga- the biggest Indian export to the west, his Ayurvedic range of products have a huge market abroad. The Yoga Guru has acquired an Ayurvedic medicine company in the name of Herbo Ved in the USA, for an undisclosed sum to sell the new products abroad.
11. Baba Ramdev has a sense of social good
Reports claim that Patanjali aims to reinvest all of its profits over the next 5 years into non-profit social and development causes.
Little wonder that Patanjali's success is now the talk of boardroom discussion too so much so that not just kiranas but big retailers like Reliance Retail, Big Bazaar, Hyper City and Star Bazaar are also stocking Ramdev's FMCG products. But the real play is online. While Patanjali's products are already available at e-commerce site BigBasket, Ramdev is now aiming for Amazon too. For Baba Ramdev, no stretch is difficult enough, including the possibility of being recognised as a mega-successful entrepreneur in the days to come.