A Bengaluru-based executive has gone missing in Manali. Rahul Ramesh was trekking near Jogini waterfalls near Manali in Himachal Pradesh, but went missing on the evening of 28th October. His phone was found the next morning, but there are no updates on his current whereabouts.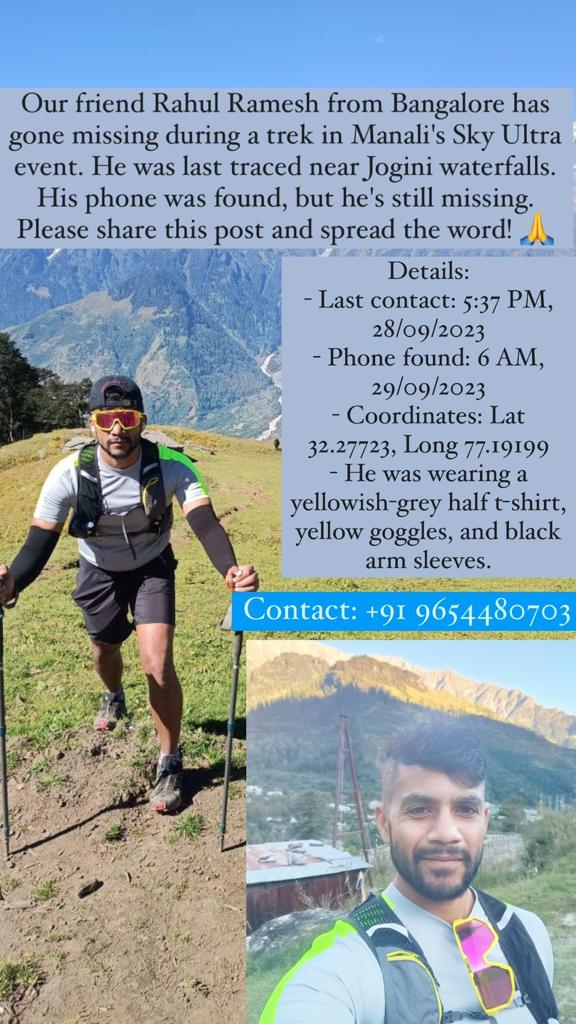 Rahul Ramesh had completed his MBA from IIFT in 2015. He had then worked at Flipkart for 5 years. He had then joined retail tech company Ace Turtle.
Ramesh had been practicing to participate in the Manali's Sky Ultra race when he went missing. He was wearing a yellowish-green T-shirt, goggles, and black arm sleeves when he was last seen. His family has registered an FIR with the local authorities, which are conducing a search of the area.
Manali is infamous for the disappearance of dozens of tourists and travelers, who often get lost in the surrounding mountains. Several campaigns are launched to locate these people, which are met with varying degrees of success. Several international travelers have also gone missing in Manali, one of whom was the subject of the book "Lost in the valley of death", which detailed how Canadian traveler Alexander Shetler went missing in the area.
Efforts are currently on to trace Rahul Ramesh. Anyone with information on his whereabouts can contact 9654480703.