Social media is a two-edged sword — it does let you make your opinions made known to the world, but there's no telling how the world might react.
Several companies have fired employees after they declared their support for the Pulwama attacks on social media. Terrorists had attacked a CRPF convoy in Pulwama in Kashmir on 14th February, and over 40 jawans had lost their lives. While the attack was met with shock and horror across India, some individuals took to social media to express their happiness at the killings. Eagle-eyed netizens reported their comments to their employers, who have, in many cases, terminated their employment.
Riyaz Mohammad Wani, who worked as a Medical Field Representative for Macleods Pharmaceuticals, posted "This is called surgical strike" on Facebook after the attacks, while adding the "feeling happy" tag. Screenshots of his comments were sent to his employer, who sent him a show-cause notice asking him to explain his actions. He was further warned that if he couldn't satisfactorily explain his comments, he'd be fired in 7 days.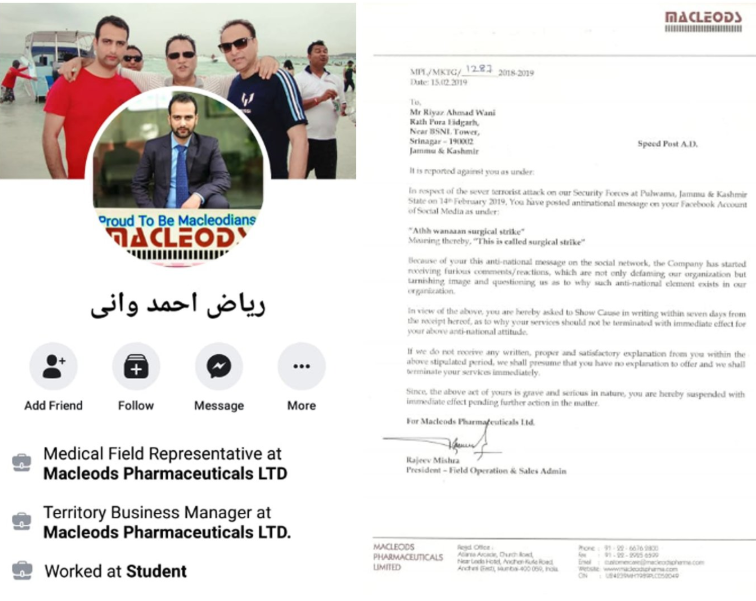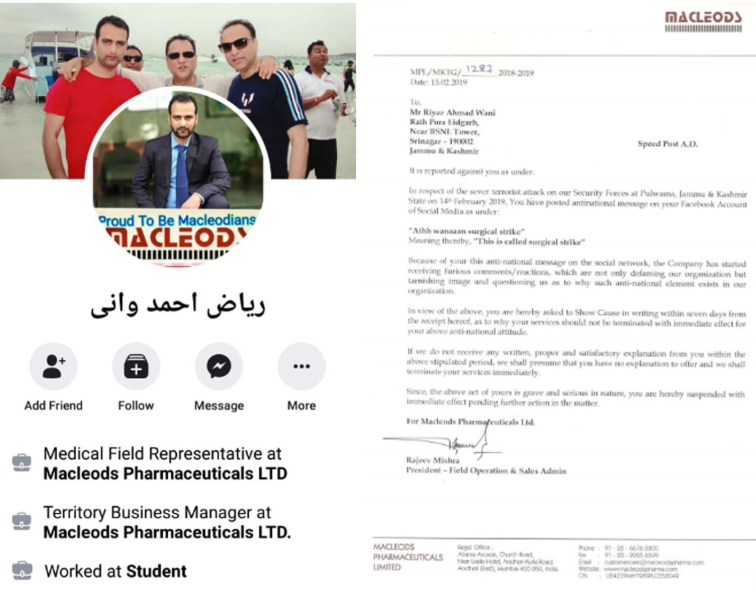 Iqbal Akhoon had replied on Wani's original post, and said that "This is called as real surgical strike." He worked with German Remedies, a division of Zydus Pharmaceuticals, who  suspended him immediately. "While handling social media, it is expected you behave responsibly," the company told him in his suspension letter, while asking him to explain in writing why he shouldn't be terminated.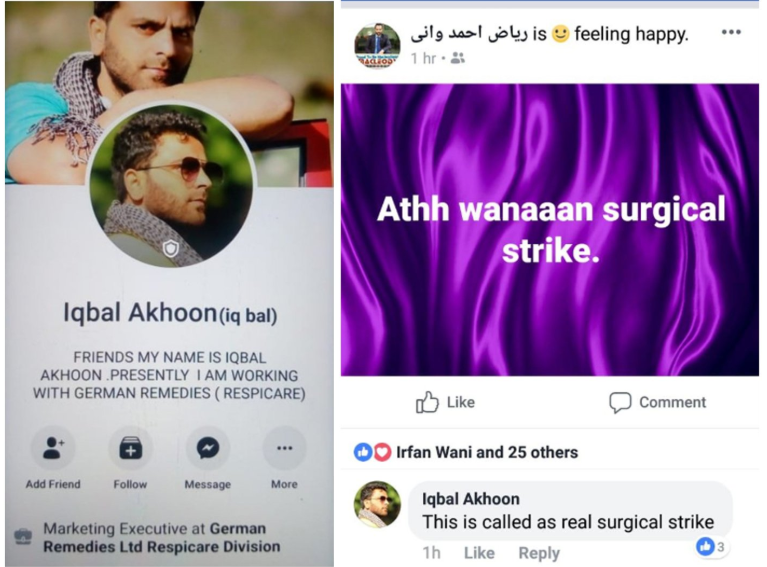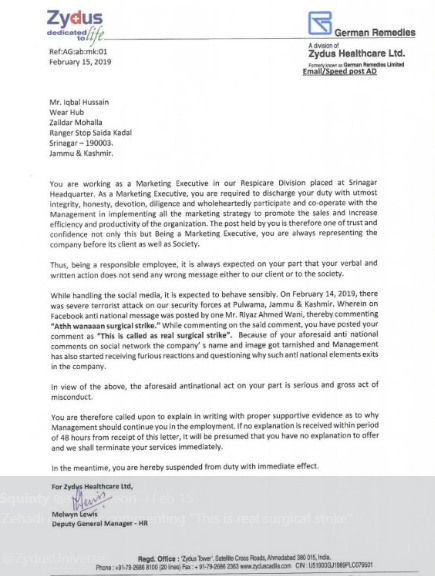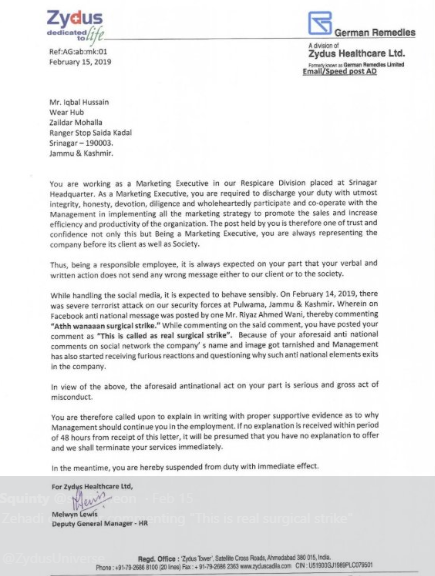 Mohd Ashraf, who was employed as a Sales DSE with Hyundai, also posted on Facebook, taunting the Indian army. "The Patanjali Army couldn't even take on one person," he said. After his comments were reported, he was fired by Hyundai Arise.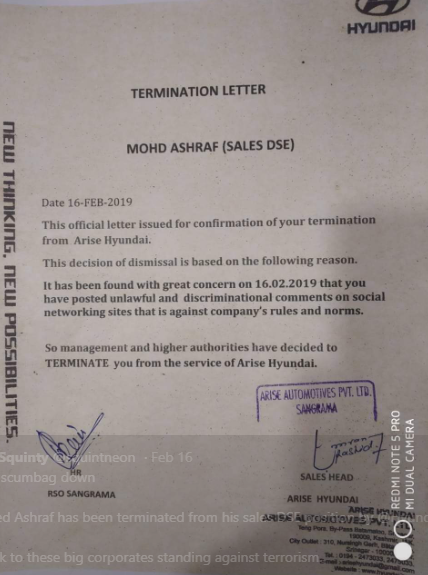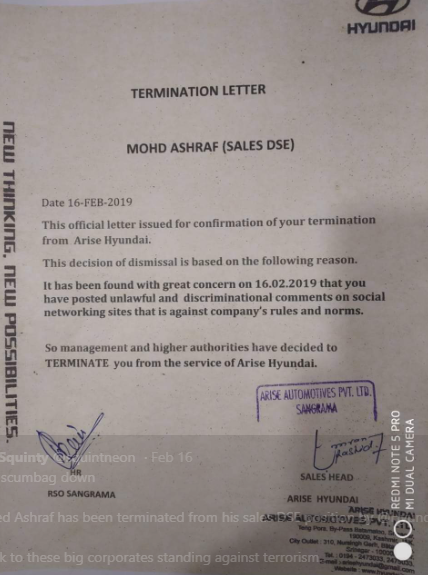 Papri Banerjee, who worked as an Assistant Professor at Icon Academy Junior College, has also been suspended for a Facebook post. She'd justified the killings of the CRPF jawans as "karma", because she alleged that the army raped women, killed children and slaughtered men in Kashmir. After her Facebook post was reported, she was suspended by her college. "You are put under suspension with immediate effect until the matter is resolved by a competent authority," her suspension letter said.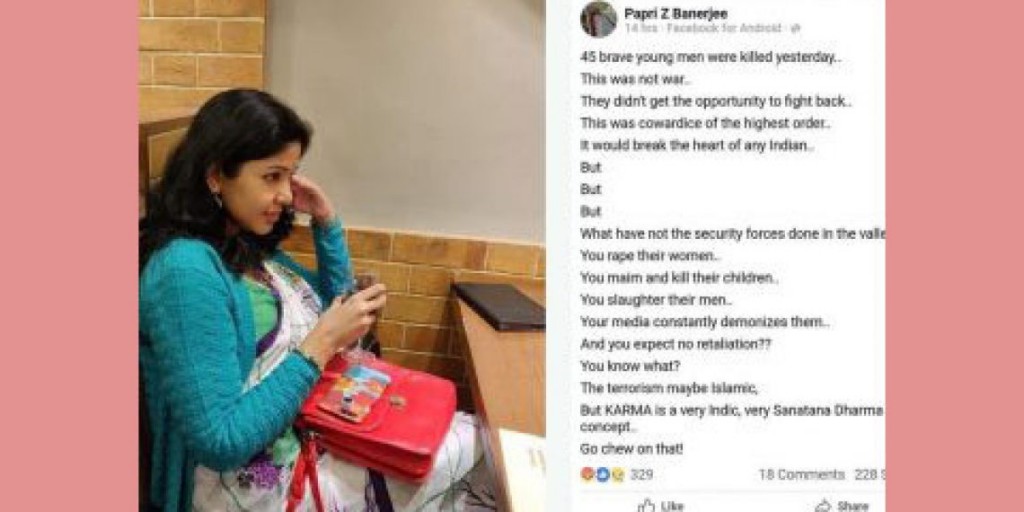 Apart from these cases, several FIRs have been registered across the country around social media posts made by individuals in praise of the Pulwama attacks. Some students in college campuses have also been suspended. Over the last few years, as social media has become an ever-increasing part of people's daily lives, the lines between real and online life are getting blurred. And people are now realizing that conduct on social media can't be without real-world implications.