After what's felt like an eternity in gathering insights, loads of social media polls, and months of teasers, it's finally emerged what FreeCharge founder Kunal Shah's new startup will really do.
Shah's latest startup Cred, which he'd unveiled last month, will reward people each time they pay their credit card bills. Cred will let users pay their credit card bills through its platform, and reward them for timely payments with offers and discounts on shopping, health services and other sites. It says it will also help users discover hidden charges in credit cards and point them out, and customers can then choose to get them removed.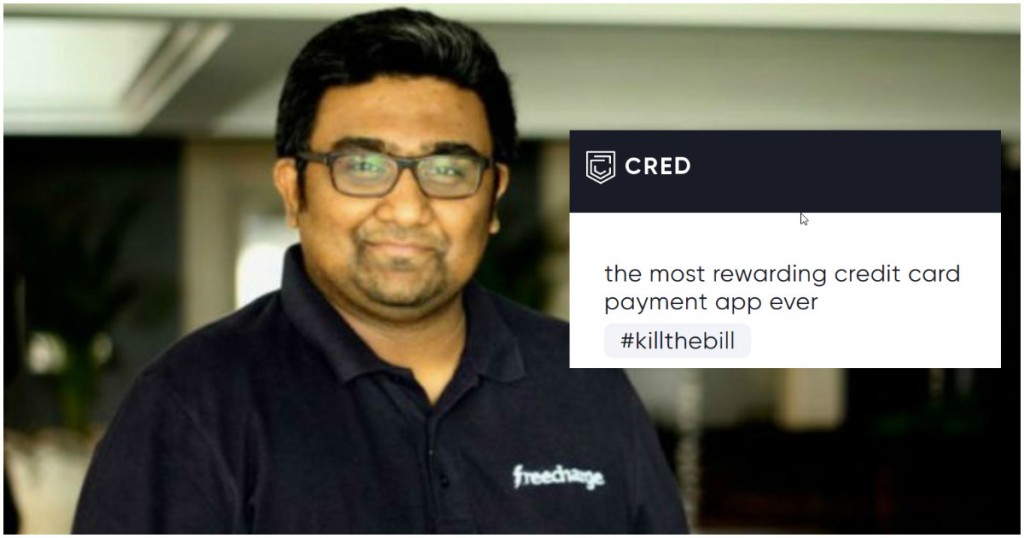 Rewarding people each time they pay their bills might sound slightly underwhelming for a startup that's been awaited in the community for years, but Shah's reputation precedes him — he'd built FreeCharge, which had pioneered the model of phone recharges with rewards, and then sold it to Snapdeal in 2015 for a cool $400 million. Since exiting FreeCharge, Shah has become a bit of a startup guru, regularly sharing what he calls "insights" with his social media networks. He's also been conducting polls, trying to gauge the pulse of his audience. Cred appears to be distillation of the learning Shah has had since the FreeCharge acquisition.
For its part, Cred appears to retain some of the initial characteristics of FreeCharge — it focuses on rewards, much like Shah's previous startup. In its early days, FreeCharge gave out coupons to restaurants and events to people who recharged their phones through them; Cred now appears to do much of the same, but for people when they're paying their credit card bills. Cred says it has partnered with CureFit, Ixigo, Airbnb, BookMyShow and others for its exclusive rewards, which will be unlocked when users pay their bills in time. But what makes Cred different from FreeCharge is the market it addresses — FreeCharge was essentially a mass-market product, helping prepaid customers recharge their phones; Cred is quite the opposite, and only accepts people with credit scores of over 750.
"This product is for people who have high credit scores. Our focus here is to reward people who have paid their bills on time. And right now, credit score is an objective metric," Shah said in an interview. And its not just the product that's meant for people with high credit scores — even employees must have a credit score of 800. "Every single team member has a credit score of higher than 800. We had to reject 20% of the people we interviewed (at the top) because their credit scores were too low," he added.
Shah is targeting a pretty niche market — there are only 40 million credit cards in India, and many of those belong to the same users. Cred only lets in people with credit scores greater than 750, which makes its target market smaller still. But what Cred appears to cleverly do is select India's truly affluent people — this is the market that has spending power, and can thus be made money off of, unlike India's masses which often add to company's growth metrics, but don't always add to the bottom line.
While Cred appears to be starting off as a credit card payments app, Shah has already dropped hints that the product might just be the first step towards the end goal of getting India's affluent people on the platform — he's already talking about insurance and investments within the app. "It's unfair that the good actors get the same financial terms as the bad actors (delinquents). We want to achieve three main things for our customers. We want to make them pay less interest, less charges, lower their cost of insurance and similar areas. We want to make them earn more by increasing their avenues of income. And we want to make them invest better by providing them sufficient knowledge (about money management)," he said.
It's still early days for Cred, but it has a lot going for it. It has a celebrity founder, which will mean that it will have no dearth of early publicity; being Kunal Shah's startup, it's raised $25 million (Rs. 175 crore) before its product was even launched, and it has someone at the helm who's truly been there, done that in India's startup ecosystem. Kunal Shah hit it big with FreeCharge — the startup ecosystem will be watching in anticipation if he'll also be second time lucky.