"Now this is a unique bragging proposition", says Kunal Shah pointing at his iPhone 6s. It's rose coloured and brand new, and he fiddles with it distractedly. "It's ridiculous to pay $1500 for a phone. But people still do it. What you need to do is create a product that markets itself."
Shah should know a thing or two about creating a product that markets itself. He's the brains behind FreeCharge, the phone recharge company that was acquired by Snapdeal in India's largest tech acquisition in April this year. FreeCharge was founded in 2010, grew quickly, and ended up being worth Rs. 2800 crore when it was acquired. Shah seems to wear his success easily though.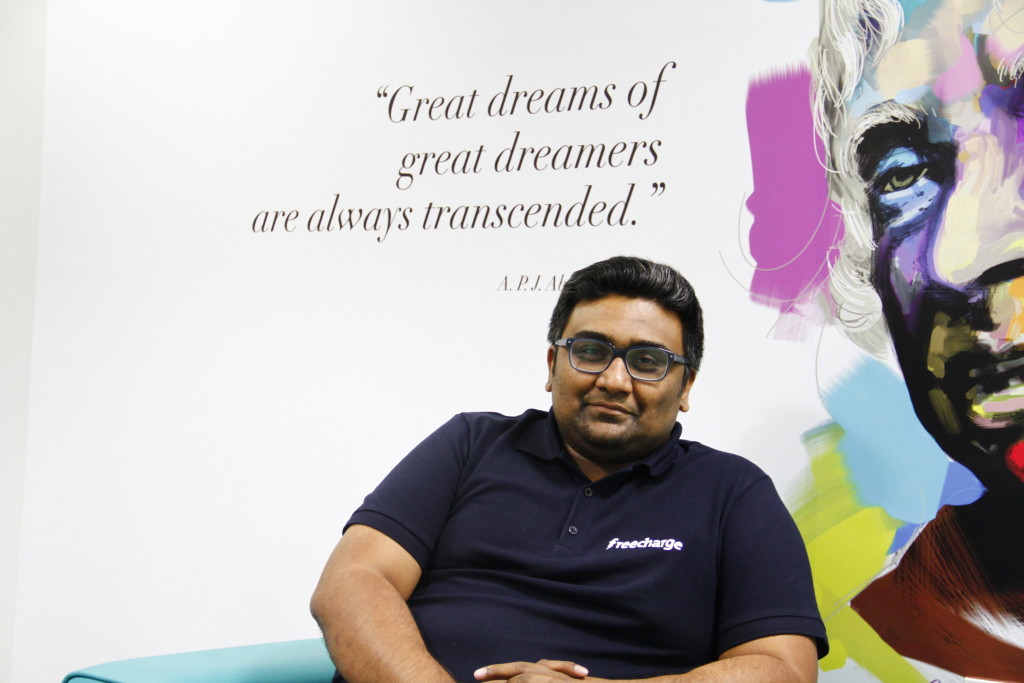 "I sit right here, on one of these desks.", he says. We're in FreeCharge's new Bangalore office, and Shah's desk is one of the many that are arranged neatly about their Old Madras Road quarters. The office has a bright young vibe. The India-South Africa ODI match plays on the many screens that dot the walls, and Harish Sivaramakrishnan, the long-haired vocalist from the rock band Agam, who also doubles up as FreeCharge's Head of Design, moves about talking on his phone.
"I don't want to be unapproachable", says Shah. "If an employee has to go through three hops to meet me, they'll try to set up a similar structure for themselves, and that completely hinders communication. We try to stay lean. People can solve problems as long as they can talk among themselves."
FreeCharge has been trying to do just that. The meeting rooms in the office are soon going to be VC-enabled, which will allow employees to talk from remote locations. The company also discourages emails, and entire projects are run entirely on chat.
Shah himself talks in a whirlwind collection of quotes, analogies and rhetoric. He majored in Philosophy as an undergrad, and he seems to think deeply about every aspect of the business that he runs. "We want to keep FreeCharge lean. We partnered with Snapdeal to enable us to do just that. We want to focus on what we're good at, while Snapdeal does loads of other things." He pauses. "I don't think tech companies need to have a lot of employees."
We quiz him about India's burgeoning startup scene. Several Indian startups now have billion dollar valuations. Does he still think that they can be called startups? "It's about the number of critical decisions you take per week.", he muses. "If you're making decisions every week that materially impact your business, you're a startup. Take Facebook for example. The Wifi password at their office is m0vefast." Shah was at their headquarters recently, and recounts how they have "Empathy Zones", where employees can use old mobile phones to access the internet to get a feel of what Facebook feels like to users in developing countries. "Whether you're a startup or not doesn't necessarily depend upon size."
Shah is also unconcerned about the seemingly high valuations that Indian startups are now commanding. "It's good to have lots of capital in the system. If you look through history", he says, "most countries have progressed when there was an abundant supply of capital. Some companies will fail, but that's a part of the game. I wouldn't be worried about high valuations."
The high valuations have brought with them the inevitable trappings of celebrity for the startup founders who made it big. "I used to think it was weird initially when people wanted a selfie with me.", he laughs. "But it's not not a bad thing. It makes success feel that much more accessible. If people think if he can do it, why can't I? That'll inspire a whole new generation of entrepreneurs."
Shah, like many others from the first wave of Indian entrepreneurs, has settled comfortably into his role as a mentor and guru for young startup founders. His Facebook and Twitter posts are often commentaries on the startup scene, or his latest observation about how organizations shape consumer behaviour. They elicit discussion and comments, and Shah chimes in regularly with his inputs. "I like talking to young entrepreneurs, hearing their ideas. That's where the next big companies will come from. If you can get people to use your service regularly, you're golden."
Great dreams of great dreamers are always transcended, says the wall behind him. It's a quote by APJ Abdul Kalam. The conference rooms in FreeCharge are dedicated to people who made it big across several fields – Dravid, Kalam, Rahman and Tagore. "Try explaining something like a Snapchat to someone who's not from the internet age", laughs Kunal. "Things are changing so quickly, the next billion dollar ideas haven't even been conceived of yet. That's what makes this space so exciting. It's up to young people to tell us what the future will be like." The picture of Kalam behind him seems to nod in agreement.