Derrick Lin  was an art director at an Ad agency in the States.  To deal with the occasional boredom and to vent out his frustrations with pitfalls of the agency life, he turned to a unique art. Lin would illustrate the happenings at the agency through a clever placement of miniature figures around the office, making for some innovative visual storytelling.
However, unfortunately, the agency Lin worked at soon fell on tough times and had to resort to downsizing. One of the fallouts of which was Lin himself losing his job.
"In my 5+ years career in advertising as a brand strategist, I survived crazy hours, tight deadlines, tough clients, and rapidly evolving industry trends, but I didn't survive the Armageddon of company downsizing."
Taking a break from it all, Derrick decided to travel, connect with his family and document it all with what he did best. Illustrative story telling with mini figures. Using his iPhone, he started depicting all the little emotions and challenges he experienced in his tough unemployment days from recovering: self-doubt, building a new resume, networking, having to live a frugal life, to being all alone for most of the days, etc.
Lin's miniature figures help convey the subtle thoughts and emotions that are typically hard to express.
Here's his series of the photos depicting his unemployed life, in his own words.
1. It's tough to have to part ways with my dear coworkers, but I am back on a new journey all by myself
2. The first thing I did was to take a trip in the mountains with my dear friends
3. One benefit of funemployment is you decide the right time to wake up
4. Building a resume for professional experiences in the last 5 years is no small project.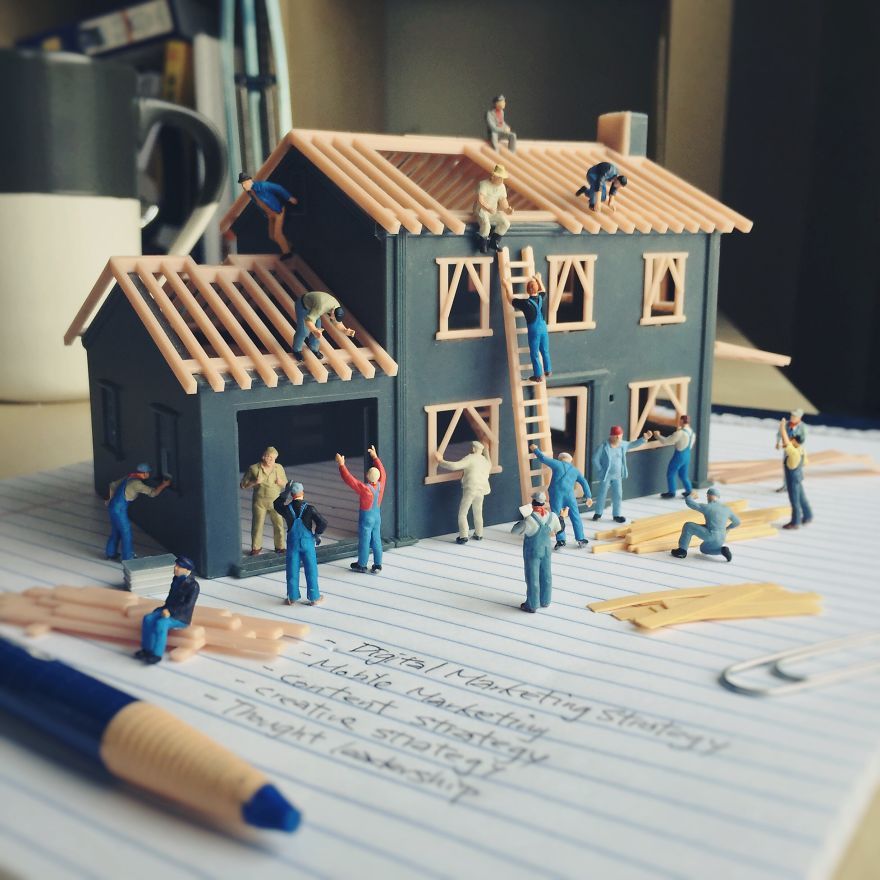 5. Coffee shops are the pop-up offices for working gypsies
6. Doing work at a coffee shop is 50% people watching, 30% eavesdropping, and 20% actually working
7. It is majorly out of my comfort zone to be networking with strangers for potential job opportunities
8.  Frugal living means suffering from the fact that I can't cook
9. I miss shopping…
10.  On some days, I speak fewer words than a tweet
11.  With a world of career options and unending possibilities, it's overwhelming to think about where to go next
12. Going outside is the best therapy when I feel I am about to go crazy. (Plus it's free)