For a company that holds an incredible sway over elections the world over, Google sure does seem to have a very distinct political bias.
An hour-long video of Google's TGIF (Thank God It's Friday) meeting following the US Presidential election in 2016 has been leaked to Breitbart News. TGIF is Google's weekly all-hands meeting during which senior management talks about what's been going on at the company, and takes questions to employees. But after the US election results were announced, the entire meeting took on a marked political hue.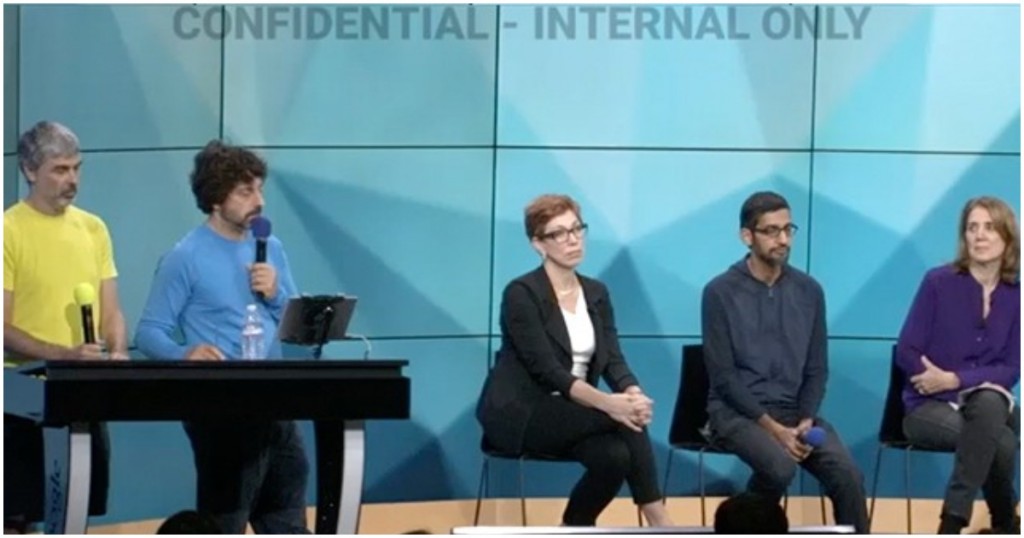 Google's top management seemed distraught at Trump's victory, with several struggling to hold back tears. Founder Larry Page said that "most people here are pretty upset and pretty sad" at Hillary Clinton's loss, and added that he personally was "deeply offended" by the election of Trump. Google CFO Ruth Porat then took the stage, and immediately declared that she's always been a "massive" Hillary Clinton supporter. Her voice choking with emotion, she said that Clinton's loss had felt like a punch to the gut. A procession of senior Google executives echoed similar sentiments, including CEO Sundar Pichai.
It isn't surprising that Google's employees have strong political views — the 2016 election had deeply polarized the US electorate, and most American citizens had strong feeling about their favoured candidates leading up to the election. But for a company's entire senior management to come  up and declare their allegiance to one single candidate does indicate a marked political bias. And given Google's position in the tech ecosystem, it's a bias that's deeply troubling.
Google is now the gatekeeper to all of of the world's information, and if it so chooses, is certainly in a position to manipulate entire elections. People get most of their information from Google, and by choosing which information to show in its search results, Google has the unique ability to shape public opinion. It claims that its search results are unbiased, but given how strongly its management and employees appear to feel about the election, it wouldn't be inconceivable they would be willing to bend the rules to help their favoured candidate.
There have been allegations that this has happened in the past. Before the 2016 election, a YouTube channel called SourceFed had published a video which showed that Google hid damaging searches against like Hillary Clinton, such as "Hillary Clinton criminal", from its autocomplete feature, while letting similar searches being displayed for Donald Trump. A Google employee had later been caught by a hidden camera sting operation admitting that its employees manually altered YouTube's trending results. More recent findings have alleged that Google supported Latino voting blocks with a "silent donation", hoping that these voters would vote for Hillary Clinton. Google has consistently denied such reports, but Google's bias towards democrats it undeniable — former CEO Eric Schmidt provided the tech for Hillary Clinton's election campaign, and 90% of political donations from Google went to her party.
Google has responded to the latest leaked video as well, saying that nothing in the meeting suggested that political bias influences the way it builds its products. That, by itself, might be true. But it would be hard to overlook the potential for such bias to take place — if a company's entire top management laments the loss of a candidate like the loss of a beloved family member, maybe they shouldn't have a disproportionate say in the election of the candidate in the first place.