If you're in India, it's hard to escape Dr. Neha Thomas at the moment. She's on TV screens and Facebook videos, running around, eating panipuri, working at a hospital, partying, and telling everyone who'd listen that she's unlike any other Neha Thomas they've seen before.
Neha Thomas isn't just a particularly self-absorbed individual who's spent a fortune in buying airtime — she's the central character in Facebook's new "Live What you love campaign." The one minute long advert shows a young Neha going about her daily life, while telling the camera about her interests. So Neha tells people she's a feminist, donates blood, and is obsessed with sneakers.
But the ad — which feels like a Facebook profile come to life — appears to have bewildered some of its audience. For starters, people couldn't figure out what the ad really was for, until the Facebook logo appears at the very end. To confuse people further, the ad focusses on Neha's Nike sneakers, leading some people to wonder if it was a Nike ad.
Ok that new Facebook ad with Dr. Neha is just bizarre to a fault. Had no idea where it was going, then thought it was a bad Nike ad, and then realised it is just a bad Facebook ad.

— Nitin Sundar (@knittins) February 1, 2018
Other people simply thought the ad wasn't that great.
That Neha ad illustrates precisely why I no longer use Facebook.

— Khaleel (@Beardious) February 10, 2018
The new #Facebook ad about Dr Neha Thomas
Why does it have some cringe worthy vibe ?
Or only me is it

— TheSammyDRAMA (@ShettyONTHErun) February 11, 2018
When @facebook India finally decided to do ads, they had to make them the LAMEST EVER.

"Dr. Neha, like no one more LAME you could have possibly met before!" ?

— Crooked Left Hand (@I_the_Prattler) February 10, 2018
this new facebook ad feat doctor neha is the dumbest shit ever

— Tyler Bajrangi (@ladoaurladnedo) February 7, 2018
People looked at logical inconsistencies too. Doctors wondered how Neha, who's supposedly a doctor, is able to do all the things she claims she does, given the hectic schedules doctors have.
Jst saw the Dr Neha ad u people r running in india.If the ace social networking site on earth thinks that doctors of that age anywhere in the world gets that kind of free time you people r not doing ur homework right.I suggest u go thru the profile of few doctors @facebook

— unnikrishnan R V (@unnikrishnan_rv) February 1, 2018
One thing about that #Facebook ad on Comedy Central really bothers me. Dr Neha Thomas seems to have a lot of free time to party around. How is that possible? ?

— Moonmoon (@mooninanfield) February 8, 2018
Other people wondered what the purpose of the ad really was. Facebook has never run a TV campaign in India, but still has managed to get millions of users. But user growth is slowing for the company globally, and usage is declining, particularly among teens and young adults. A report suggested that as many as 7 lakh UK users aged between 18-24 are expected to leave Facebook this year. People wondered if the ad was designed to get young people back on Facebook.
Facebook's advertising a Neha in a TV ad. Not sure what to make of it. Declining user base? Waiting for the logical next Amit ad.

— Vijaynarain (@Vijaynarain) February 7, 2018
Some other concerns were more serious. Some users thought Facebook was pandering to its audience with its feminism angle to earn some easy brownie points.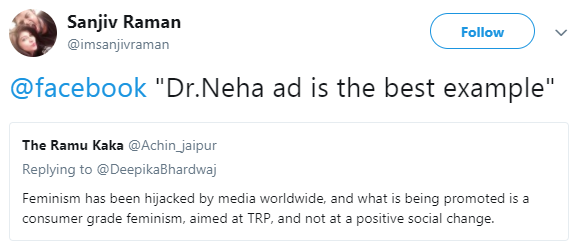 The word feminism means gender equality, but this wave of feminism is going overkill. This demands superiority. Mainstream media and marketers are using the term mindlessly. Just look at the latest @facebook ads on TV. We had an Airtel girl and now we have FB's "Dr.Neha".

— Sanjiv Raman (@imsanjivraman) February 5, 2018
And at the other end of the spectrum were people who thought the video was promoting feminism and harming India's traditional values system.
In these politically charged times, it's not hard to piss people off on both sides of an issue, and Facebook has gone ahead and done exactly that. But more than the content of the ad, what possibly works against the campaign is how often it's bombarded at users — it seems to be playing on every TV channel, and the video that Facebook is promoting on Facebook has 24 million views. It's this ubiquity that had also led people to become fed up of the Trivago man. And much like the Trivago guy, Dr. Neha Thomas has the pomposity and smugness that can be off-putting — we get that you donate blood and are a feminist, but there's no need to shove it in people's faces 24 hours a day.