Flipkart's recently moved to a spanking new office in Cessna Business Park, Sarjapur, Bangalore. And in its design, India's premier internet startup has outdone itself – the office is at par with any multinational office around the world. 
The building is a regal black glass-concrete skyscraper, and has Flipkart's new logo tastefully positioned at the top.
The foyer is predominantly Flipkart's trademark yellow, but it is offset by other natural tones. On prominent display are pictures of legends in several fields of achievement, including Steve Jobs, Albert Einstein John Lennon and Steven Spielberg.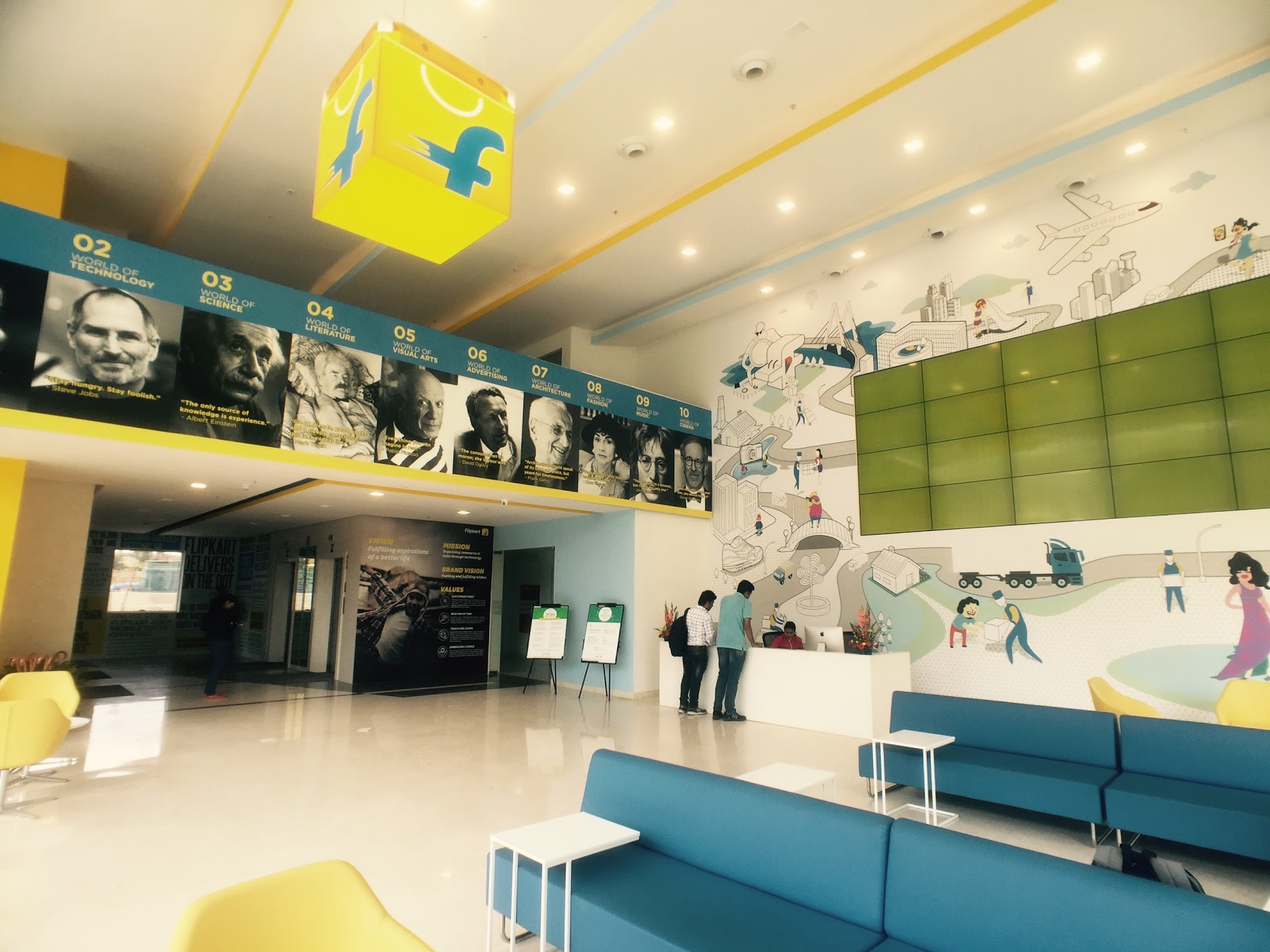 Some hallways are designed like running tracks, and the Olympic logo is thrown in for good measure. Flipkart has been sprinting as a company, going from a 1 bedroom startup a $12 billion dollar company in 8 years.
The working areas look roomy and colourful.
There are also lots of breakout zones where employees can gather and ideate.
They even have a cozy little library.
Flipkart hasn't forgotten its beginnings as an online bookseller, and this piece of artwork seems to be a tribute.
But the company has an eye on its future too – there's a marked focus on fashion. As its acquisition of Myntra proved, Flipkart has  intends to lead the online clothing marketplace.
The building is peppered with quirky installations, keeping with Flipkart's youthful work culture.
And predictably, they're quite high on the geek quotient too.
It just isn't all fun and games. There are some classy elements as well.
They've creatively played with the lighting, which is very unique for an office building.
And finally when it's time to unwind, the employees can play a game of miniature golf.
With this office, we won't be surprised if Flipkart sees a surge in job applications. 😉