Over the last few months, the internet has been abuzz with mentions of Bangalore's Rameshwaram Cafe. People have marveled at its food, and shared pictures of the serpentine queues at its counters. The cafe has also become a meme, and has spawned hundreds of jokes and references. Things came to a head when it was rumoured that each outlet was earning Rs. 4.5 crore per month, which prompted Bangalore's tech community to dissect its financial numbers over watercooler conversations and Twitter threads.
It's an unlikely position Divya Raghavendra Rao finds herself in. "In my wildest dreams I hadn't thought I would start a restaurant," says Rao, who's the co-founder of the now-iconic Rameshwaram Cafe, on a podcast. "I was a Charted Accountant, I didn't know anything about the restaurant industry," she laughs.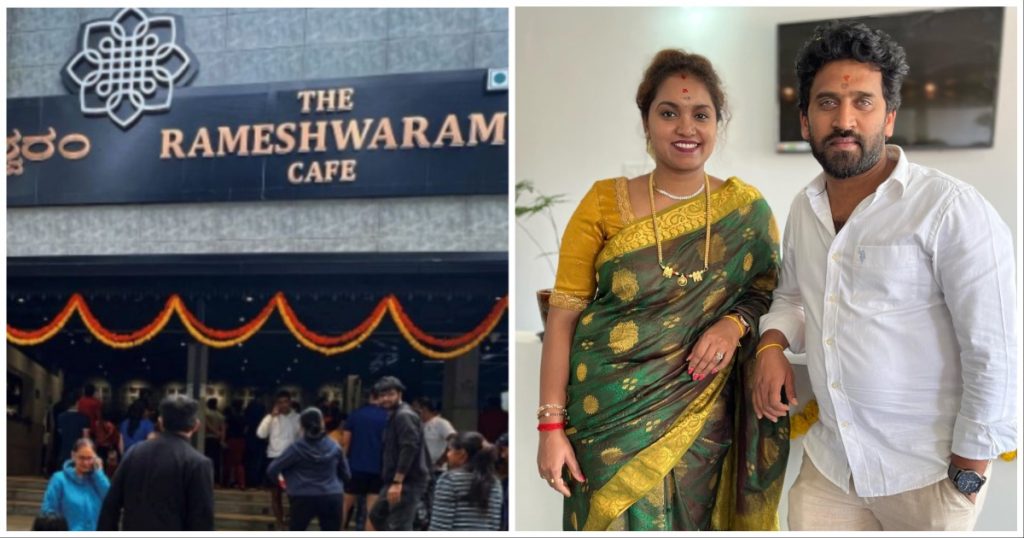 Rao's first brush with the food business came when she was pursuing a post-graduation course in finance and management at IIM Ahmedabad. "The course had detailed case studies on McDonald's, KFC, Starbucks, and how they became successful," she remembers. One of the professors remarked that Indians weren't good at running such food chains. "This triggered me: it was true that there was no world-class food chain from India. I wanted to introduce traditional South Indian food to the entire globe," she says.
But Rao didn't think much of her restaurant plans until she met Raghav, who'd approached her in her capacity as a CA. "Raghav had more than 15 years of experience in the food industry," she recalls. "He had started off with a roadside cart in Seshadripuram. He had no support from his family. He had worked at a lot of restaurants — he'd worked a Le Meridian as a cashier, cleaner, counter boy, and as a manager. He'd cut vegetables, he'd done everything. He'd started a small restaurant business with some other people, but that hadn't gone well. I met him as a CA and gave him some advise on how to manage the business's finances," Rao says.
But Raghav's restaurant business eventually wound down, and he approached Divya asking for her help to start a new restaurant chain. He wanted to start from scratch and not make the same mistakes he'd made the last time. "By this point, I was an established CA, and my career was doing well. But I decided to take the plunge," she says.
Divya's plans were met with resistance from her family. "I made you a CA with so much difficulty, you want to sell idli and dosas on the roads for 10-20 rupees?" her mother admonished her. Her reaction wasn't unexpected — Divya comes from a lower-middle class background. "I was very careful with money when I was growing up. I knew my family's finances were weak, I used to wait for a week to be able to eat a single egg puff. We had no assets, and I knew I had to study to earn money to take care of my parents. I'd studied really hard to become a CA, changing 2-3 buses to get to tuitions. I was the first CA in my family," she says with pride.
But Divya ploughed ahead with her new culinary career. She and Raghav dug into their savings and opened Rameshwaram Cafe. The name Rameshwaram was chosen partly a tribute to former President APJ Abdul Kalam, who was born in Rameshwaram, and the fact that the name had an instant south-Indian ring to it.
Bangalore, though, has no shortage of south-Indian joints, and the duo spent time making sure that their food stood out. Rameshwaram Cafe wanted to make sure that the batter and chutneys they used were fresh, so they chose to have no refrigerators at the cafe, and prepared all ingredients in batches. They also used high-quality ingredients, and hoped that their food would set them apart.
Their plan worked. The outlet opened to rave reviews, and soon they opened another. At this point, Divya's personal and professional life converged — Raghav proposed to her. "He said, we're already business partners, why don't we become life partners", Divya laughs.
Rameshwaram Cafe now has four outlets, and is set to open another in Dubai. The company is also planning to open a cafe in Hyderabad. It already employs a whopping 700 people. But Rameshwaram's ambitions are even bigger. "In the next five years, we want to have a presence in South India, North India, and even abroad," Divya says. She is however tight-lipped about the viral Rs. 4.5 crore per month sales, neither confirming or denying the numbers that have been making the rounds on the internet. "I'm doing very good business," she smiles.