Mrs. Bector's Foods today went public at the Indian stock markets, and received a resounding response — its shares rose 109% over their IPO price, which meant that investors doubled their investments overnight. Interest in the IPO had already been high — its issue had been oversubscribed 198 times, making it the third-most subscribed IPO in Indian history. But all this corporate success came from a unlikely start — Mrs Bector of Ludhiana finding out that she had too much time on her hands after her kids had joined boarding school.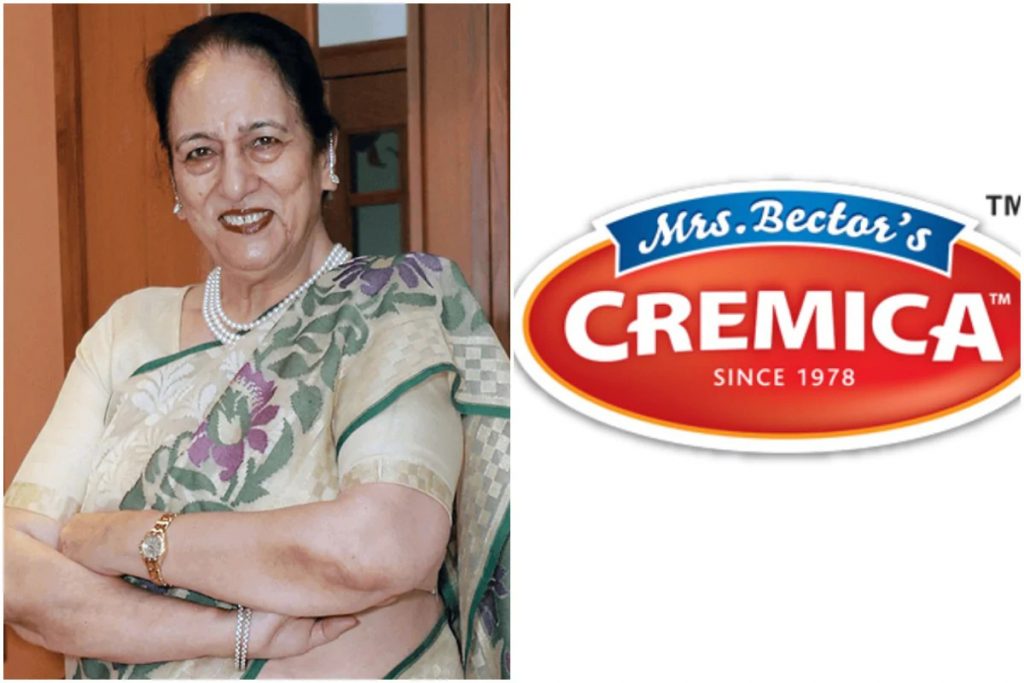 Rajni Bector — who's literally Mrs Bector from Bector Foods — as born in Karachi in undivided India, and spent her early childhood in Lahore, where her father was a government servant. After the partition, the family shifted to Delhi where she completed her primary education and joined Miranda House.
There wasn't much to suggest she would end up being an entrepreneur — at the age of 17, Rajni married Dharamvir Bector from Ludhiana. But she didn't give up her studies, and completed them after she got married. When her two children joined a boarding school in Mussoorie, she found had a lot of time on her hands. Mrs. Bector was always interested in cooking, so she enrolled in a baking course at Punjab Agricultural University. Armed with her baking skills, she spent Rs. 300 to buy an oven, and started serving ice cream, cakes, and cookies to her friends. Her friends were impressed with her skills, and urged her to start a company.
Her husband put in an initial Rs. 20,000 into her business, and Cremica — which is what the business was originally called — was born. In its initial days, the company took on large catering orders for biscuits, cookies and cakes for parties. As the company grew, her family members joined the businesses, and she began dishing out the Cremica line of products.
But Cremica got its big break as foreign companies entered India. In 1996, the company was contracted by McDonald's to to supply it with buns and liquid condiments. Cremica tied up with Quaker Oats in a joint venture, and began producing ketchup, mayonnaise, milk shake syrups and other liquid condiments for McDonald's businesses in India and neighbouring countries. The company also partnered with Cadbury's and ITC, and made biscuits for them from their factory in Punjab. Over the years, the company continued to grow, and eventually began supplying products to Pizza Hut, KFC and other brands.
Today, the company exports its products to 60 countries and manufactures and markets a range of biscuits such as cookies, creams, crackers, digestives, and glucose under its flagship brand 'Mrs Bector's Cremica'. It also manufactures and markets bakery products in the savoury and sweet categories, including breads, buns, pizza bases and cakes under the brand 'English Oven'. It employs over 4,000 people across six in-house manufacturing facilities in Phillaur and Rajpura, Tahliwal, Greater Noida, Khopoli, and Bengaluru. The biscuits and bakery division, which went public, has revenues of Rs, 762 crore, and registered profits of Rs. 30 crore.
And with the IPO now giving the company a market cap of Rs. 3,500 crore — and the promoters ending up with an estimated Rs. 500 crore — Mrs. Bector's side hustle of making cakes for her friends sure has come a long way.