Jeff Bezos' shopping cart currently contains Aditya Birla's More Supermarkets, Kishore Biyani's Future Retail, and Spencer's Retail. Which one will he eventually check out?
After it was revealed that Amazon has been in talks with More Supermarkets and Future Retail for a potential minority stake purchase, ET has reported that Amazon is also in talks with Spencer's Retail as well. "Talks with Spencer's on valuation and structure are currently ongoing," an executive reportedly said. "They are preliminary in nature, so we can't be sure that the deal will go through."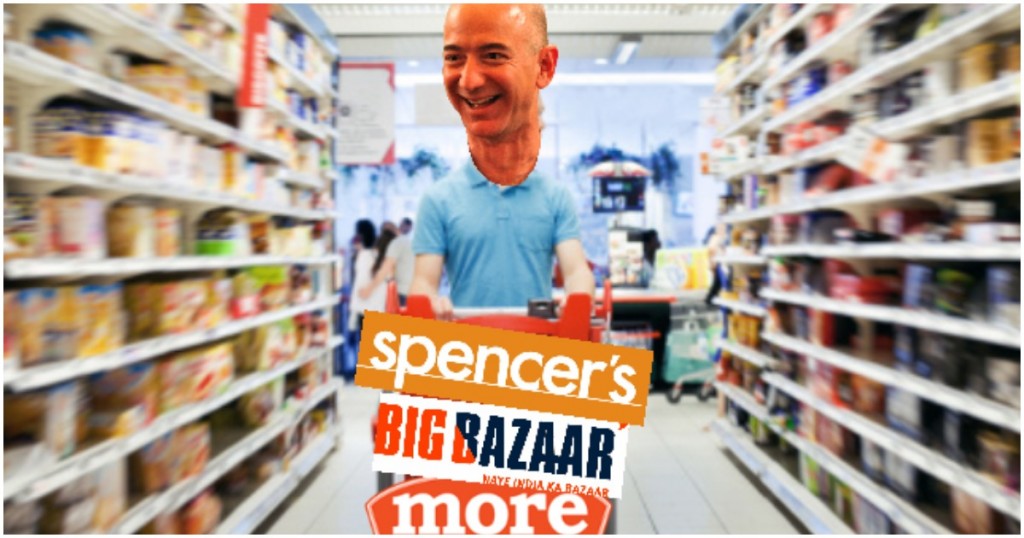 But with Amazon holding talks with India's top offline retailers for a stake purchase, it's becoming increasingly clear that it's serious about building its own retail presence in the country. The three retailers under consideration are all established brands, but with different strengths. Future Retail is the biggest of these, and has stores in 250 cities in the country. It runs supermarkets like Big Bazaar and Food Bazaar, and also has a sizable presence in the fashion segment, with brands like fbb and Pantaloons. More Supermarkets is run by the Aditya Birla Group, and has 590 supermarkets and 23 hypermarts across the country. Spencer's Retail is headquartered in Kolkata, and has 120 supermarkets in 35 cities. It's owned by the RP-Sanjay Goenka group, which also owned IPL team Rising Pune Supergiant.
Has Walmart's India entry prompted Amazon's offline push?
Amazon had entered the Indian market in 2013, and since then has burnt through nearly $5 billion (Rs. 35,000 crore) into building its e-commerce operations. While it has managed to capture a large part of the online market — most estimates now say that it's neck-and-neck with Flipkart — it seems to have realized that India's online transacting market simply isn't large enough for it to make any serious money. Amazon, like most other online players in India, started eyeing the offline market — it purchased a 5% stake in fashion retailers Shoppers Stop last year.
But what seems to have given Amazon greater urgency in building its offline operations is Walmart's acquisition of Flipkart earlier this year. Walmart is the largest retailer in the world, and by buying its biggest rival in India, tried to take the battle to Amazon by treading on its own turf. Amazon now appears to be looking to hit back, with its own foray into the offline space that Walmart knows so well.
Amazon isn't the only online company with this idea. There have also been reports that Google has been in talks with the Future Group for a stake sale. Alibaba, the Chinese e-commerce giant, also is in the fray — it has reportedly held talks with Reliance Retail for a joint venture.
India's offline retail space could soon be transformed
It's still early days to predict which retail group in India is going to align with which international giant, but it's looking increasingly likely that retail in India will be reorganized along the lines dictated by large international retailers. India's FDI rules currently do not allow international companies to independently run their operations in India, but by picking up stakes in existing Indian retailers they'll resume their international rivalries here by proxy.
This could lead to the transformation of India's retail landscape — international companies will bring with them global best practices, better inventory management techniques, and sophisticated supply chains. And the Indian customer might ultimately benefit. She already seen how foreign VC money has transformed purchases that are made online — with international money being pumped into brick-and-mortar retail, the offline shopping experience in India might soon be transformed beyond all recognition.