Employee walkouts usually evoke images from an 80s-era Soviet factory, when workers, desperate for their meagre demands to be met, rebelled against management by stopping work on their assembly lines. It's now the 21st century, and workers are now called employees, but things don't seem to have changed very much, because something very similar is happening at one of the top tech companies in the world.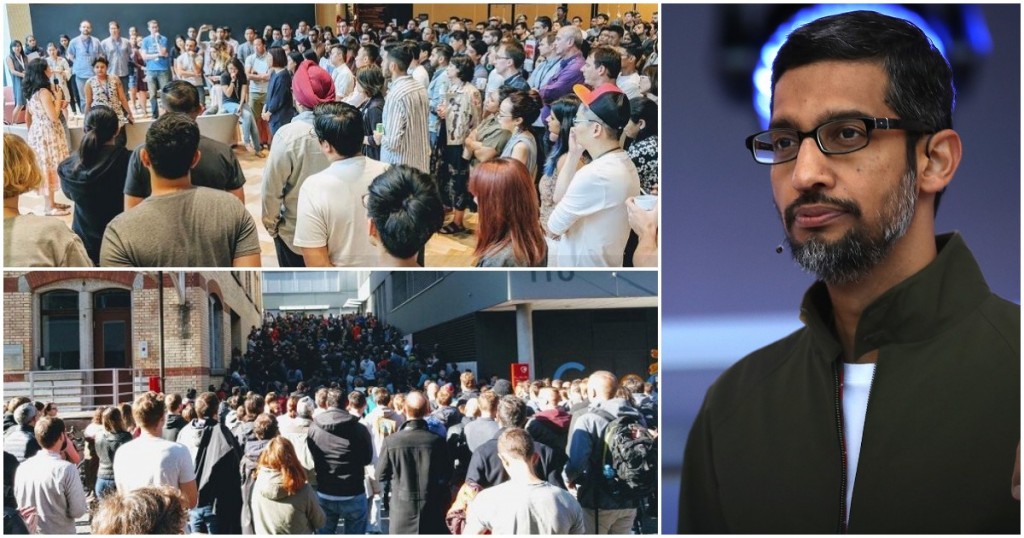 Employees at over 60 Google offices around the world are staging walkouts to protest the management's handling of sexual harassment charges within the company. The walkouts will happen at 11 am local time on Thursday, beginning with the Singapore office.  Employees participating in the walkout will leave a note on their desks saying: "I'm not at my desk because I'm walking out with other Googlers and contractors to protest sexual harassment, misconduct, lack of transparency, and a workplace culture that's not working for everyone."
Reasons for hope in tech: Googlers will walkout tomorrow to protest @google handling of sexual harassment and more — 25 offices around the world are participating and there will be demands including removal of forced arbitration. Here's one sign: pic.twitter.com/hZq2tQ5Apk

— Kara Swisher (@karaswisher) October 31, 2018
Google employees in Dublin starting their walkout in protest at the recent revelations about the treatment of women in the company. pic.twitter.com/E2FRV5hYtQ

— Will Goodbody (@willgoodbody) November 1, 2018
Google workers walk out over treatment of women amid sexual misconduct claims pic.twitter.com/B8s14JaW0V

— Noel Gibney (@Watersun555) November 1, 2018
Google workers walk out to protest office harassment https://t.co/mUoxaRscUt pic.twitter.com/B274QTAT2N

— Express Tribune Tech (@ETribuneTech) November 1, 2018
Things came to a head to around the sexual harassment issue a couple of weeks ago at Google, when a New York Times article had claimed that Google had not only let Android founder Andy Rubin quietly leave the company after sexual harassment charges had been leveled against him, but had also given him a $90 million (Rs. 630 crore) payout as he left. Andy Rubin had denied the allegations, but that hasn't stopped employees from demanding harsher punishments for those accused of sexual harassment. Google had attempted to mollify irate employees by claiming that over the over the previous two years, it had fired 48 employees over sexual harassment charges without giving them exit packages, but that hadn't proved to be enough.
The employees staging the walkouts have formally made 6 demands from the management, which include processes for not disposing of sexual harassment complaints through internal processes but going to public courts, and the appointment of a "Chief Diversity Officer" who will report directly to the CEO. Google CEO Sundar Pichai has already apologized for Google's initial handling of the situation, and will likely apologize again to placate his troops.
This isn't the first time that Google employees have risen against the management over what they perceive are injustices. Earlier this year, some Google employees had resigned after the company had used its AI technology to create military drones. Employees have also been protesting Google's planned China launch, saying that it is an implicit endorsement of the country's censorship policies. And with the recent sexual harassment case, Google's management is once again pitted against its own workforce. At this point, Google isn't only battling regulators and competitors — it's also battling its increasingly vocal employee base.