Google is doubling down on the product features in one of its largest markets.
Google Maps now provides real-time updates of trains in India, the company announced. The update is the latest in a slew of new features that have been made available for Google Maps in India, including bus travel times in ten major cities, and mixed-mode commute suggestions that will combine auto-rickshaws and public transport.
The real-time train location feature had been on the cards ever since Google acquired Indian startup Sigmoid Labs in December last year for Rs. 280 crore. Sidmoid Labs ran the app Where's My Train, which used cell tower information to tell its users where particular trains were. The app had 10 million downloads, and was run by a 10-member team based out of Bangalore.
It appears that Google has lost no time in integrating Where's My Train's capabilities into Google Maps. Google Maps now not only lists train options when you search for travel options between two cities, but also provides real time updates — it tells you, for instance, that the Pooja SF Express that plies between Jaipur and New Delhi is running 54 minutes late.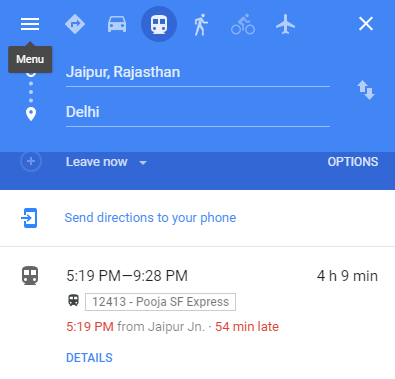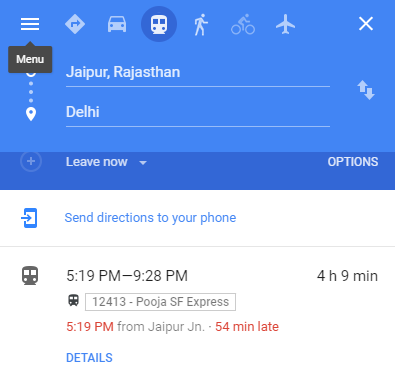 For bus travel Google is introducing — for the first time in any market — a means to calculate delays and provide accurate travel times. Google says it is using a combination of live traffic data and public bus schedules, and the feature is available in Delhi, Bangalore, Mumbai, Hyderabad, Pune, Lucknow, Chennai, Mysore, Coimbatore and Surat. Mixed mode commutes will throw up commute suggestions which include both autos and public transport, which is how most commutes work anyway in India. This feature is currently live in Delhi and Bangalore, and will be rolled out in more cities soon.
Google's latest push on India-specific features on Google Maps is a part of its Next Billion Users initiative, where it aims to build features that are targeted towards developing markets. It's achieved some success in the area — its UPI app, Google Pay, is now India's biggest UPI app by value of transactions, and its WiFi hotspots across railway stations, installed in collaboration with the Indian government, now are more than 400 in number. Google Maps, of course, has no equal in India, and enjoys a virtual monopoly on consumer-facing mapping software. At a time when Apple still hasn't opened retail stores in India, and Facebook hasn't quite been able to get WhatsApp payments off the ground, Google is emerging as one US-based tech giant that seems to have a handle on its strategy in the world's second biggest internet market.