Urban Indian consumers are currently king  — over the last few years, all manner of companies have been lavishing them with discounts and freebies, hoping to earn their business. And while most companies give away discounts usually win customer loyalty, some are doing so for something more important: the nation's democracy.
Several Indian companies have come out with a host of offers and discounts to incentivize Indian voters to go out and cast their votes in the Indian elections. The Indian elections are the event of the year, and are all over news and TV, but some companies are providing people that extra push to get people to go out and vote. Here are some of the prominent ones: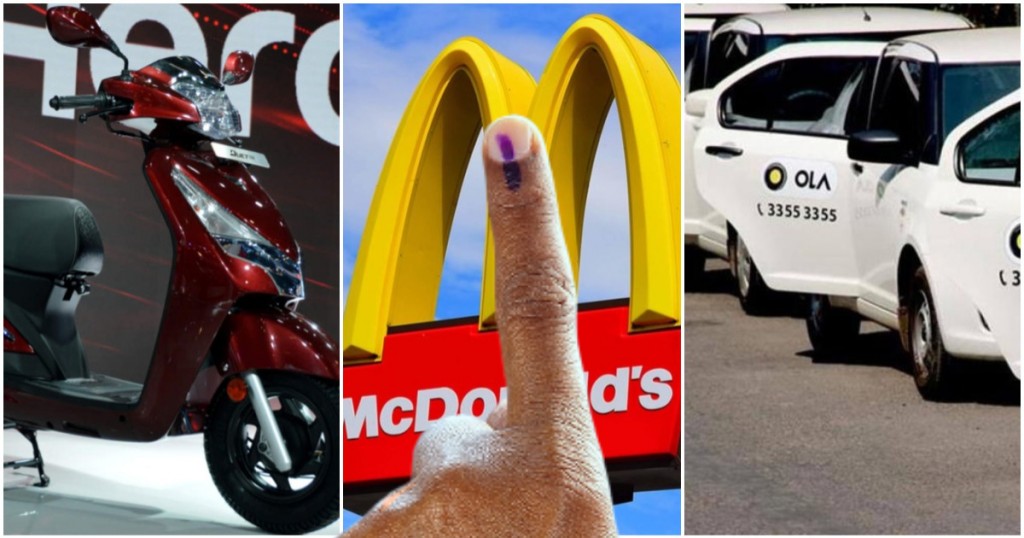 1. Hero Motocorp: Hero is offering two-wheeler wash and services for Rs. 199 for customers who show that they've voted. The service typically costs between Rs. 500 and 600. The scheme is available after every polling day in each of the seven phases of the election.
2. Subway: Subway is offering an 18% discount on food items to voters. "We will complete 18 years in India. In a symbolic way, we have grown with the youth of the country. The prime objective of offering discounts is to encourage the youth to exercise their right to vote," said Ranjit Talwar, country director, South Asia at Subway.
3. Ola: Ola isn't giving people discounts when they've voted — they're instead helping them vote. The company has partnered with the Election Commission in to give free rides to polling booths for persons with disabilities in Karnataka. Ola has made available 270 cabs which will be made available to ferry disabled voters.
4. McDonald's: McDonald's, is offering a Rs. 50 discount on items such as McSpicy Chicken, McSpicy Paneer Burger along with a coke in various cities in Tamil Nadu, Karnataka, Gujarat, Kerala, Pune and Mumbai for people who've voted.
5. Smaller businesses: Many smaller businesses are also providing discounts to voters in their cities. Restaurant chain Little Italy is offering a 15% discount to customers who display the voting mark on their finger. Similarly, Onesta is giving away  a free drink to customers who've voted. There's also a host of local businesses which are running their own discounts.