India's online streaming market is exploding. There are 8 companies in the space at last count, both Indian and international, all trying to disrupt traditional TV and create content that'll appeal to the Indian viewer. But they don't appear to have unlocked a lot of value yet, because even India's most-subscribed-to streaming service isn't anywhere close to being a unicorn.
Hotstar has raised Rs. 560 crore from parent company Star US at a valuation of $265 million (Rs. 1855 crore), paper.vc has reported. The transaction revealed some interesting data around Hotstar's India presence — Hotstar now has 7 lakh paid subscribers in the country, and earned revenues of Rs. 571 crore in FY 18, compared to Rs. 370 crore in FY 17. Losses in FY 17 were Rs. 489 crore. The IPL is expected to significantly bump up Hotstar's overall revenues for FY19 — for the quarter ending June,  Hotstar earned revenues of Rs. 569 crore, about as much as it earned in the previous financial year.
But the number that jumps out of the report is Hotstar's "fair valuation", which stands at just $265 million. A $265 million valuation doesn't seem to be very much, given the attention the video streaming sector has received over the last year. There are now 8 major video streaming services in the country — there's foreign companies in Netflix and Amazon Prime Video, and then Indian players including MTV's Voot, Balaji's Alt Balaji, Zee's Zee5, and Sony's Sony Liv. Then two telecom operators run their own services, both of which are limited to their own subscribers — Jio has Jio TV, and Airtel has Airtel TV.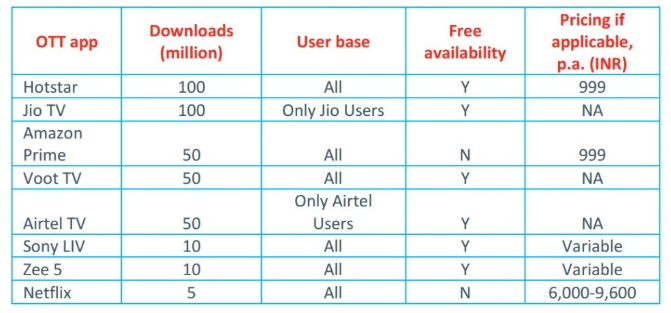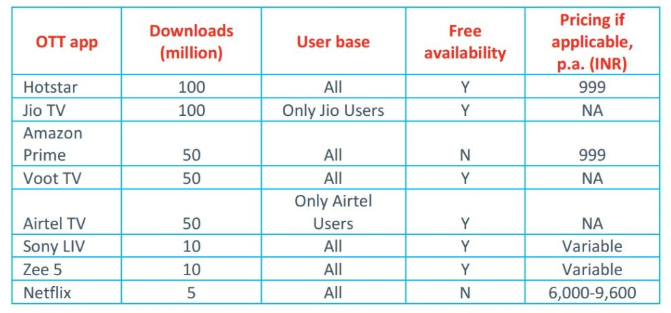 But even in this crowded field, Hotstar is perhaps the biggest video service. It has the joint highest number of downloads, along with Jio TV, but unlike Jio TV, it has paying users. Amazon Prime, which is priced at around the same range as Hotstar, has fewer downloads. And Netflix, which is an order of magnitude more expensive than Hotstar — its annual price is between Rs. 6,000 and 9,000, compared to just Rs. 999 for Hotstar — has a meagre 5 million downloads, and by some estimates, only a few lakh paying users.
Now the other players in the space don't reveal their individual valuations — both Amazon and Netflix's Indian operations are subsidiaries of the respective global companies, and thus are hard to individually value. But given how Hotstar has the most downloads amongst the lot, and is a paid service to boot, it's likely that their valuations are lower, or equal to its own $265 million tag.
This shows it's still early days yet for India's video streaming sector, and how fragmented the space already is. Take e-commerce for instance — even two years ago, it boasted of multiple unicorns. Flipkart at that point was valued at around $10 billion, Snapdeal was valued at around 6 billion, and ShopClues and Paytm Mall were valued at $1 billion each. But at the moment, India's video streaming space has 8 companies, none of which, in all likelihood, is valued more than $265 million.
This doesn't seem commensurate with all the attention the space has received in the recent past, and the money that companies are pouring into it. Netflix and Amazon bought TV airtime and outdoor billboard advertising to promote their latest original shows, Sacred Games and Comicstaan respectively. The 5 other players are also burning through large amounts of money, all trying to woo the Indian user.
@NetflixIndia dragged to court for Sacred Games series. Will that (negative publicity) further boost interest in Netflix's paid platform? Massive advertising in Delhi Metro, even inside trains pic.twitter.com/X7mKuhg8Ax

— Aditya Kalra (@adityakalra) July 13, 2018
But it's perhaps the high number of players in the fray that's preventing any one company from truly making it big. These services are direct competitors, and save for a tiny sliver of well-heeled users in the metros, will have to divide India's total video streaming users amongst themselves — very few Indian users are going to pay for all of Netflix, Amazon Prime and Hotstar simultaneously. This immediately caps their growth potential — it'll take a herculean effort for any one service to capture even 50% of the market.
And it appears that India's video streaming market is already about as large as it's going to be for the foreseeable future. Data prices are at rock bottom levels thanks to Jio's telecom entry, and can only realistically rise in the coming years. Smartphones are as cheap as they've ever been, and it's unlikely that their prices will fall dramatically going forward. There couldn't be a better time for streaming services to flourish in India, but even then the biggest player is valued at a mere $265 million.
All this could mean that it might be hard for truly large players to emerge out of the Indian video streaming space. This wouldn't come as good news for the eight companies who are all currently running losses, hoping to eventually make it big. The can try to expand horizontally — right now, they are creating content that caters to the urban viewer, but will perhaps have to create more regional content in order to expand their market sizes. Then they'll be faced with the the problem that all consumer-facing startups eventually come up with — outside the big metros, there simply isn't even disposable income to splurge on lifestyle and leisure products. It'll be a tricky situation to be in, and will take the collective ingenuity of all the 8 players to find solutions. But it'll be hard to escape from a fact that's staring them in the face — in India's video streaming space, too many cooks might just be spoiling the collective broth.