In many ways, Netflix and Amazon Prime Video are direct competitors in India — they entered the country at roughly the same time, their streaming service caters to the same demographic, both have similar video catalogs. What the two services look to differentiate themselves through is with is their original offerings — shows that are exclusive to their platforms. And in that regard, Netflix and Amazon Prime's latest offerings appear to have drawn vastly different reactions.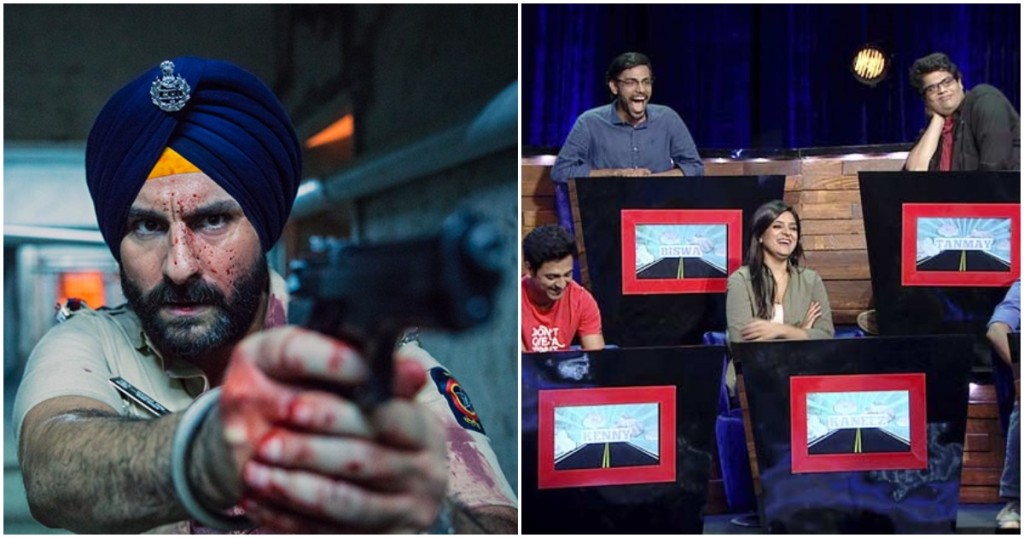 Netflix's Sacred Games and Amazon Prime's Comicstaan were released over the past month, but Sacred Games seems to have opened to much better reviews that its Amazon rival. Sacred Games and Comicstaan aren't in the same genre — Sacred Games is an 8-episode-long, profanity-laced thriller adapted from a Vikram Chandra novel of the same name, while Comicstaan brings together India's top internet comics as they judge budding comedians in a comedy face-off. But initial reactions have suggested that Sacred Games appears to have landed much better than Amazon show.
"Sacred Games… show(s) the world what India is capable of," raved a Hindustan Times review, rating the show 4/5 stars. Imdb reviews were just as charitable, and the show is currently rated a strong 9.3 out of 10 on Imdb. And while Sacred Games has courted controversy, both based off its negative portrayal of Hindus to its criticism of former Prime Minister Rajiv Gandhi which led to a police complaint, reactions on social media has been largely positive.
#Sacred games just mind blasting story and acting each charactor justifies your time…. best work of nawaz so far and saif just fit in perfect… can't wait for season 2

— Guddan Kotnish (@gudda_chotu) July 8, 2018
Binge watched #Sacred Games !! What a brilliant show !! Brilliant performances, Brilliant writing, Brilliant dialogues and Brilliant Nawaz !! #Netflix #netflixindia

— Amit Singh (@dr_psychamy) July 8, 2018
The performance are spectacular! The entire cast is beyond amazing! The silence and solid strength of the super Saif Ali Khan! The absolute genius of @Nawazuddin_S the beautiful intensity of @radhika_apte and the entire ensemble are on point and super! #sacred games

— Karan Johar (@karanjohar) July 15, 2018
The reactions to Comicstaan, though, haven't quite been as effusive. "Brings back painful memories of Kapil Sharma and Navjot Singh Sidhu," slammed Hindustan Times, rating it 2/5 stars. "To watch a bunch of aspiring comedians flail about on stage, so rusty that the mere sight of them makes you want to get a tetanus shot, is often unpleasant," it added. Comicstaan isn't getting the love from ordinary users either — its Imdb rating currently languishes at 6.6/10. Social media, for its part, has been doing some hilarious commentary of its own slamming the comedy show.
Comicstaan is proof that there is a sea of aspiring unfunny stand up comedians who just hate their day jobs.

— Rajat (@Extranaut) July 13, 2018
#Comicstaan seems aptly named. It is truly Kabristaan of Comedy!

— Agnimitra Sharma (@AgniOnFire) July 14, 2018
#Comicstaan
Listening to Indian female comedians be like. pic.twitter.com/J4hKBfldeU

— ??Sumeet (@JustChaoticEvil) July 13, 2018
Some have called its attempts at humour cringeworthy.
This Comicstaan on Amazon is mostly cringe max. (After 2 episodes.)

And why is there so much shouting? There are mics.

— ᴍᴀᴅʜᴜ ᴍᴇɴᴏɴ (@madmanweb) July 14, 2018
And others felt that Comicstaan was so bad it shouldn't even have been promoted.
I mean #Comicstaan is so bad that @amazonIN should hide it instead of shoving its posters & banners down our throats everywhere on the web. They should be relieved if nobody ever discovers the show.

— Sohini (@Mittermaniac) July 16, 2018
But promoted it has been. Both Netflix and Amazon seem to have spared no effort in marketing their big-name releases. From TV ads to billboards to advertisements in metros, both Sacred Games and Comicstaan have been hard to miss for the urban Indian.
Delhi Metro seems to have got its Advertisement placement very accurate. Kenny Sebastian – for ladies exclusively. ??
What say ? @knowkenny @abishmathew @kaneezsurka@Tanmaybhatt @PrimeVideoIN @comicstaan pic.twitter.com/ZRXY5ggMEv

— Vyom Tripathi (@vrooomtrapit) July 16, 2018
@NetflixIndia dragged to court for Sacred Games series. Will that (negative publicity) further boost interest in Netflix's paid platform? Massive advertising in Delhi Metro, even inside trains pic.twitter.com/X7mKuhg8Ax

— Aditya Kalra (@adityakalra) July 13, 2018
Netflix and Amazon both seem to realize that the stakes are high for their businesses in India, and are sparing no effort in acquiring users. India's still a nascent video streaming market, and with many users yet  to buy their first video streaming subscriptions, there's lots of room to make inroads — a big-name launch can create customers who could stay loyal to their brands for years. But as far as their latest near-simultaneous original show launches have gone, Netflix seems to have stolen the show over its e-commerce rival.