Founding a startup and running it is hard enough. Getting someone else to buy the idea and invest into it is a different animal altogether.  While stories of startups raising $$$ in funding are rampant, it's the first time entrepreneurs who struggle with knowing where to start and how to go about the process. We spoke with the founders of a few well-known startups across verticals that have successfully managed to raise investments and continue to grow, expand and innovate. They share stories of their funding journeys, from pitches to term sheets, and finally to the dotted line
1. Haptik
Product: Personal Assistant On Chat App
Raised: $1 Million | Investors: Kalaari Capital
We started the company in August 2013, and launched the product in April 2014. Upon launch, we got tremendous feedback from our users, the media, and investors alike. Given that plus the founders' personal connections in the investor network, we received a lot of inbound interest from VCs and seed funds to invest in Haptik. We pitched to about 10 investors in total – mostly Venture Capital funds. The biggest challenge we had convincing investors was that something like this had never been attempted anywhere in the world, so why would it succeed in India. At the end of it, we received 3 term sheets. Each had its own pros and cons, and we ultimately decided to go with Kalaari Capital given their vast experience in building successful consumer internet companies out of India, as well as the most entrepreneur-friendly terms.
The interesting part of that story is that I was not going to even go to the Kalaari partnership meeting! We already had 2 term sheets in hand with investors who we knew better, and the company had run out of money. So, when Rajesh Raju (MD, Kalaari) called and asked to fly to Bangalore to present to the partnership (we are based in Mumbai), I refused giving some lame excuse but the truth was I didn't want to spend personal money on the airfare! But Rajesh was insistent, and I flew down thinking it does not make sense to burn any bridges with such a respected VC fund. After an hour-long pitch, Rajesh told me they would be sending a term sheet that same day. And the rest, as they say, is history. We have not regretted the decision since as Rajesh and team have been a great partner to build

Haptik

with. 
– Aakrit Vaish, CEO and Co-founder of Haptik.  
2. Shop Pirate
Product: Online coupons aggregator
Raised:  $800k | Investors: Confidance Holding Pvt. Ltd
We actually approached few VCs during our product development phase, not to raise money but to sound off the idea and hear their response/feedback. Thankfully for both of us working in the industry for so many years it was easy to get a meeting through connections. These discussions helped us shape our idea and product to a great extent. We knew very clearly that a similar model to what we are trying to create doesn't exist today and hence we have to test out a lot of hypothesis and assumptions before we approach institutional investors. We both put in a good amount of our personal wealth to start with and later started approaching known investors who would believe in the team's expertise and execution strength. Even after having high degree of familiarity with most of the investors the pitches were extremely intensive and grilling. Every investor wants to know the size of market and strategy to acquire those users. It's all about getting to a realistic number and a promising growth plan. Coupon industry is a crowded space and many times we were asked what difference we can bring to a shopper when the competition is tough and offering is same. Your passion should come out in your words that what we did we wanted not only a coupon site but a tech savvy site offering a complete new experience to the shopper in their shopping journey.
Lot has been discussed everywhere about how to get investors but in actual it is very different. Meeting and numbers are the most stressful of it.
–  Kulpreet Kaur, Co-Founder, Shop Pirate Coupons 
3. Your DOST
Product: Online counselling and emotional support
Raised:  $400k | Investors: Sanjay Anandaram, Bharati Jacob, Phanindra Sama & others
We are lucky to have some great set of investors on board who believed in the idea and now are also mentors for us. For instance, I still remember the first time I met Sanjay Anandaram for mentoring. The team was just me full-time and other co-founders were still serving their notice period. He was kind enough to spare time to mentor us. He inspired us not just to dream big but also systematically work towards it. He was the first person to believe in the vision (rather co-creating the vision). He then introduced us to Bharati Jacob and Phanindra Sama and then it was all through their network that we kept meeting the next set of investors. Getting rejected is a part of the game but what also helped us is that we were exclusively introduced to the right set of investors through our lead investors and platforms like LetsVenture.
We were very clear with our vision and we went from one person to the other showcasing it. The convincing was slightly difficult because it is an unexplored and challenging sector.
It wasn't just funds that we were looking for but a set of people who could believe in our vision and mentor us in this journey. Though it was difficult but we finally managed to create a great mentoring group for us.
4.  Coverfox
Product: Online insurance aggregator and seller.
Raised: $12million | Investors: Accel India, SAIF & Catamaran Investments
The challenge that we have taken on with our idea is a big one but we were lucky to have the initial capital come in from a bunch of angel investors and friends. They pooled in small amounts to help us with the minimum seed capital to get started, and clear the regulatory capital requirement. Our people showed a lot of faith in our idea, as without the licence the capital was at risk. The Founders – Devendra and Varun pooled a bit of their personal monies too. Raising the first official venture capital was a little tough, but Coverfox's was fortunate to get this round (about $2 million) from Accel India and SAIF. The company now has acheived to raise capital of about $15 mn from Accel India, SAIF, Accel US and Narayan Murthy's Catamaran Investments. We will use this funds to expand our product across insurance categories besides expanding the team.

5. Smytten
Product: Online discovery platform for premium products and services
Raised: $200k | Investors: Rimpal Chawla & Anuj Srivastava
We approached few VCs during our product development phase, not to raise money but to sound off the idea and hear their responses and feedback. Thankfully, as both of us were working in the industry for many years, it was easy to get meetings through connections. These discussions helped us shape our idea and product. We knew that a model similar to ours didn't exist and hence we would have to test out a lots hypotheses and assumptions before we approached institutional investors. We both put in a good amount of our personal wealth to start with and later started approaching known investors who would believe in the team's expertise and execution strength.
Even though we were familiar with most of the investors we approached, the pitches were extremely intensive and grilling. We had all our numbers worked out with unit economics, growth and acquisition details. As founders you always optimistic; some assumptions are your gut feeling, very hard to justify with numbers or rationale. So long debates would go on some points but at the end of it they would seem convinced, at least we thought so 🙂 There was one discussion on the customer acquisition cost (CAC) that went on for 3 hours where the assumption we'd made seemed very low given the madness that's around the market today with huge consumer incentives and massive marketing spends from startups. But at that early stage discussions you either agree or disagree, guess we agreed to disagree. Thankfully our initial set of consumer acquisition has happened at negligible marketing cost and we hope to continue the spree.

6. TinMen
Product: Office food delivery app
Raised: Undisclosed | Investors: Lead Angels
We had a stall at August Fest, a startup fest that takes place in Hyderabad. A few investors approached us after seeing the stall. We did our first pitch there, to an audience of about 1000 people. The pitch went well and some people told us that they really liked the pitch. But we were in for a surprise. At the end of the 2 day fest, we were packing up the stall and waiting to head home when someone came running to us and told us that there was an announcement made at the main stage that we won a Rs 5 Lakh cash prize for the best pitch award during the fest. We didn't even know such an award existed as the organisers wanted to keep it a surprise. They succeeded and we were pleasantly shocked. In fact my cofounder didn't even come to the stage thinking someone was playing a joke. That was a wonderful surprise : )
We then pitched to an angel firm where we were pitching to a room full of people with limited time. That was a completely different experience. Most questions we got were about how we were different from existing players in the market.
The conversations with individual angel investors were much more informal and more often than not happened in coffee shops.
In the two month we were speaking to the investors, we became 2x of what we were and that kind of growth really impressed the investors and we finally got a deal.
The second part of the last year has not been very great for food tech startups – with many big names shutting down and few other facing serious problems. So there was a negative sentiment about investing in new food startups. Thankfully we had a strong business plan, because that was the most important tool we needed to convince the investors in such an investment climate.
– Mukesh Manda, co-founder TinMen

7. Vedantu 
Product: 1 to 1 live online tutoring platform.
Raised: $5mn | Investors: Accel Partners & Tiger Global Management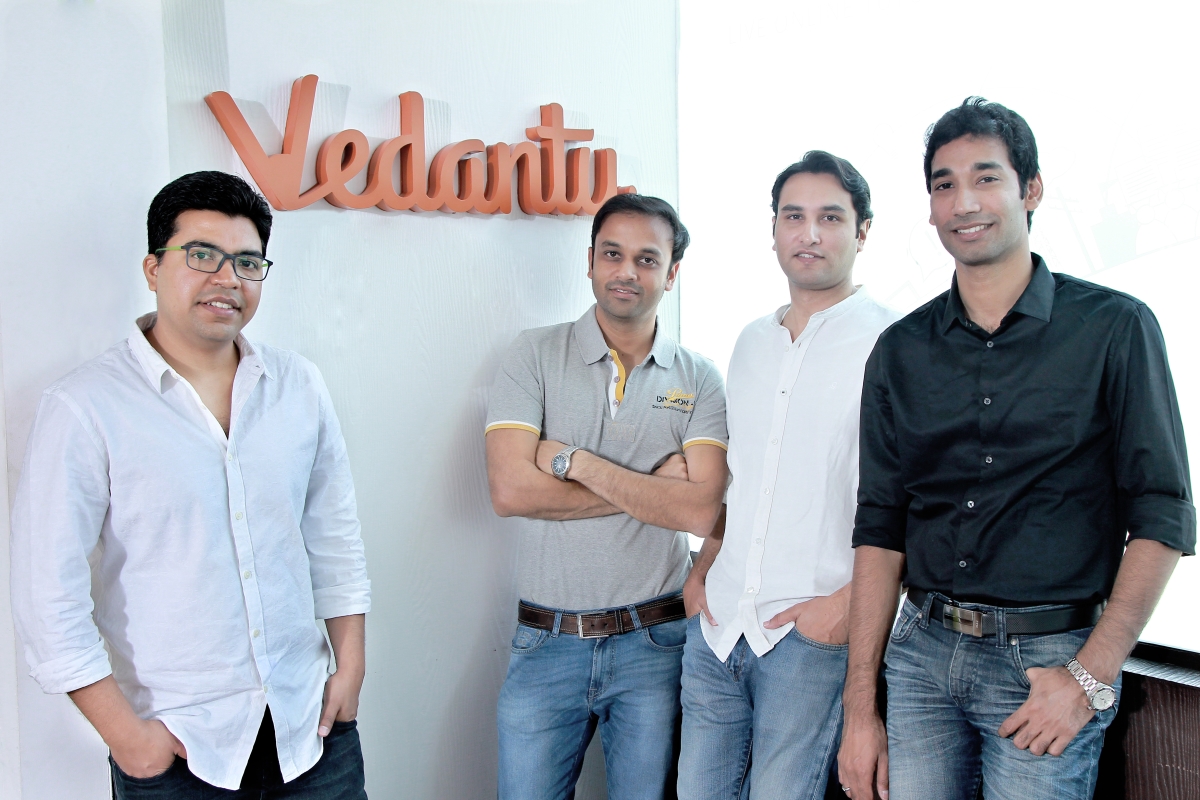 Vedantu is our second venture in the education space. Prior to Vedantu, we had founded Lakshya Institute, a highly successful Test Prep company that was acquired by MT Educare. With our deep experience in the field of education and having taught 10,000 students amongst all co-founders, we exactly knew the challenges faced in the traditional offline education set-up. Those insights helped us in developing a technology platform that would help solve real-world problems and create value. With our sharp focus, we were able to attract USD 450,000 in seed funding. While developing Vedantu's platform we continued to have conversations with investors in our network in terms of our vision. When we approached investors for funding after the successful public beta launch in October 2014, they were excited by what Vedantu had to offer. The founders' successful track record in the field of education and the team's synergy helped establish the trust factor immediately. Further, Vedantu fared very well on other key parameters as well. We were solving a very critical problem for a vast untapped market in India by completely re-imagining how learning takes place between a student and a teacher.
Bolstered by these unique factors, we were able to raise USD 5 million in series A round of funding within just 6 months of our launch from marquee investors such as Accel Partners and Tiger Global Management. This is probably the fastest funding turnaround time for a startup in Indian Ed-Tech space. It was an early validation of our robust model.
– Vamsi Krishna, CEO and Co-founder Vedantu
8. Jobspire
Product: Online startup jobs portal
Raised: $262k  | Investors:  Purvi Capital
Having started something while still at college, we were unfamiliar with the world of investors and the nitty gritties of funding. We had read a lot about angel investing, deal metrics in India, etc. We were preparing for another pitch event (in my experience, these are useless. No deal happens on stage), when Nikunj Jain and a few other investors happened to interview me on Skype. Nikunj absolutely loved the product and said that he would invest. That was a shot in the arm and we continued the momentum. After we moved base to Bangalore, we met Ravi Srivastava from Purvi Capital. Initially, Ravi had committed 3 lakhs and wanted to take on a mentorship role, but we were really pushing the traction and we saw incredible growth spurts. Ravi was raising a fund at that point and he asked me if we'd like to be a part of his portfolio. I was an expert on deal metrics by then but I didn't even ask what valuation. I'd realized that angel deals are not about the % you dilute or the valuation of the company, it's about the people you'd like to work with. We thought Ravi and Nikunj were awesome, driven people who thought like us so we said yes. We got a pretty good (multi-million) dollar valuation at the end of it all. Towards the end, a lot of investors saw us as a good deal and everybody wanted to jump in and put in cash.
We were very very oversubscribed and had to make decisions on who to remove from the round! Even today, we get (on average) 2 investors who want to put in cash on the same terms as our existing termsheet.
A termsheet for 1.7 crore came through and while the paperwork took some time, we finally managed to raise a round.
– Jobspire founders
9. Grabhouse
Product: Online housing rentals platform
Raised: $10mn | Investors: Kalaari Capital & Sequoia Capital
Back when we started in 2014, we had participated in a boot camp which was organised by India Quotient and we were amongst the 10 companies who were selected by India Quotient to be a part of it. Once the boot camp got over, we were the only company to have the received initial funding from India Quotient. Post which, we were working on developing the product and it was interesting to get offers when we were not pitching to raise.
Our first pitch was the presentation which we had made to India quotient after the boot camp. This was more around business, the problem which we were looking to solve and how to solve the problem. At this time we did not have a product ready it was mostly on our ideas and willingness to solve which got us the initial round. Post this India Quotient helped us get the Series A funding. Investors were convinced with the fact that at that point we were the first one to go broker free and also because we had innovative growth hacks and saw a lot of organic growth, without any marketing spends.
We got offers when we were not pitching to raise. It was always through business conversations that piqued interest. Our approach and ideas and willingness to solve the problem in the most innovative way using technology extensively.
– Pankhuri Shrivastava, co-founder Grabhouse