Reliance is known to be one of India's largest conglomerates, and Chairman Mukesh Ambani is India's richest man. But while people realize that Reliance has significant interests in oil and petrochemicals — and more recently, its telecom play through Jio — most people don't quite get how vast Reliance's empire really is.
In a slide displayed at a presentation recently, Reliance showcases all the varied industries it operates in. And instead of listing out its many subsidiary companies, it tells a story around how the average Indian interacts with Reliance's products since the time they get up to the time they finally hit the bed. It makes for pretty compelling reading, and is an interesting insight into how Reliance comes to be valued at nearly $100 billion.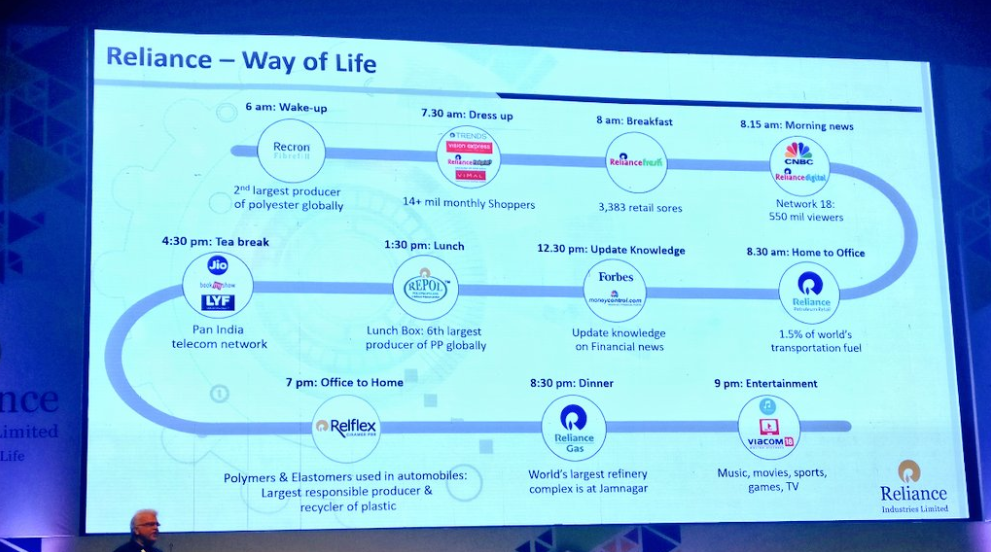 Recron, 6 am: Reliance says you get up at 6 am, possibly after a comfortable night on a Recron mattress. Reliance is the largest producer of polyester fibres and yarns in the world, with a current capacity of 2.5 million tonnes per annum, and Recron is its flagship brand. Recron also has operations in Malaysia, where it employs 7,500 people and has an annual turnover of over $1 billion.
Reliance Trends, 7:30 am: Reliance says it'll help you dress up through its clothing brand, Reliance Trends, and its e-commerce fashion play, AJIO. Reliance says it attracts over 14 million monthly shoppers on its fashion portals. 
Reliance Fresh, 8:00 am: Reliance also sells fruits, vegetables, dairy products and groceries through its Reliance Fresh chain of supermarkets. There are 1691 Reliance Fresh outlets across the country, which can help you fix you a healthy breakfast. 
CNBC, 8:15 am: Reliance is also India's top source of business news — the parent company of the Network 18 network, which runs some of India's biggest business news channels inculding CNBC, CNBC Awaaz, and even CNBC Bajar in Gujarati. 
Reliance Petrochemicals, 8:30 am: This is the big one — Reliance produces 1.5% of the world's transportation fuel, and Reliance says that it's likely that its fuel is driving you on your way to work.
Forbes, Moneycontrol.com, 12:30 pm: Reliance's news offerings don't end with CNBC — the company also runs Forbes in India, as well as India's most popular websites on the financial markets, moneycontrol.com. 
Repol, 1:30 pm: Reliance says that it's likely your lunch box could be made from one of its many offerings of polymers. Reliance manufactures different grades of Repol, which are exported to more than 30 countries. Products manufactured include homopolymer, random copolymer and impact copolymer.
Jio, BookMyShow, 4:30 pm: Jio needs no introduction — it's revolutionized the telecom industry in India with its dirt-cheap plans, and really is used through the day by its users. Jio runs a series of apps which have solutions from everything from payments, through Jio Money, to streaming movies and shows. What's lesser known is that Reliance is also the single largest shareholder in India's biggest movie ticket portal, BookMyShow, with a 39% stake.
Relflex, 7:30 pm: Reliance has yet more interests in polymers — through Relflex, Reliance manufactures polymers and elastomers used in automobile rubber wheels. Reliance says its Relflex brand has clients including MRF, CEAT and JK Tyres.
Reliance Gas, 8:30 pm: Reliance is perhaps best known for its gas business, and operates the world's largest refinery at Jamnagar. The refinery is spread across 7,500 acres and has on-site housing for 2,500 employees. If all of the pipes used in the refinery were laid out, one after another, they would connect the whole of India from north to south.
Reliance Entertainment, 9 pm: And while Reliance is big in capital intensive sectors like oil and gas and polymers, it also runs many of India's most popular television channels. Through Network18, it runs CNN News18 and News18 India. It also runs over 15 regional news channels under the News18 brand. In the Hindi entertainment space, Reliance runs Colors and Rishtey. In the English entertainment space, it runs Colours Infinity and Comedy Central. For kids, it runs Nickleodeon and Nick Jr. And for history buffs, there's History TV.
It's a pretty stunning portfolio, and serves to reinforce why Reliance is one of India's most valuable companies. Its sprawling interests truly span across sectors, and even across geographies. And given how it's continuously making bets in new technologies, especially though Jio, Reliance's empire could grow in the years to come.