There are many things to be proud of about India. This pride escalates to another level wherever there's a story of an Indian doing well abroad.
While India is currently riding a startup wave in the homeland, what a lot of people back home may still be unaware of is the sheer number of Indians or people of Indian origin who are at the helm of global-multinationals abroad. 
"It's not a not a surprise that we're seeing Indians rise in corporate ranks," says Richard Herman, coauthor of a book on migrants to the U.S., Immigrant, Inc. "Of all the immigrant groups coming in today, Indians are head-and-shoulders above others, and this is partly because of their English language skills and also the advanced education that many of them are bringing to the U.S."
Here's a look at 10 of the most prominent Indians who are currently at top positions at these multi-billion companies.
1. Adobe
Shantanu Narayen
Did you know that Adobe- Parent company of the famous Photoshop software- was headed by an Indian? Shantanu Narayen joined Adobe in 1998 as a senior Vice-President of worldwide product research and was later promoted to executive vice president of worldwide products, and appointed to his current post in January 2005 at the age of 41.
In 2009, Narayen was considered one of "The TopGun CEOs" by Brendan Wood International, an advisory agency.

2. Microsoft
Satya Nadella

His appointment as the CEO of Microsoft last year made headlines in India last year.  Born in Hyderabad, Satya did his schooling at Hyderabad Public School, engineering at Manipal and then went on to do masters in Computer Science at the University of Wisconsin–Milwaukee. Later he received an MBA from the University of Chicago Booth School of Business.
Before working at Microsoft where he's worked for 24 years, Nadella has had several jobs across the USA. At Microsoft Nadella has led major projects including the company's move to cloud computing and the development of one of the largest cloud infrastructures in the world.
3. Pepsi
Indira Nooyi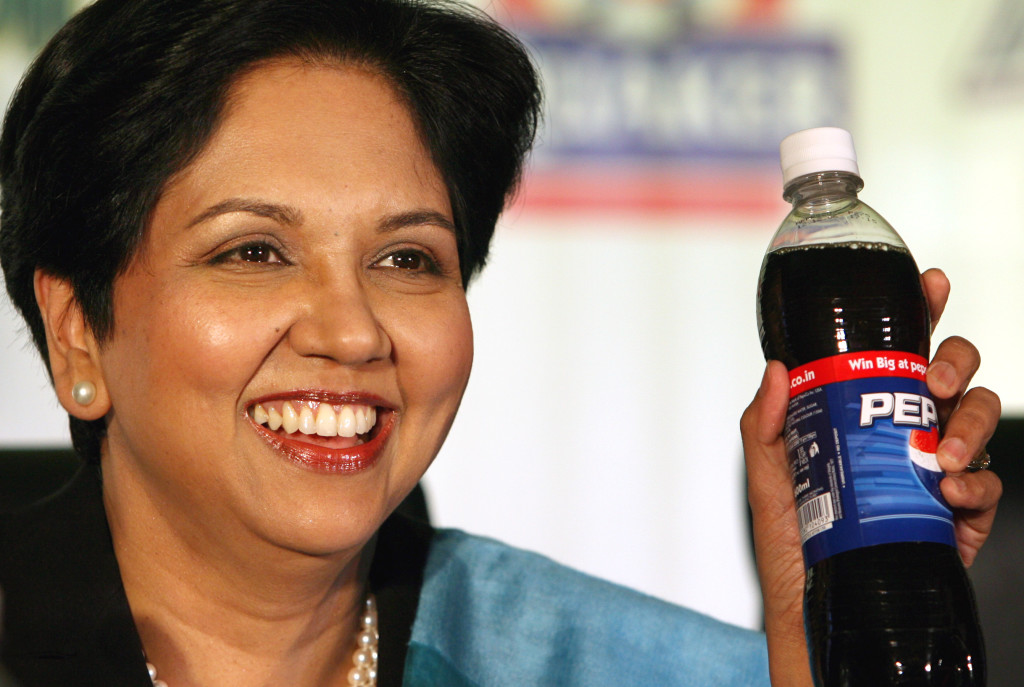 The only female Indian CEO at a global company, Nooyi has always been a name to reckon with in the business, constantly amongst the top 100 most powerful women in the world. Nooyi did her schooling in Chennai, and later an MBA at the Indian Institute of Management Kolkata, Nooyi went on do a masters at Yale, USA.
Nooyi joined PepsiCo in 1994 and was named president and CFO in 2001.
4. Softbank
Nikesh Arora
Heading Japanese banking giant Softbank is the Indian born and bred, Nikesh Arora. Born to an Indian Air Force officer, Nikesh graduated from the Indian Institute of Technology (BHU) Varanasi with a Bachelor's degree in Electrical Engineering in 1989. He holds a degree from Boston College and an MBA from Northeastern University. Nikesh Arora has previously worked for Deutsche Telekom, Putnam Investments and Fidelity Investments. Nikesh was the vice-president at Google until 2014 and has held leadership roles at Bharti Airtel and various other companies.
5. Google
Sundar Pichai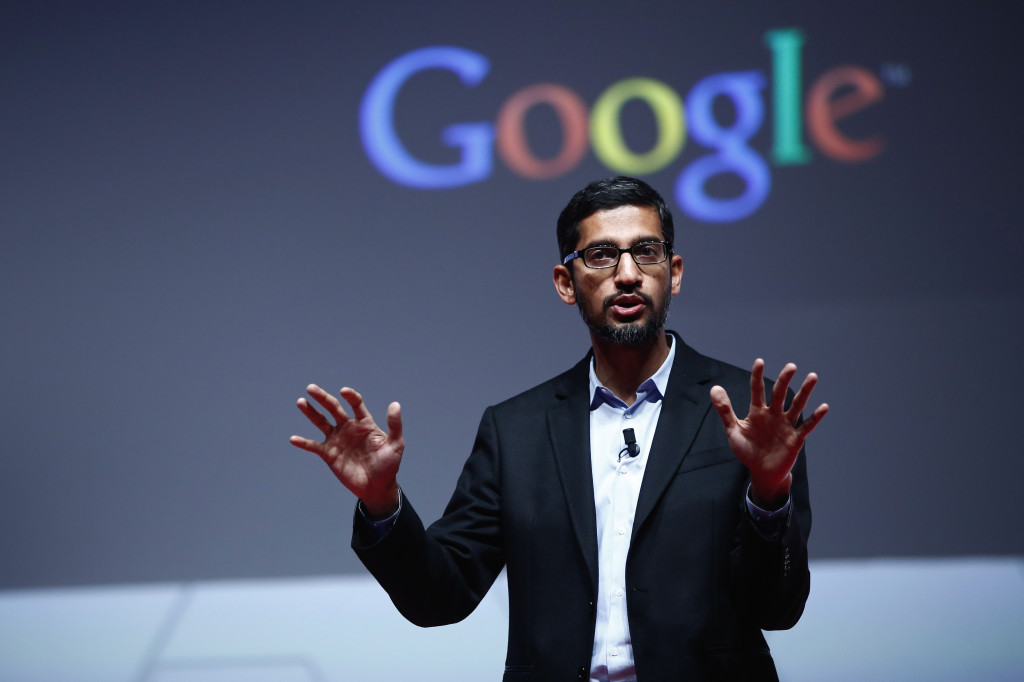 Fresh in recall after the recent Google keynote conference, and successor to Nikesh Arora, Pichai is the Senior Vice president at Google where he heads the Android, Chrome and Google Apps.
Update: In an announcement made by Larry Page on August 10, Pichai has been named the CEO of Google, while Google itself comes under the new umbrella company Alphabet Inc.
Born in Tamil Nadu, he did his early schooling in Chennai and earned his Bachelor of Engineering degree from IIT Kharagpur in Metallurgical Engineering. He holds an M.S. from Stanford University and an MBA from the Wharton School of the University of Pennsylvania.
Sundar joined Google in 2004, worked across multiple teams, leading several projects and was appointed vice-president by CEO Larry Page in 2014.

6. Mastercard
Ajay Singh Banga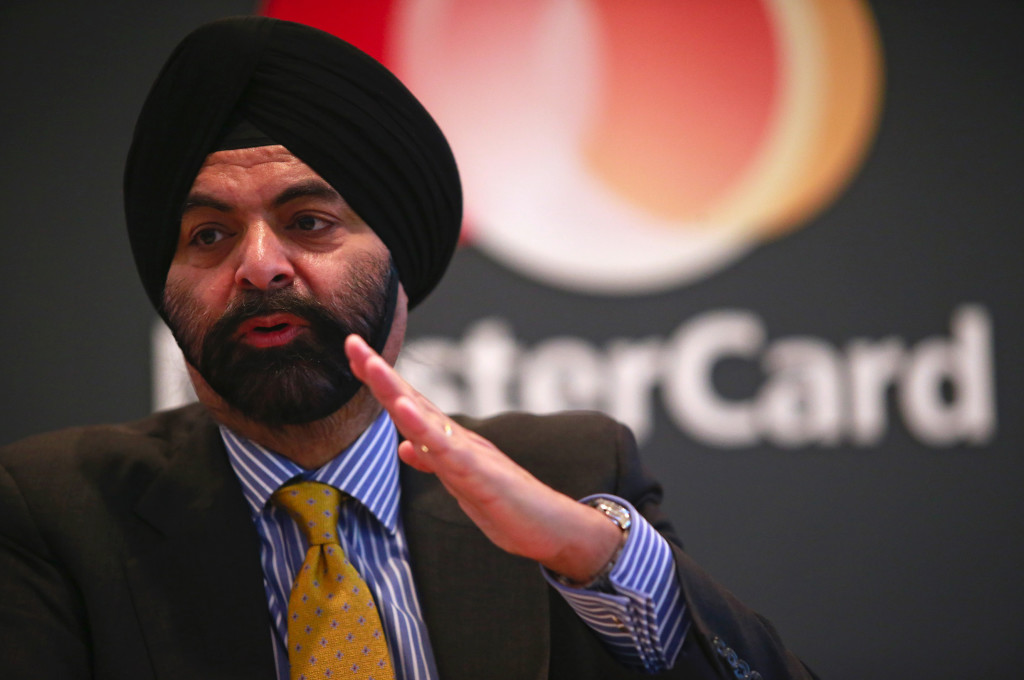 Ajay is the current president and CEO of MasterCard. Born into a Sikh family near Pune, Maharashtra where his father, an army officer, was posted. Banga grew up and schooled across India and went on to graduate with a Bachelor of Arts (Honours) degree in Economics from St. Stephen's College, Delhi University and MBA from the Indian Institute of Management, Ahmedabad.
Prior to joining Mastercard, Banga has held leadership and executive roles at Nestle, Citibank amongst others.
7. Reckitt Benckiser
Rakesh Kapoor
Rakesh Kapoor is the CEO of the European FMCG company Reckitt Benckiser (Of the Dettol fame)
Kapoor was educated at Modern School, New Delhi and has a BE (Hons) in Chemical Engineering from the Birla Institute of Technology and Science (BITS), Pilani, and an MBA from XLRI- Xavier School of Management, Jamshedpur, India.
Kapoor joined RB when it was known, pre-merger with Benckiser, as Reckitt & Colman in 1987, holding several positions across verticals in the company. He took over as CEO on 1 September 2011 from Bart Becht, who had been in post since the company was created in 1999 through the merger of Benckiser with Reckitt & Colman.
8.Diageo
Ivan Menezes
Ivan Manuel Menezes (born July 1959) is an Indian-born American/British chief executive officer (CEO) of Diageo, a FTSE 100 British multinational alcoholic beverages company, since July 2013.  Ivan Manuel Menezes was born in Pune, India in July 1959, the son of Manuel Menezes, who was the chairman of the Indian Railway Board.
He was educated at St. Stephen's College, Delhi and Indian Institute of Management Ahmedabad, and the US Kellogg School of Management.
9. Deutsche Bank
Anshuman Jain
A relatively lesser known name in the bank of Indian CEOs at Global firms, Anshu is the Co-CEO and chairman at the Deutsche bank.
Born in Jaipur, Rajasthan, 1963, Jain studied economics at University of Delhi's Shri Ram College of Commerce, earning a bachelor's degree with honors in 1983. He also holds an MBA in Finance from the University of Massachusetts Amherst.
Anshu received Risk Magazine Lifetime Achievement Award in 2010, as well as the annual Business Leader Award from NASSCOM. He is a 2005 recipient of the American Indian Foundation's Achievement Award for philanthropy and ongoing involvement in development. He won Euromoney Magazine Capital Markets Achievement Award in 2003.

10. Deloitte
Punit Renjen
The latest entrant to the Indian CEO party is Punit Renjen who has been appointed the CEO of the global accounting giant Deloitte PLC., on June 3rd 2015, becoming the first Indian-origin person to head a 'Big-Four' audit firm.
Renjen, who has been with Deloitte for over 27 years, grew up in India and holds a bachelor's degree with honours and a master's degree in management from Willamette University, US.