Kushal Tradelink Ltd. isn't a name that would immediately ring a bell.
It's one of the hundreds of stocks that trades every day through the Bombay Stock Exchange. It listed in October 2013 at a price of Rs. 7.65. It traded unremarkably through 2013, ending the year trading at Rs. 7.05. In 2014, it did well, and doubled in value. 2015 was even better – it quadrupled, ending up trading at Rs. 80. And by January 2017, the stock was trading at Rs. 605, an astonishing 8000% gain in three years.
That meant that Rs. 1 lakh invested in the obscure company in 2013 would've yielded a cool Rs. 80 lakh three years later. Kushal Tradelink Ltd. had become the best performing share not only in India, but in all of Asia.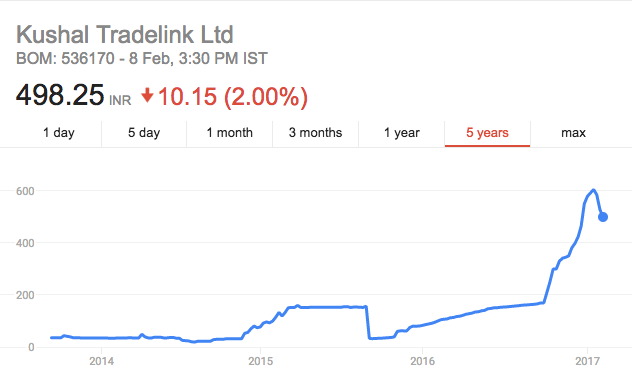 Incredibly, no one seems to know why it happened. The Chairman of the company, Sandeep Agrawal, said in an interview he's unsure why the stock had rallied so much. "The stupendous rally in the stock has left everyone bewildered,'' Purvesh Shelatkar, senior vice president of institutional sales at Centrum Broking Ltd told Bloomberg.
The Bombay Stock Exchange was less than amused. It restricted daily swings and short-term trading activity in Kushal on 24th January, The exchange acted after identifying irregularities in Kushal's share price, volume and trading patterns, and is keeping SEBI abreast of its findings. Kushal hasn't done quite as well since the caps were put in place – it's fallen 17% since 24th January.
Kushal operates in a decidedly unsexy industry – paper. "The company's core business comprises of Kraft Paper, Waste Paper and Duplex Board," says its website. It was founded in 2000 by three brothers, Sandeep Agrawal, Mahendra Agrawal and Manoj Agrawal. Their father, Tulsiram Agarwal was engaged in trading of different kinds of paper since 1965 and had started the business from Ahmedabad.
The company listed in 2013, and thanks to its incredible rally, was had a market capitalization of nearly $900 million (Rs. 5000 crore). While Kushal is no startup, it's pushing the $1 billion unicorn valuation that's so coveted these days. And unlike most startups, the company is profitable – it earned profits of 58.3 crore last year.
But these numbers still don't explain Kushal's 8000% rise, or why it became the top performing stock in Asia. BSE's restriction on its short term trading activity suggests that they believe something was amiss, but the stock is still alive and kicking. And Agarwal is bullish on his company's chances; he predicts its revenues will double next year. It's not a punt for the faint hearted, but if Kushal can continue its incredible momentum into 2017, it might lead to some serious upside for its investors.