Founded in 1981, Infosys is the torchbearer of India's IT revolution. It is India's sixth largest publicly traded company and currently employs 180,000 employees in offices scattered across the country. 
Its Mysore campus is a proud testament to the company's values and its soaring ambition. It is spread over a sprawling 350 acres in the green environs of Mysore.
Its centerpiece is a breathtaking yellow structure, which draws inspiration from Greco-Roman architecture.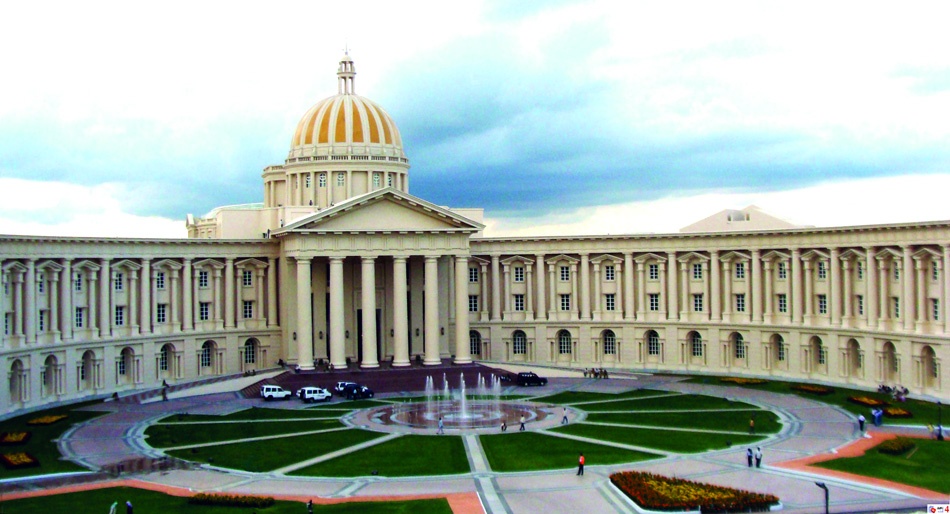 The Mysore campus is used as a training center for Infosys' new recruits, making it the world's  largest corporate university.
The campus has its own four-screen multiplex. The building is a futuristic gray-black dome with pyramidical structures that jut out in all directions.
The multiplex is just as impressive from the inside.
The campus has a grand library, with a diverse collection of books. The structure itself is one to behold.
The campus has two food courts, Oasis and Fiesta, that can house thousands of people at once.
The trainees in the campus live in style. They are allocated single rooms or double rooms, which have all modern amenities. As of 2012, the charges for the room were a mere Rs. 3000 per month.
Bicycles are a popular mode of transport within the campus. They are kept parked outside the main buildings, and are free for anyone to use.
Once their hectic schedules are over, the trainees at the campus can kick back in style. The campus has a full size racing track..
 ..badminton courts
..a gym
..a bowling alley
.and a giant, manicured swimming pool with fountains.
And all of these structures come together to look like this from the top.
Now that…is seriously cool.