Though a lot has changed in India over last 10 years, the truth is that we are still a failure-hating country. The decades of conservative growth post-independence still loom large in the minds of our previous generation and an entrepreneur still finds herself quite lonely.
Amidst the usual uncertainty and ambiguity of doing a startup, an Indian entrepreneur faces additional challenges of having to explain to his family, extended family, girlfriend's family, neighbors back home, ex-colleagues, college-buddies, driver, cook, maids, peons and pretty much everyone else why does he persists with his startup dream 'at such a high cost' to his career, resume, life, bike, car, security, safety and marriage prospects.
In the moments of weakness, he starts evaluating how his life would have been had continued in his last job. The simplest equation in his mind is 'what am I leaving behind' vs 'what am I getting in it'. Inevitably he's drawn to the Opportunity Cost of starting up as the only objective way to evaluate his gain or loss. But,
In terms of Opportunity Cost, doing a startup in India is not worth it.
Using some widely available heuristics, I did my math here. If we only compare money lost vs wealth created, only 2% founders in India will ever make money. So, for every Sachin Bansal, there are a thousand others who lost a lot of 'opportunity' and quietly went back to their jobs.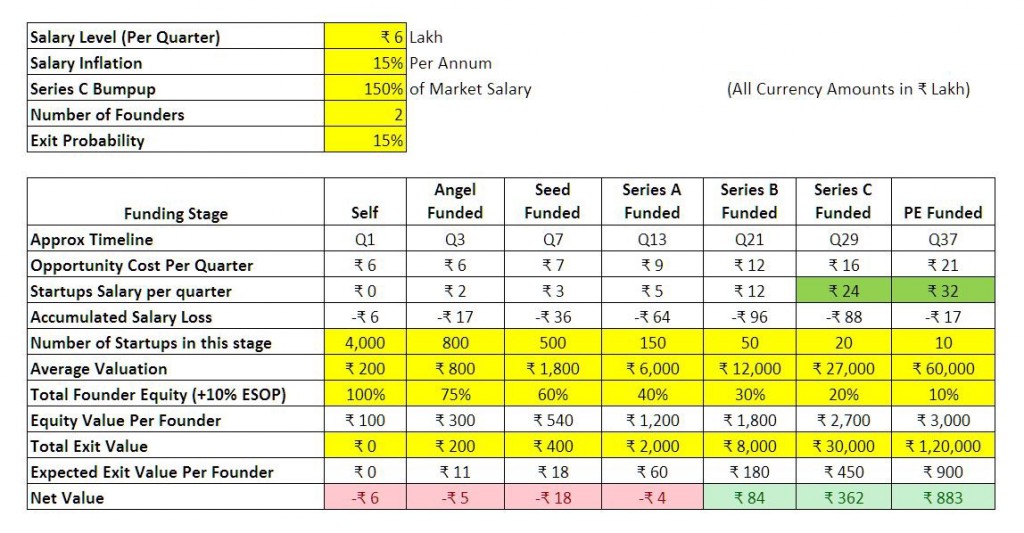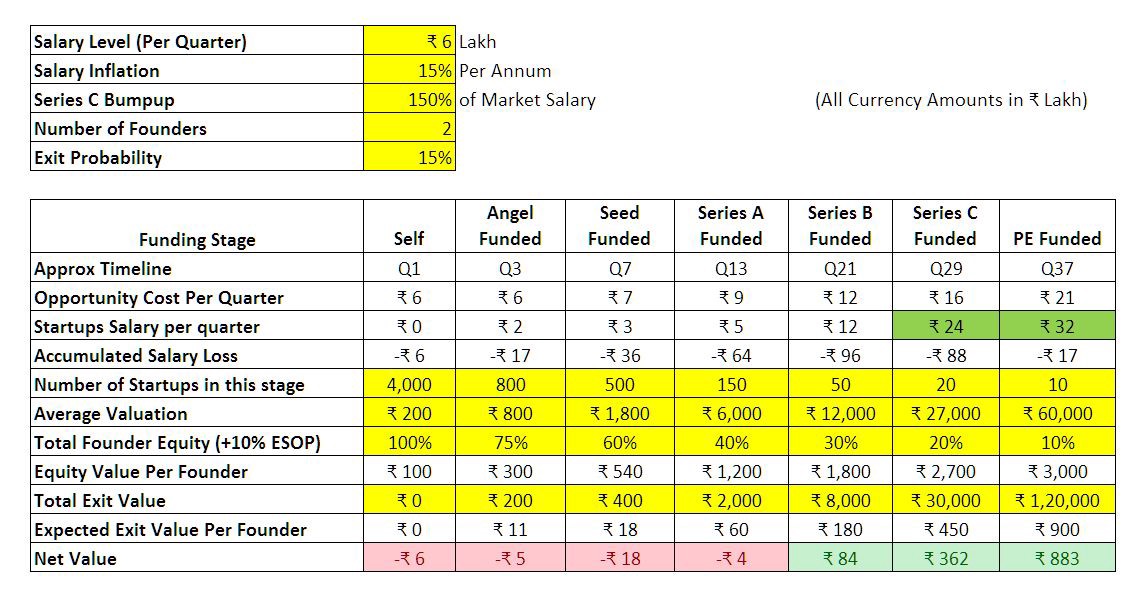 As you must notice, here are the primary reasons for this:
Most startups will never be able to find an exit. My experience suggests that only about 1 in 7 companies are able to find an exit worth noting, across stages, on an average.

Even if there is an exit, the M&A ecosystem in India is very weak. For a highly mature business like a RedBus, TaxiForSure or FreeCharge, the market is willing to pay a lot of premium, while for smaller companies, the net value is *less* than their last round valuation.

The average salaries of founders in early stages of funding is usually *less* than their market rate. Only in Series C, this turns the other way.
Another thing to note is that the going model of acquisition of a startup by another tends to be mostly in equity. 80% value or more in equity, marked to the next round is the currently the most popular flavor.
To put it in perspective, the biggest value of an entrepreneur is that she's a change agent. In the process of building a new product, very often the boundaries of science and technology are broken. While the monetary returns are often lopsided, the quest of creating something new is reason enough for an entrepreneur to start up. And when you fail, that you could have worked harder is almost never the case, so stop blaming yourself. Go out and play!
[Arpit Agarwal is an investment professional at Blume Ventures. This article was originally published on Medium and has been reproduced after permission from the author.]