Reliance Jio is now looking to do to broadband what it had done with telecom — rein in customers with a hard-to-decline "free" plan.  
Reliance Jio has launched a 30-day free trial for its JioFiber customers. JioFiber will offer a month-long trial with plans starting at Rs. 399, and top speeds of as much as 300 Mbps. Customers will also get a set-top box, and on higher plans, access to 10 OTT apps including Netflix, Amazon Prime and Hotstar. All plans come with free voice calling. Most compellingly, Reliance Jio says that customers will be able to return their devices at the end of the month with no questions asked.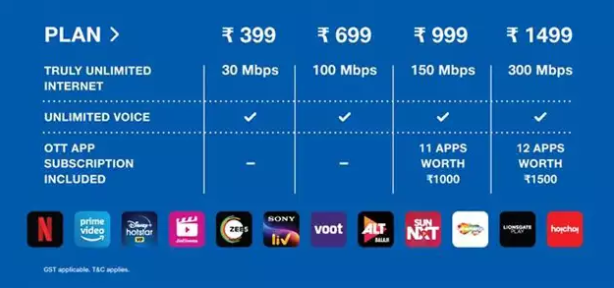 "JioFiber is already the largest Fiber provider in the country with over a million connected homes, but our vision for India and Indians is much larger. We want to take Fiber to each and every home and empower every member of the family. After making India the largest and the fastest-growing country in mobile connectivity with Jio, JioFiber will propel India into global broadband leadership, thereby providing broadband to over 1,600 cities and towns. I urge everyone to Join the JioFiber movement to make India the broadband leader of the world," said Akash Ambani, Director, Jio. The new plan will get activated from September 1 and the company said on Monday that plans of existing Jio fiber customers will get "upgraded to match the benefits of the new tariff plans". Customers who ordered their fiber to home (FTTH) connection between August 15 and August 31 will also be able to avail of the 30-day trial plan.
This is an ambitious new scheme — not only is Jio's pricing very competitive, but it's also giving customers access to major OTT platforms as well. The structure of the plan is very reminiscent of that of what Jio had offered with its telecom plans — Jio too had offered free internet for three months when it had first launched, and helped it get a large number of initial users. Reliance had made the same promise with its feature phones, letting people return them after a period of three years. JioFiber looks to be doing the same thing, and also has timing on its side — with most people now working from home, they would be willing to try out a faster internet connection. 
But broadband is only one aspect of Jio's grand plans. Through Jio, it controls how the internet reaches 400 million Indians on their phones. With JioFiber, it'll attempt to control how Indians access the internet at home. At that point, it can push its own products and services, including a suite of apps, streaming plays like JioSaavn, and healthcare and education products, and find a massive cohort of receptive customers. That's how Jio could ultimately come to dominate India's internet space — internet giants including Google and Facebook are already investors, and would be unlikely to launch products that compete with its own. Jio and JioFiber might just the groundwork — the real scale of Jio's plans could lie in the products and apps it launches going forward.