Facebook's much-anticipated dating feature appears to be nearing a public roll-out.
A security researcher has accessed internal screenshots of Facebook's dating feature that CEO Mark Zuckerberg had announced during the F8 conference last month. The move was widely expected to shake up the online dating space — Facebook already has the profiles and preferences of most of the world's online population, and the announcement had caused the stocks of existing dating players, like Match.com which runs Tinder, OkCupid and Plenty Of Fish, to plummet.
The screenshots, unearthed by security researcher Jane Manchun Wong, are a part of Facebook's internal testing procedures  of the new feature. "The product is for US Facebook employees who have opted in to dogfooding Facebook's dating product," says a screen right at sign up, but Wong was able to access the opening screens through Facebook's app. She was unable to sign in, because that would've required her to be a Facebook employee.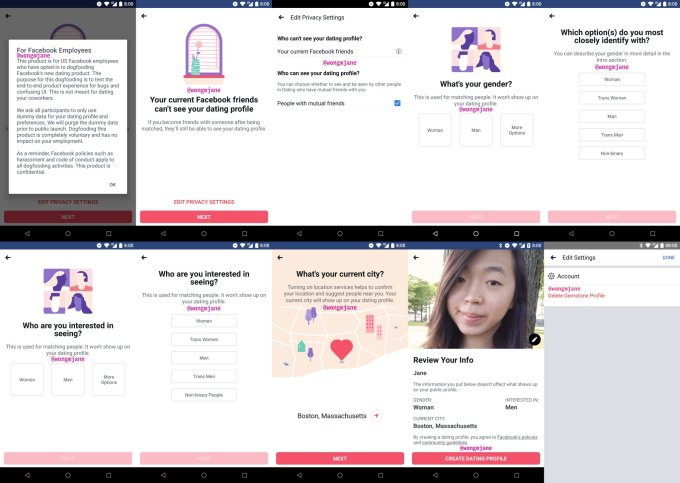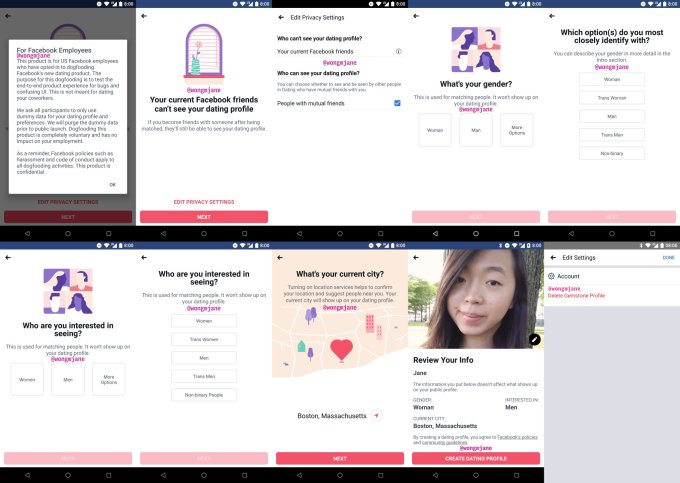 From what one can tell from the screenshots, Facebook appears to be ditching its trademark blue for the rest of its app for a violet and very-lovey-dovey pink for the feature. Facebook also appears to be taking pains to make sure that the dating feature, which will be integrated within Facebook's main app, doesn't interfere with normal use of Facebook — right at the onset, there's an option asking people "Who can't see your dating profile," and lets users select "Your current Facebook friends." This would mean that people will be able to make sure that their friends won't be able to know if they've signed up for the dating feature. There's also an option to select who'll be able to see your dating profile — as before, it's possible to exclude friends, which had help avoid awkward matches, and there's also an option to have one degree of familiarity you date, with the the option to show your profile to people with mutual friends.
The rest of the interface looks much like a dating app — users are asked their genders, and then asked the genders of people they'd like to date, and also the cities where they're based. Based off previous screenshots unveiled by Facebook during the launch of the feature, Facebook will require users to send an introductory message based on the pictures share by the user. Initial signs show that Facebook's dating feature will prioritize deeper relationships, and not focus on one-night-stands like with Tinder.
Facebook's dating entry will be keenly watched by people who analyze the space. Facebook goes into the dating game with nearly every advantage a dating app could dream of — it has years-long data on all its users, and with information about their page likes, the post likes and the kind of events they've attended, can use its big-data smarts to match people who'll be likely to get along well in real life.
But this is a bit of a double-edged sword — Facebook has been in the dock over the last few months over the information that it collects from people, and the information that it's happened to leak. During the Cambridge Analytica scandal, it emereged that Facebook had let third parties access the personal data of millions of its users, and dating users might end up being wary of putting too much of their personal information on the social network. Also, it's possible that people might want to stick to a wholly separate app when it comes to dating — it might just feel awkward to date people on the same app where you receive birthday wishes from your grandmother.
Facebook, though, seems to feel that it's a gamble worth taking. And while it might to too early to say how Facebook's dating bet will fare, one thing is certain — it's going to cause some sparks to fly in the whole online dating space.