There had been much outrage when it had emerged that Facebook had let the personal data of 87 million Americans to be sold to Cambridge Analytica, and used to influence the US Presidential election. People had criticized Facebook on social media, and some had gone as far as to delete their Facebook accounts. But a man from London has not only managed to protest Facebook's data breach in the most public way possible, but is also making himself some money in the process.
Oli Frost, 26, is auctioning his entire Facebook data on eBay. "There were loads of emails from companies over the last week about GDPR, saying how valuable and important my data was to them," Frost told Motherboard. "I realized that I'd been selling my data for free for ages, and decided it was time to cash in."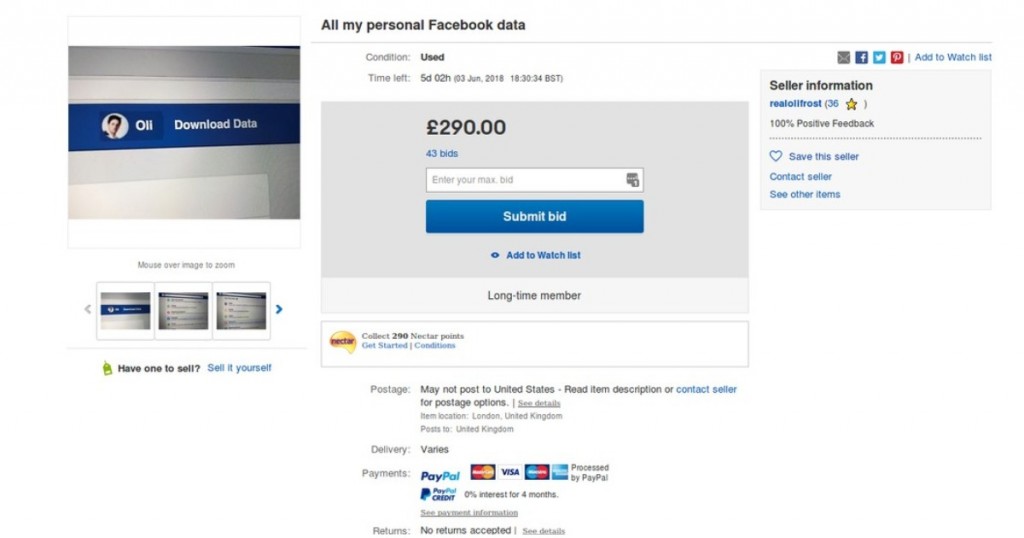 Frost's eBay listing simply says that he's selling "All my personal Facebook data". He's downloaded his data using Facebook's data download tool, which provides users with a log of all their activity on the social network ever since they opened their accounts. Frost's data, thus, has details on "every like, post, and inane comment since I was 16," "photos dating back to when I had a fringe and listened to Billy Talent," and "loads more, like who I vote for, my boss's name, and where all my family live." 
He'd started the bidding at 0.99, but after 43 interested bids, saw the price quickly rise to a total of 290 pounds (Rs. 26,000). The number by itself is fairly interesting, because Facebook only made $25 per user in revenues in 2017, and that's solely through using user data to show relevant ads. Frost, by simply selling his data in an auction, has been able to make more than 10 times that amount.
While this doesn't mean that you can download and sell your Facebook data for Rs. 26,000 —  in India, data on the black market which includes names and phone numbers sells for mere rupees — Frost's little stunt serves to demonstrate that data from companies like Facebook has a real monetary value attached to it. And that ought to incentivize companies to make sure it isn't stolen by third parties. Each time you use a social network, you give it something of tangible monetary value, and companies need to be responsible to make sure it's kept securely.